Cushions are the perfect accessory for quickly changing up the look of your bedroom. We've put together some useful tips to help you revamp your boudoir.
Why use cushions on a bed?
When it comes to designing a beautiful bedroom, throw cushions are an essential crowning touch to nearly every bed. They add character and personality; and with a dash of colour and accentuated textures; they transform an entire room's décor while delivering a unique statement. 
Regardless of your interior style — modern, eclectic or boho chic — cushions are a signature of a masterful bedscape. In order to harness the full potential of these soft furnishings, we've rounded up a few tips of things to consider when decorating your bedroom with throw cushions.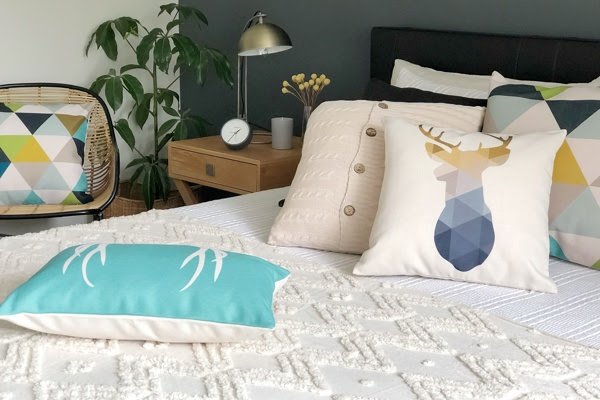 How many cushions should you put on a bed?
Between three and five cushions will make your bed more interesting yet still keep it comfortable. A bed without cushions can look bare and uninviting, but too many cushions can look messy and be a lot of work. Getting into bed and making your bed in the morning can become a massive chore!
Having said that, some people like to indulge in cushions and love the idea of a pillowed haven to fall into every evening. It is possible to use as many as 9 cushions on a bed but choosing the right sizes and arrangement become very important. When using a large arrangement, try two large cushions as a base, followed by some slightly smaller cushions and finish with a few rectangular feature cushions.
Achieving a balanced look will depend on personal preference; some people love added colours and textures to their bedding with many cushions, whilst others prefer a more subtle and minimal approach.
As long as there is a sophisticated colour palette and variation in cushion size and shape, you can prevent the overall look from seeming too busy and tacky.
How to choose cushions for your bedroom
A bedroom with subtle neutral colours can act as a backdrop for cushions with striking and bold patterns and prints in rich colours. This creates an air of elegance as the cushions match the room without detracting from any of the design elements that are in it.
If you have a brightly coloured room with with florals or graphic patterns, then cushions with solid colours are a perfect selection. They lend a complementary and harmonious look without feeling unnecessarily overwhelming.
Velvet cushions in solid bold colours are perfect for formal classic spaces — while a clean and relaxed colour palette with large geometric prints work beautifully in modern aesthetics.
Use different sizes and shapes
To add depth and extra dimension, feel free to use different cushion shapes and sizes. Mix and match large squares with smaller ones for visual interest.
The sizes and shapes of your cushions will also be determined by the proportion of the bed they are to be placed on.  Make sure you have room on your bed so that the cushions can be fully appreciated. The bolder the cushion, the more space it will need flourish.
Cushions in different sizes, shapes and pattern create an eclectic vibe that offers a collected, but pulled together look. Larger cushions should be placed at the back and the smaller ones set against them in the front.
Large oversized cushions make for gorgeous floor seating — smaller square and rectangular cushions can be used on an armchair or create a cozy nook on a bench seat by the bedroom window.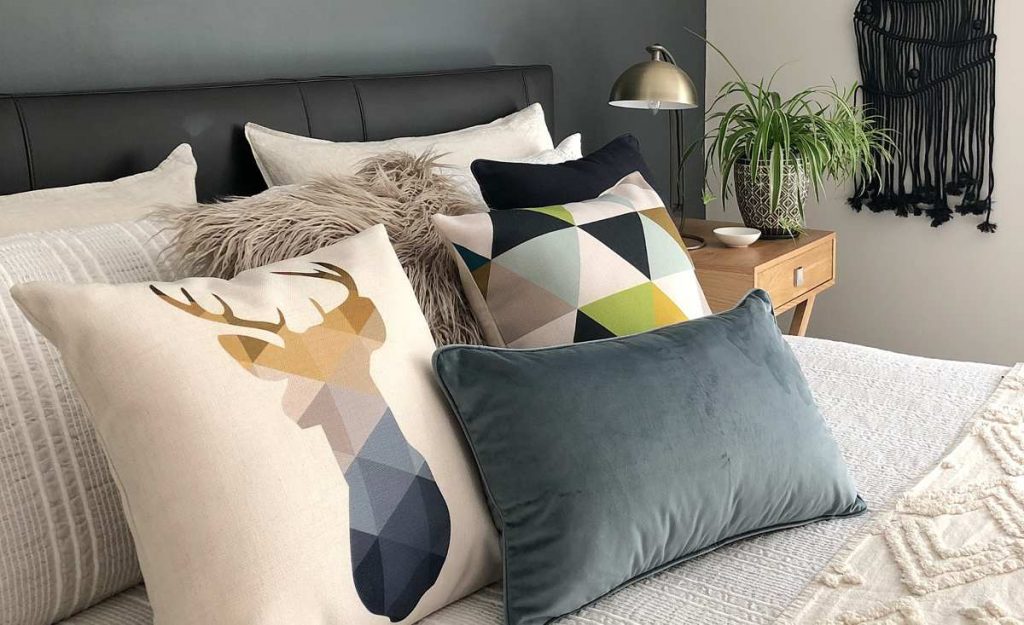 How to arrange bedroom cushions
There are 2 simple rules when arranging cushions on a bed. Number 1, always arrange your cushions from large to small with the biggest designs at the back. Number 2, use variations of shape or material in each layer of cushions so that the arrangement has some visual interest.
When arranging cushions, you must also keep in mind the size and height of the headboard. Usually, beds with crafted and detailed headboards are well suited by a smaller number of cushions that won't obscure the decorative framework.
Use an even number for a symmetrical and formal arrangement. For an intriguing yet relaxed arrangement, use odd numbers to create a modern or eclectic vibe.
A common arrangement involves using a pair of plump square cushions as the base. Next, add your sleeping pillows, then layer standard cushions slightly smaller than those used as the base. Add a final layer of smaller size pillows, usually in rectangular shapes, for the finishing touch.
Happy styling!
Simply Cushions Team