Watch as we transform a simple room in 3 distinctly different ways, quickly and easily, using the power of cushions.
The quickest way to change a room
How do you transform your living room in just one minute? With cushions, of course!  
Other more dramatic options, such repainting the walls or replacing the window coverings, can also have a big impact, but they take longer and cost more than a simple cushion makeover. 
For a quick lift to both your home and spirits, without a big dent in your bank balance, new cushions are definitely the way to go.
Choosing the right cushions and arranging them artfully to get just the right effect can take some skill (and practice). Read on for some simple tips to achieve these fresh looks.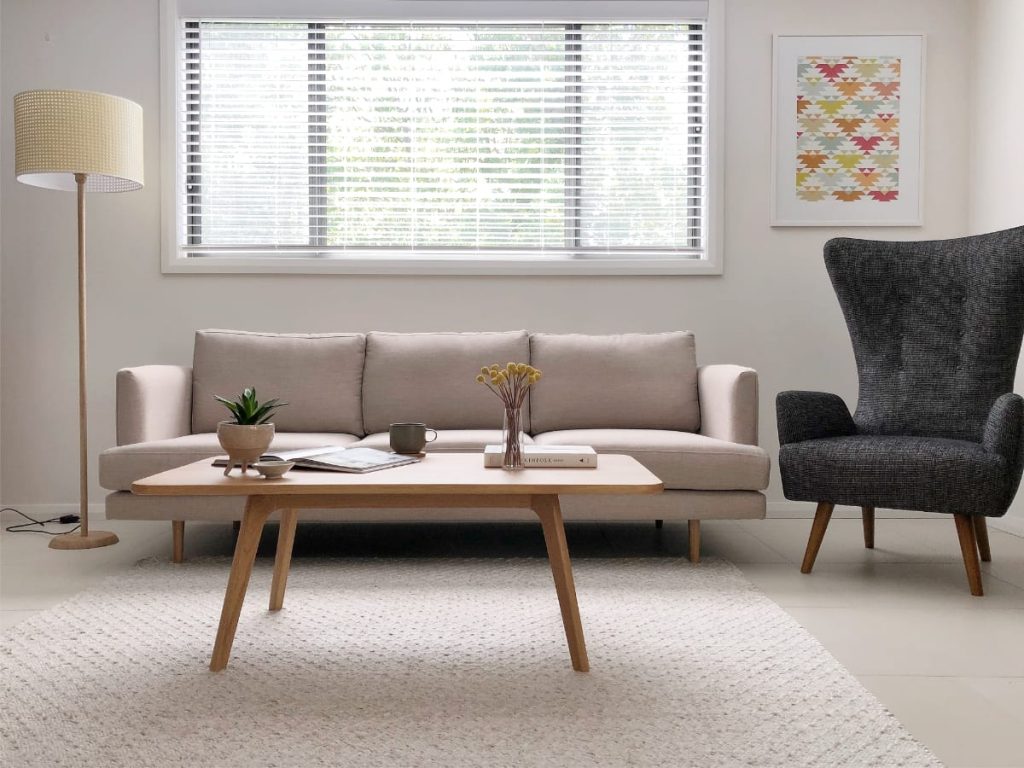 Let's get started
We've simplified things for you by photographing a basic lounge room, then styling it three ways with different cushions to create 3 distinct looks.
In the above picture we have a Mid Century Modern styled room before its transformation. Looks naked right? Or at least stylish but a tad bland. Nice furniture, cute rug, lovely artwork and accessories but lacking that essential pizzazz. Let's add some cushions!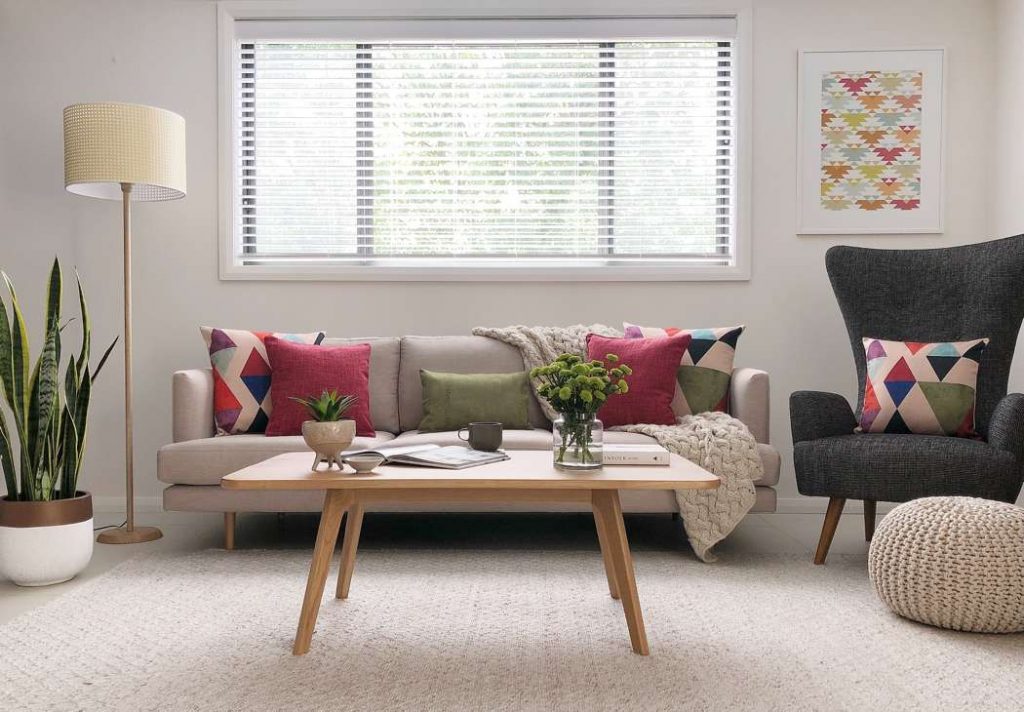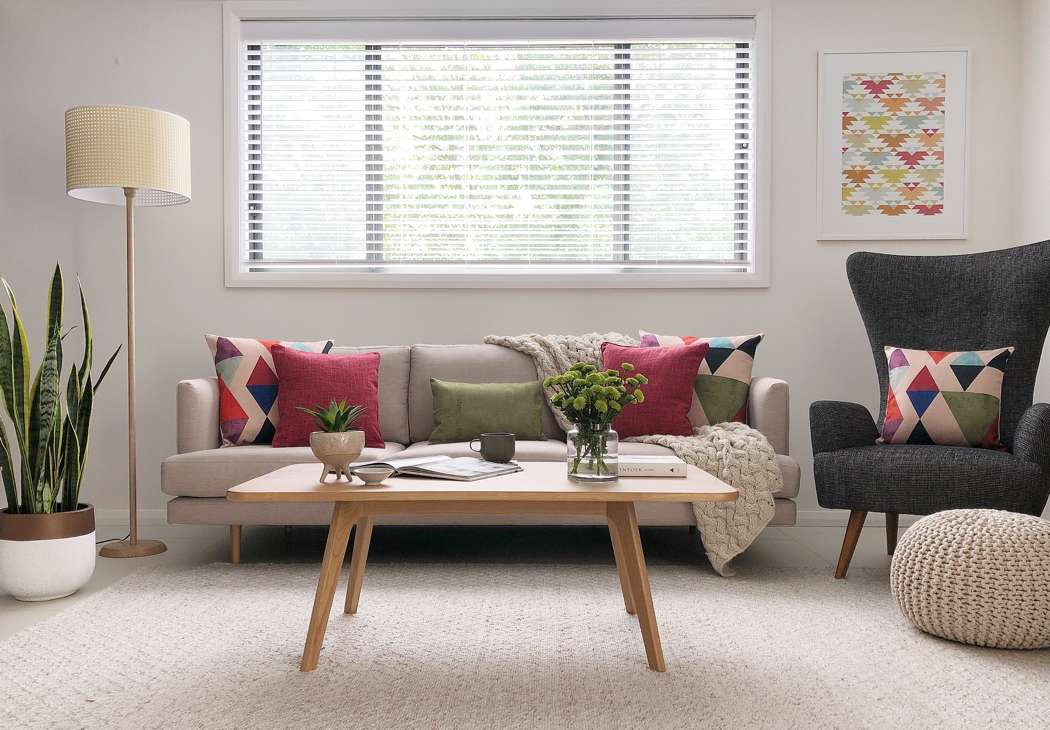 Makeover 1
Taking our cue from the mid-century styled furniture and the colour in the graphic print above the funky grey armchair, we added cushions from our Phoenix Pop Collection. These cushions have instantly added warmth and colour to the space. Now the room looks like a home, and a super stylish one at that!
To copy this look, drape the throw on as shown then add cushions. The cushions are arranged with two of the same geometric patterned cushions at either end of the sofa, but one is upside down to highlight the different colours within the pattern. Note that these geometric cushions reflect the colours and pattern of the graphic print on the wall.
We've then nestled two smaller sized block colour cushions to our 55x55cm Phoenix bold prints. Leaving space for our Phoenix rectangular cushion in olive to take centre stage. This classic 2-1-2 cushion arrangement works perfectly for 3 seater sofas.
Pulling the look together is a smaller matching Phoenix Pop cushion on the armchair. The abstract design and colours contrast beautifully with the gorgeous dark grey chair.
Shop the look…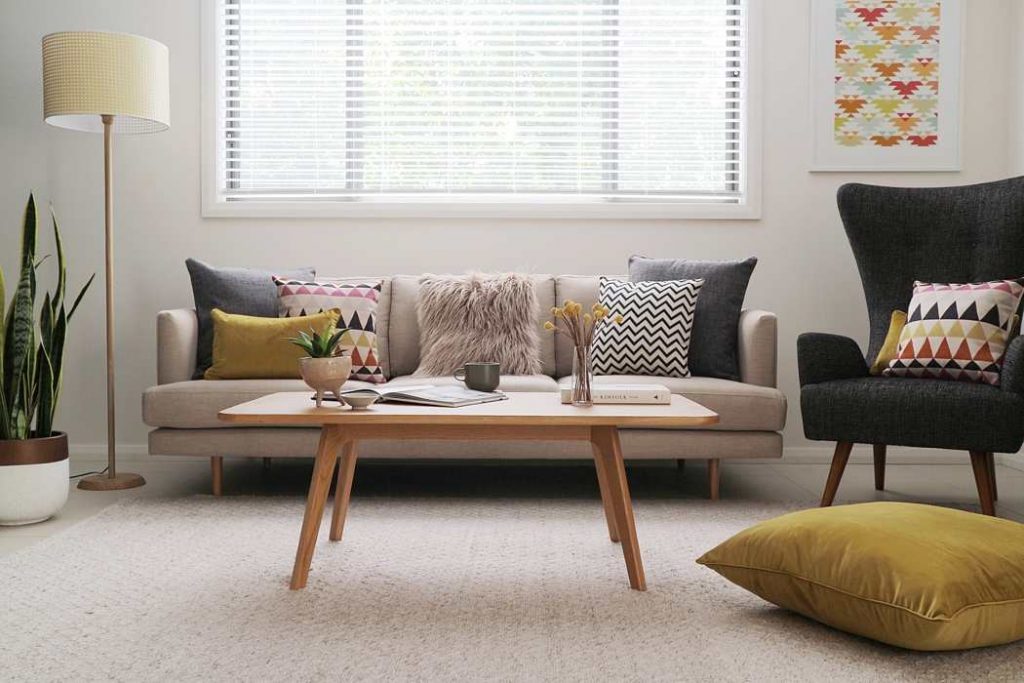 Makeover 2
Not quite your style? Here's another transformation of the same space, this time using our Breuer Collection. To create this look we ditched the throw and the ottoman but kept the cute pot plant and accessories.
Once again, the choice of cushions is inspired by the graphic print on the wall and includes a mix of patterned and plain cushions in different sizes and shapes. The beautiful fur cushion has been added for textural interest instead of the throw rug. A single big, plump velvet floor cushion relaxes the whole look.
Note the three cushions on one side of the sofa and two on the other for an asymmetrical but well-balanced look. In this scene, we've started with two large Arlington grey block cushions and added colour, pattern and texture with the smaller cushions.
The gorgeous prints are from our cotton linen range, while the rectangle mustard is a luxurious velvet cushion. The Ecru Fur is one of our most popular cushions and brilliantly finishes this Mid Century look.
 Shop the look…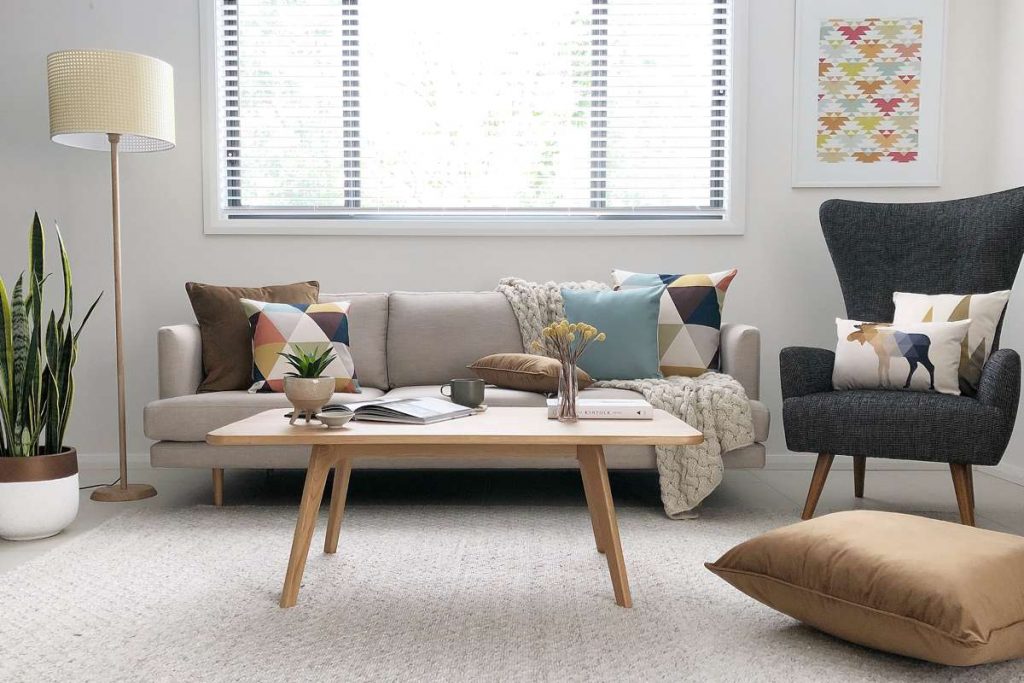 Makeover 3
Want more ideas? Then take a look at this. We've gone a touch Scandi style here using our ever-funky Kafka Collection featuring our favourite moose.
Start with a cosy knit throw again, mix up the cushions at either end of the sofa. Again we've chosen colours from the graphic print on the wall. Finally, our Moose has been placed lovingly on the armchair with a simple abstract cushion behind.
The taupe block cushion is from our velvet collection, while the soft teal block and patterned cushions are all cotton linen. We've added another nice plump velvet floor cushion to relax the look.
Shop the look…
The wrap up
It's incredible just how big a difference a few cushions can make to your space. In just one minute, you'll think you've moved to a new, more stylish, home.
Our pre-styled sets of cushions make it easy for you to copy these inspiring looks exactly, or you can take inspiration and do your own thing with your cushion makeover.
Happy styling!
Simply Cushions Team