Aqua Cushions
Looking to give your room a quick makeover? Our stunning range of aqua cushions are the perfect choice and will help energise your interior and provide pleasure and serenity. Take advantage of our free shipping on orders over $150 by shopping with us today and get 30 day easy returns.
---
Styling with Aqua Cushions
Often dubbed as a breezy shade, aqua is a perfect fit for sleek contemporary homes. It works well with pretty much any style and scheme and can be used to achieve a sense of balance. Our collection of aqua cushions can be used to add a pop of colour and create a lasting visual impact. The more pristine and neutral the interior, the more distinctively your arrangement will stand out.
Summer is a brilliant time to incorporate this delightful hue into your interior scheme. For a tropical vibe, pair your solid and patterned aqua cushions with cool whites, tans and greys. For an almost surreal marine feel, team shades of aqua with subtle blue and white cushions. The warm and mysterious shades of this palette are both relaxing and enchanting.
When paired with deep, jewel-toned accents, aqua takes on a bold look and brings cheerful exclusiveness that feels totally unexpected. For a stylish retreat, layer the room with textures, fabrics and patterns with a combination of orange, aqua and browns like that in taupe cushions. This pairing can easily serve as the focal point and spice up the room's aesthetic appeal. Aqua cushions also pair well with navy and black for dramatic depth and visual interest.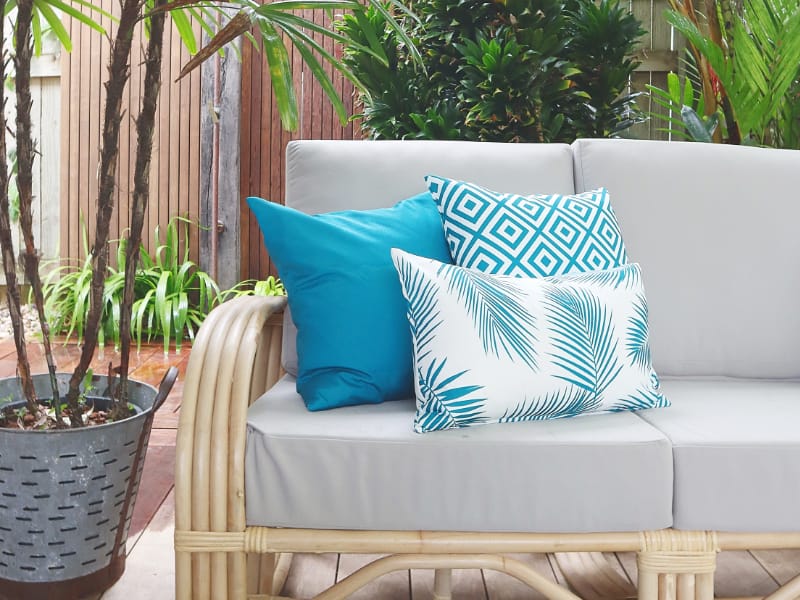 Because the colour spectrum for aqua is so broad, its gentle and understated tone provides an ideal backdrop for muted hues including soft grey, creams, and pale yellow. Use block aqua cushions covers as outliers, and use patterned or neutral rectangle cushion covers for a balanced and layered display. To complete the look of your arrangement, keep flooring pale, and use similar wood tone throughout the room. Add hits of white and soft blue on artwork for a cooling and casual influence on the overall scheme.
For something a little different, why not explore creating a tone-on-tone colour palette in a neutral setting. Here, you can opt for an aqua shade with an energising vivacity and mix with more subtle and gentle aqua tones. To get started, simply select from our wide range - we have the best aqua cushions Australia wide. Using designs in one colourway allows you to create a coherent display that can be updated for changing seasons and trends. This colour can be all you need to complete your home's decor scheme!