Christmas Cushions
Christmas is a magical time of the year and nothing gets you into the festive spirit more than decorating your home for the festive season. Choose from our wonderful collection of Christmas cushions in varying sizes, textures and patterns and get free shipping on orders over $150.
---
Styling with Christmas Cushions
Who doesn't love traditional festive season colours? Christmas cushions in red and green can lend warmth and an inviting ambience, and remain the go-to colour palette for adding a sense of excitement to home around the festive time. On the other hand, unexpected pops of midnight blue, sunny yellow or fiery orange may be just what your space needs to elevate the atmosphere to another level. With cheerful energy, surprising versatility and a sense of freshness, a mix of these colours can boast undeniable sophisticated charm. Team with warm wood tones to ensure a striking yet elegant balance for your decorations.
To add depth and visual weight to your year-end decor scheme, introduce Christmas cushions in various textures such as velvet, soft linen and faux fur. These textures provide a type of warmth that invites you and your loved ones to relax and unwind. Add a little or a lot to your couch and bed, go bright and bold or subtle and cosy. Whatever style you wish to achieve, our collection offer so much variation and more to suit any home's style. Whatever the weather outside, you can create a cosy space that is sure to be full of Christmas cheer.
Styling your home with Christmas cushion covers in different motifs can help create a look that's instantly charming and intriguing. One of the advantages of incorporating decorative motifs into your Christmas decor scheme is the ability to highlight your own personality and taste in your interiors. If you love the whimsical prints and colours, or any elements that command attention, consider displaying your soft furnishings on a neutral or all-white couch, or over your all-white bed. All eyes will go right to your one-of-a-kind display without you having to try.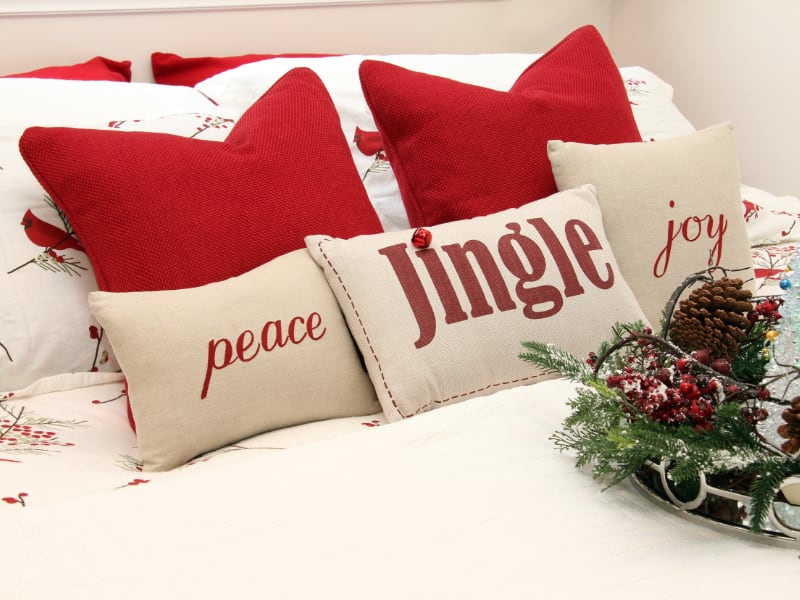 If you are looking to create an enchanting statement in your living space, you may want to bring in something bold, such as xmas cushions in strong gold mustard, teal or orange and pair with charcoal cushions for a dramatic effect. This combination of colours is a hot trend and can really change up the atmosphere of your space. If your room gets enough light, it can really create a stunning new look. Adding touches of white can create a classic mood; it is timeless and can blend well with other colours.
So, if you're looking for soft furnishings to spruce up your festive home decor, we have one of the best selections of gorgeous Christmas cushions Australia has available. Whether you're looking for something understated, or bold and playful, you are sure to find a look that will suit your decor aesthetic. From muted neutrals and soft pastels to eye-catching motifs and vibrant hues, your options are limitless. Evoke a warm and cosy festive ambience by opting of variation in texture and shape for a unique and personalised finish.