Gold Cushions
Gold is all about affluence, sophistication and a sense of magic! Create a contemporary scheme in your home with our range of gold cushions, which pair easily with various colours and textures for a look that's both warm and charming. Shop our selection and enjoy our 30 day easy returns and brilliant customer support.
---
Styling with Gold Cushions
If you've shied away from decorating with gold because you think it's too daring, well, it's time to think again. This warm hue possesses an elegance that comes from its use throughout the ages — and in home settings it works well with all colours of the rainbow. Our gold cushions add visual interest and really create a "wow" moment with very little effort. Pair with strong deep hues like our collection of black cushions, and bring in touches of silver decorative accents for a luxurious contrast.
Our gold cushion covers come in various interesting textures which add depth and sets the room's opulent tone. For a classic appeal, pair gold with dark and light shade combinations such as navy and white cushions which work really well with patterned styles that have hints of gold. They help create a sophisticated, contemporary look that's hard to ignore. For a subtle, casual look, team gold with neutral shades that allow its warm tones to take center stage. If you prefer a more colorful look, avoid the neutrals and pair your gold cushions with colours that have similar undertones such as red, orange and yellow.
Contemporary bedrooms also benefit a great deal from gold hues in order to create a warm and inviting atmosphere. For instance, in a white bedroom interior, incorporating gold cushions in velvet finish not only accentuates the scheme but breathes into it, both texturally and visually. The rich tone also gives the space a sense of depth and elevates it to a whole new level of luxurious elegance.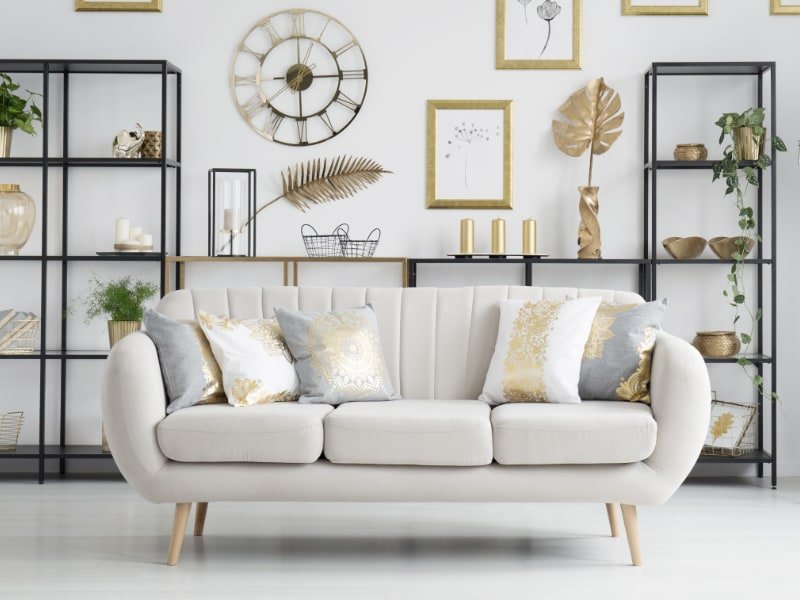 Colour combos for gold cushion covers
The combination of white and gold can hold its own without any additional pops of colour. White and gold cushions have an elegance that instantly add a dose of character to any room setting and this combination works beautifully in Christmas cushions. In both solids and patterns, they can dress up even the most basic of spaces, and provide something unexpectedly stunning. When placed against equally strong hues such as dark blue, traditional forest green or chocolate brown upholstery, the overall decor scheme reads as both sophisticated and opulent.
Because gold is a rich, warm tone, it partners successfully with black. Both colours are very different and unique, and yet they both add undeniable class and elegance to any room. Black and gold cushions can steal the spotlight in a neutral scheme, and will also offer regal presence in moody decor settings. Same goes for decorating outside, gold partners beautifully with black and white outdoor cushions creating a very elegant look. Remember though, too much black and gold can make a space appear tacky, so it's essential to create a cohesive mix of colours, patterns and textures.
As with many warm tones, layering gold cushion covers can help add depth to a room without overpowering it. A trait that's sought-after in contemporary and classic aesthetics. In an eclectic interior setting, gold can bring a classy touch of colour. Add designs in velvet and wool and this warm hue will offer a bit of grounding to your overall scheme. Pair with other metallic hues such as hints of copper and bronze to achieve a pleasant and elegant contrast.