Green Cushions
Whether you fancy the drama of forest green, the playfulness of lime or prefer to keep it classic with sage, green is the perfect colour for those seeking to create serenity. Our green cushions are perfect for adding comfort or style. Get yours and enjoy free shipping on orders over $150 and the peace of mind of our easy returns policy.
---
Styling with Green Cushions
Green cushions possess a simplistic yet contemporary aesthetic that's both calming and seductive. When infusing it into your interior scheme, the easiest way to do so is by using rich patterns. Paring of neutrals and green feels natural and has the ability to provide a sense of tranquility, peace, and comfort. If your decor scheme has a dominant white or neutral colour, pick a darker and brighter version of green as a base, and offset these with lighter hues such as olive green, solid or patterned colours.
There's something about the combination of gold and green that feels quite magical and bold. Team sumptuous velvet forest green cushions with hints of high-shine gold for a luxurious feel. Gold is a great accent for a living room as it's glam, while emerald green cushions lend a warm tone that makes a space feel cosy. In many instances the difference between a bland home and one that seems inviting and warm is the gentle kiss of colour in an elegant and delicate manner.
With green being such an integral part of nature, we also tend to accept it as a neutral colour that works brilliantly with accent hues. For example, soft olive green cushions and teal cushions are one of the trendiest of colour pairings that work surprisingly well together. From eclectic to contemporary settings, this duo blends well within a variety of visions. When set against a crisp white backdrop, they look outstanding and ravishing.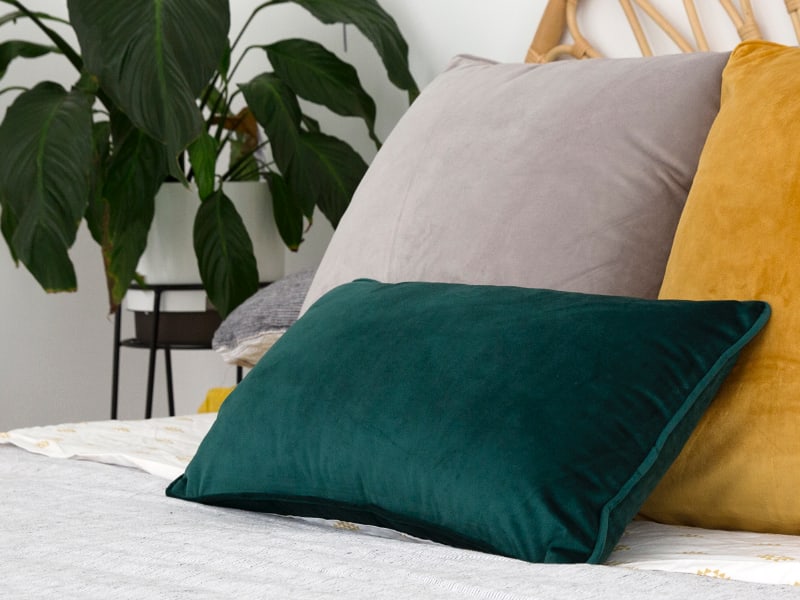 Be dramatic with emerald green
Because green is such a versatile colour, it easily finds its place in a vast range of interior settings. In its saturated tone, it can be incorporated into a grey moody living room or bedroom to create a sense of elegance and drama. Charcoal grey cushions are a perfect backdrop for dark and bold colours. Emerald green cushions complement moody grey beautifully, and can also be paired with a darker shade of mustard and midnight blue to bring the scheme together.
Dark green cushions appear richer when incorporated into a crisp white room. Pair them with jewel-toned hues like amethyst, sapphire, ruby and gold velvets to bring a modern and minimalist white interior to life. These are great colour combinations for a larger space that needs a splash of bold colour. Create variation by mixing both solids and patterns to add depth and dimension. A deeper green makes a design statement, so even when displayed in a similar shade, they can set the stage for the rest of the room.
Use mint green to lighten your space
Alternatively, you may opt for a lighter pastel to make your interior space appear light and airy. Styling your home with mint green cushions, particularly the bedroom, will create a sense of tranquillity and act as an updated neutral. They are simple to blend right into your current decor. Mint green partners beautifully with other pastels including soft blue, lavender and blush in a minimalistic space as a way to add a hint of colour without taking away from the original palette.
Appearing bold yet soft and subtle, styling with mint cushions can also add contrast and visual interest to a black and white colour scheme. This combination is a dependable and classic one that looks great in nearly any style of home. Pastel green also lends itself effortlessly to rich, deep colours. Think mint green partnered with navy and burgundy upholstery. The muted shade of light green will soften the saturated colours and add a dainty touch that is subtle and charming.
Add energy with olive green cushion covers
When it comes to styling your interior space with warm hues from a green base, you may want to look for shades with a yellow or orange undertone. Burnt orange cushions are great for creating vibrant energy amongst green hues. If that contrast is too heavy, variations such as olive cushions can feel both energetic and rejuvenating. They are a great choice for a range of interior settings, and will add a little more colour without coming off too bold. In a neutral room, olive green creates a brooding sense of intrigue and luxe sophistication when paired with metallic accents.
Another great thing about introducing this colour into the scheme of things is that its richness makes it one of a kind. If you're opting for a more retro or eclectic feel, consider styling your living space with burnt, rustic orange and green cushion covers. This paring feels exciting yet very welcoming. You can introduce lighter shades of green too such as sage or mint to keep the palette light and airy. Light blue-grey and off-white details also lend a soft touch to a light green and burnt orange palette.
Make it relaxing with sage green
Sage green cushions, on the other hand, are a perfect addition to a neutral colour scheme if you're not too big into using bright colours. To create a relaxing spa-like environment, the soft and serene presence of sage works really well with equally subtle colours including soft grey, duck egg blue and dusty coral. For a finish that's quaint yet classy, bring in wood finishes to ground the overall palette with natural texture. When paired with accents of rust and gold, sage takes on a darker, earthier tone.
The possibilities of styling your home with sage cushions extend from the indoors all the way to your outdoor lounge. They often find their place in bold and vibrant interior environments, and when paired with brighter shades like yellow, blue, pink and red, the subdued tone of sage helps bring out the colours around it. This is what also makes them such a wonderful inclusion in your outdoor areas. Sage works beautifully with the green hues and bolder colours that accompany lawns and gardens. Using sage in your waterproof outdoor cushions can help make a visible connection between your outdoor furniture and decor to the surrounding landscape. Whatever your space's style, this earthy hue offers so much versatility to ensure your space evolves with the latest trends.
Lime green is yet another green hue that works really well in any area of your home but in small doses. Small doses mean it's an ideal hue to use as an accent instead of an overall room colour. For instance, lime green cushions can be used to add a pop of colour into any space of your home, offering a fresh and lively touch. They pair well with a wide variety of colours including neutrals like taupe, ivory, brown and grey. Lime really pops against a crisp white backdrop, and can shine as the room's focal point.