Defined by relaxed and comfortable aesthetics, coastal style brings to mind beach living and blurs the line between indoors and outdoors.
Coastal style
There is something about this style that whispers "summer" all year round and reminds one of exotic trips and relaxing times on the beach. It highlights a palette drawn from ocean hues and sun-bleached whites and incorporates natural materials and fabrics.
Coastal style is all about injecting a hint of a carefree holiday atmosphere. It's about creating an energising aura and simplistic elegance. Think open living rooms, sea inspired accents, nautical stripes, sailboats prints, oversized furniture pieces and you're good to go!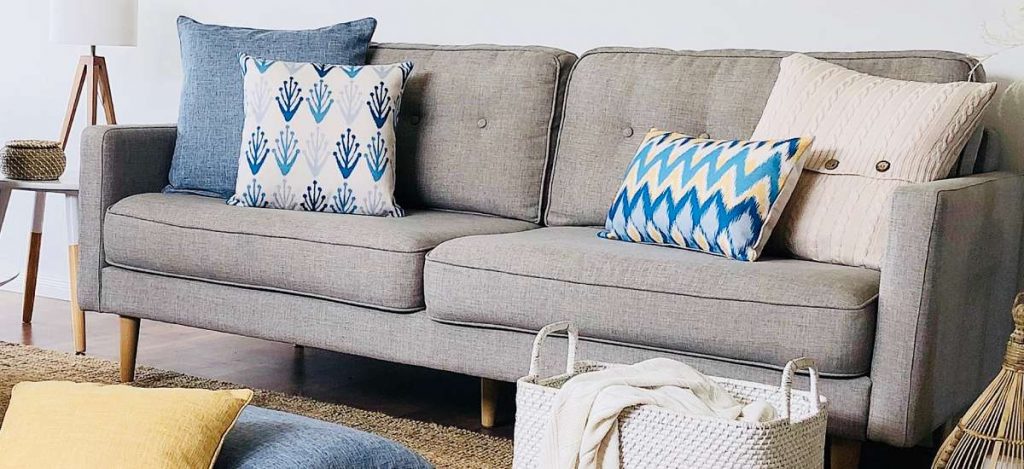 Features, colours, patterns and textures
The colour palette is characterised by colours of the sky, sea and sand. These include off-whites, light greys, light taupes, deep navies and marine tones that provide a soothing, underlying calm and inviting ambience.
On the other end of the spectrum, warm corals, reds and pops of aqua have a unique glow that immediately adds life to any space. Pattern motifs include anchors and shells found on soft furnishings; from accent cushions to throws and wall hangings.
Textures such as rattan, ropes and wicker bring a natural warmth and are core elements of this timeless style.
Fabrics are unassuming, comfy and simple; linen, cotton, muslin, calico, cotton, silk — in varying whites, washed-out pastels and tailored stripes — all add character and a feeling of relaxed coastal charm.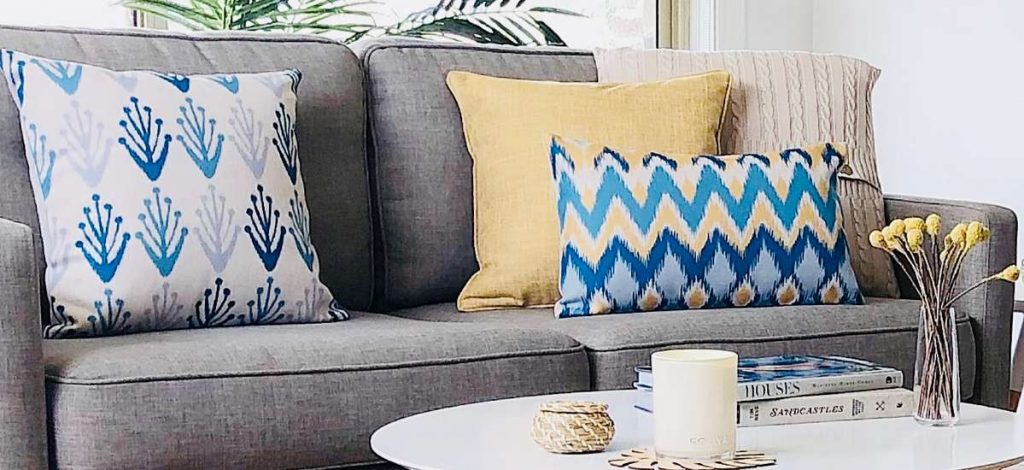 How to achieve the Coastal look with cushions?
All you need is inspiration of the sea to incorporate elements of this style into your home. We've coordinated a few cushions from our various collections to help you create your own breezy and effortless coastal-inspired home. For more ideas, check out our full Coastal Cushions range.
But don't forget the accessories! Consider using furniture pieces in wooden finishes. These can be weathered, stained or painted white. Natural fibre rugs will complement the look and bring in texture and warmth. Finish off the look with greenery to pull the outdoors in.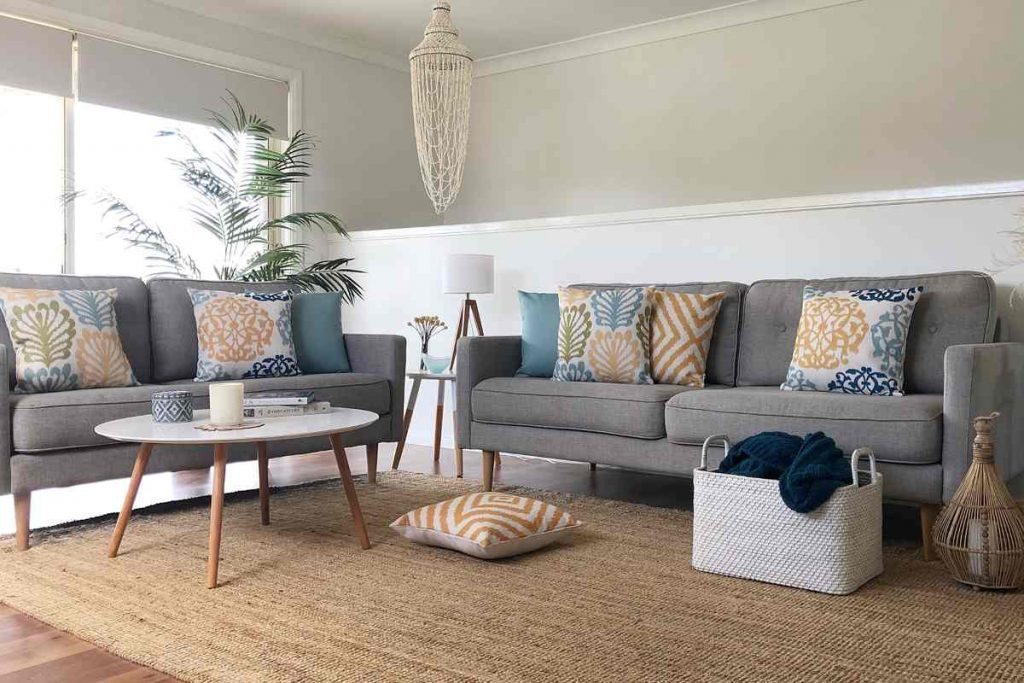 Look 1: Our Juno Collection
In this scene, we have used Juno 6 Cushion Cover Collection which inspires thoughts of sea shells, the sun and the sea with its uplifting coastal vibe. Here, the bright statement-making graphic cushions liven up the neutral background and bring life to a low-key colour scheme.
The round occasional tables soften all the sharp corners and bring in simple, effortless elegance. The woven basket and lantern add touches of wicker which is traditionally beachy. Other decorative accessories create an easygoing, informal look.
To achieve this look, add prints in varied shades of blue and white with on of our Juno Collections to boost visual interest in a neutral room. Introduce varied textures by using materials like wood, rattan, bamboo for a past-meets-present vibe that's anything but outdated.
Shop the look…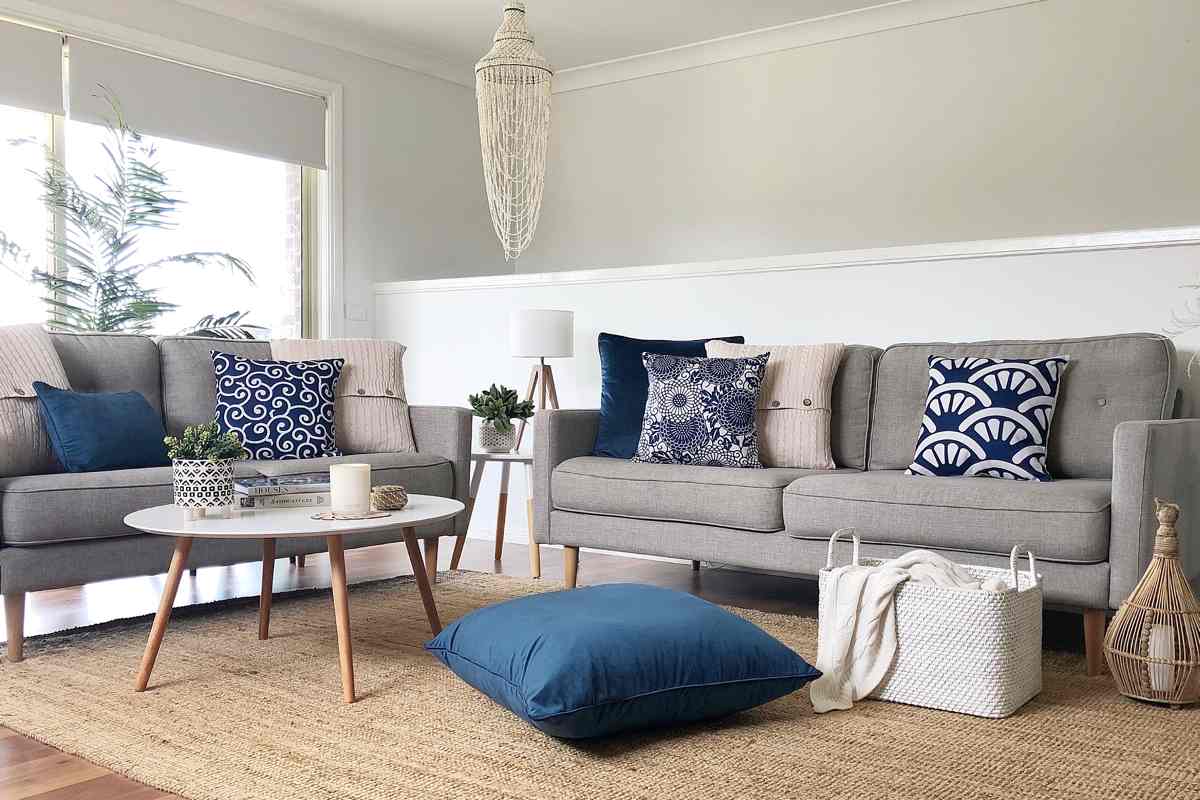 Look 2: Our Corindi Collection
This time we've opted for the Corindi Cushion Cover Collection ideal for when you are looking to truly kick back and relax. This collection gives you a Mediterranean villa look with its classic sea blue tones.  
In this scene, we have paired beige cable knit designs with navy blue cushion covers that feature swirling prints. This adds a coastal personality to what would otherwise be a dull neutral living room.
The stunning blue floor cushion, woven wicker basket and white throw set the tone for a nautical and seaside feel and offer the room a more upscale look.
To create this look yourself, pair one of our Corindi Collections with a white background and natural accents. Incorporate large and small indoor plants for a fresh, costal vibe.
Shop the look…
Look 3: The Coogee Collection
This time, we've selected our Coogee Cushion Cover Collection which is perfect if you're going for a slightly boho coastal look.
Here, we've opted for beige cable knit cushions for extra depth, and then we added some block and graphic cushions in punches of yellow, pops of turquoise and blue tones to give the colour scheme some definition and prevent the room from seeming too flat and sterile.
The vibrancy of the cushions is balanced with dialled-down, solid expressions of the floor cushions. The earthy, organic textured rug adds life and substance without overwhelming the space.
The style here exudes a relaxed, cheerful vibe that favours comfort over fuss. To create this look yourself, pair any of our Coogee Collection with a grey or beige sofa. Invest in coastal styled decorative accessories to bring finishing touches to the room.
Shop the look…
Other ways to achieve the Coastal look
Esperance Collection
Choose this collection if you are after a more light green toned coastal look than the classic navy or teal. This collection will lift neutral, navy or green toned soft furnishings.
Aurora Collection
Choose this collection if you want sunny yellows and lovely teals to lend brilliant colour and casual elegance to your existing neutral or teal-toned space. This collection brings today's design in step with coastal colours to create a fresh look in your home.
Miami Collection
Choose this collection if you are after some Gold Coast or Florida bling. This collection is designed to pair with white soft furnishings and gold accents.
Byron Collection
Choose this collection full of coastal colours if you prefer a more laid back look. Enjoy easy to work with teals, neutral colours, and greens will pair beautifully with natural and raw materials such as linen.
Happy styling!
Simply Cushions Team