Grey Cushions
Elegant, industrial and always soothing, grey is the most versatile neutral. From warm hues to cooler tones, our range of grey cushions covers the whole spectrum. Select your favourites from a range of styles with confidence and enjoy free shipping on all orders over $150 plus easy returns.
---
Styling with Grey Cushions
Muted neutral colour schemes are timeless and classic and often suit a range of interior settings. Our selection of grey cushions offers a chameleon-like quality, with warm and cool shades that allow them to pair effortlessly with an array of colours. They also benefit a space by encouraging the use of different patterns and textures without becoming an eyesore or a visual headache. Whether you fancy pairing sumptuous grey cushion covers in velvet with white fluffy cushions or colourful casual textures such as warm knits, grey provides an ideal decorating foundation like no other.
If you love modern minimalism or simple Scandinavian, our grey cushions will play an important role to set the tone for your desired style. They lend themselves beautifully and evoke a sense of warmth and comfort providing a room with a lived in feel. For a more sophisticated look, consider layering different shades and textures of grey. Team with white cushions and vary patterns for a simultaneously classic and relevant appeal.
Alternatively, incorporate bright colours to create an attractive contrast against warm or cool grey tones. For instance, charcoal cushions can be an ideal supporting lineup on the sofa, which lets you add in more layers in vibrant shades to give a brightened and contemporary feel to your space. Less is usually more when it comes to dashes of colour so as not to overwhelm the room, which is why subtle shades of blue, pink, orange, green, purple and even watermelon red are a perfect addition to a more minimalist decor.
Light and dark grey cushion covers
A hint of grey makes any space feel instantly modern. Even better, in its most muted shade, it can make a room feel airy and brighter. Light grey cushions look amazingly stunning in minimal home decor style. Layer different shades of grey throughout the room through furniture and accessories so that your overall scheme doesn't feel too monotone, especially if your background is also in a neutral shade. For instance, choose a darker shade of grey for your sofa to display your light grey designs, and accessorise with a silver-grey tone. Variation is key to getting this scheme right.
On the other hand, you may go all in on a darker shade. A smokey and saturated shade of grey can feel a little more impactful, and, at the same time, create an enveloping cosy atmosphere. Finish off with a few gold cushion covers to really push an elegant look. Whenever you style your home with dark grey cushions, you may want to introduce plenty of crisp white decor elements, too. The two create a beautiful contrast that highlights and brightens up a space. Darker shades of grey such as charcoal add depth and visual weight no matter your design style.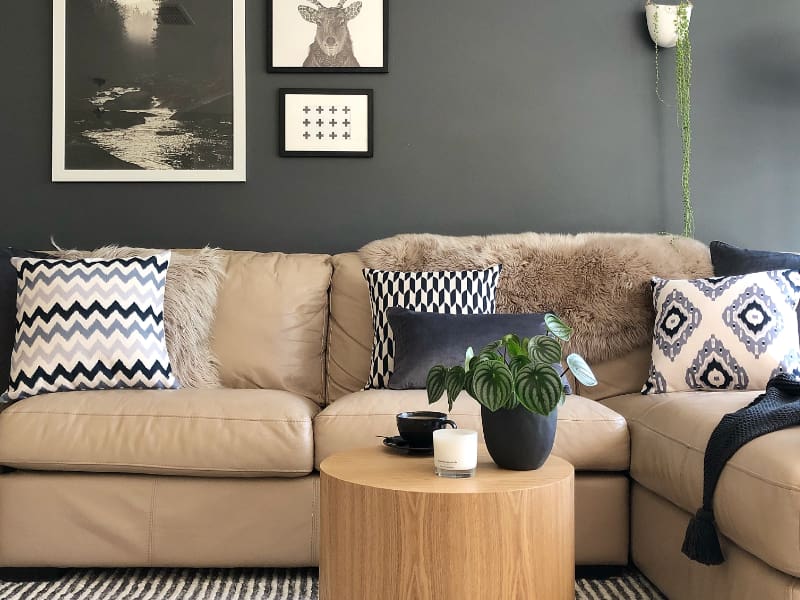 Wonderful grey colour combinations
To play up a classic monochromatic grey and white scheme, you may want to opt for shades that are warm and soothing. A stunning arrangement of grey and white cushions can be insanely chic and pretty sophisticated, too. Even though this palette can be subtle, incorporating tons of patterns and textures helps add extra depth and visual weight. Grey and white blends beautifully with sleek, modern furniture and lighting. If you're up for a pop of colour, bring in a bold, colourful rug for even more dimension.
Alternatively, you may replace your white with a dash of pink. Opt for either a bold fuchsia with softer grey, rosy pink with a darker grey, or softer shades of both pink and grey. Whatever your choice, this duo is to die for. A mix of pink and grey cushions feels effortless, but still elegant. Metallic accents and a crystal lighting can take this seamless pairing from basic to totally modern glam. Build out your collection with a few cream cushions for a cosy look that maintains the vibe. Keep the rest of the room's decor understated so your arrangement shines through.
If you're looking for an elegant base to build your collection off, you should opt for blue grey cushions. A hint of blue undertone is a step up from white, yet it remains effortlessly elegant and soothing. What's more, they are versatile enough to host a range of colours should your styling preferences evolve. You can work the scheme by bringing in a variety of neutral colours or even bold hues should you want a more vibrant vibe. With a solid base like this, it's very easy to swap in different feature designs to sit at the front of your collection and achieve a completely new look. You can change it up with the seasons or when a new style comes into vogue.
Another gorgeous contrasting colour is mustard. Making this duo the focal of your room is a bold choice with a big payoff. Dark grey like charcoal brings drama and depth into a space, while mustard injects a bit of heat and makes the palette non-boring. Instantly liven up your interior with mustard and grey cushions in interesting and strong patterns for added visual interest. Partner with furniture in plush velvet-style fabric and wood tones for a finish that is timeless and elegant.