Linen Cushions
Our premium collection of 100% linen cushions in warm, vivid hues offer ultimate comfort and simple elegance that's perfect for both vibrant and subdued interior aesthetics. Choose your favourite pieces online today and enjoy free shipping for purchases over $150 plus 30 days easy returns.
---
Styling with Linen Cushions
Our gorgeous collection of linen cushion covers exude effortless style. Emphasising a relaxed and casual look, linen pieces are breathable and give a remarkable quality of keeping you cool in summer and cosy in winter. Neutral soft furnishings in white, navy, blue, brown, and black are both full of character and versatile — easily finding their place in just about any interior setting; vibrant or muted, casual or eclectic. If you have bright and bold seating, these are the perfect pieces to bring into your decor scheme for perfect cohesion.
A stunning material for crafting warm and cosy interiors, solid linen pieces have a luxurious soft handle and smooth texture that makes them perfect for contemporary Scandi aesthetics, classic and modern mid-century interiors, or more urban settings. Available in various hues to complement a range of colour schemes, plain linen soft furnishings celebrate the natural beauty of this stunning fabric and draw in the attention it deserves. Showcasing a stunning collection of the best linen cushions Australia has to offer, these pieces are sure to create interiors that instantly feel laid-back and relaxed.
Soft to the touch and incredibly versatile, white linen cushions are a wise choice if you're looking to switch it up as the seasons change. Ideal for use all across the home, they complement bold, summer colours for a playful and exciting look, and pair beautifully with autumn-inspired hues for a warm and cosy decor scheme. What's more, white pieces team brilliantly with metallic accents for a more tailored design finish; they lend a pared-back feel when combined with other organic fabrics, and can create the perfect retreat that's instantly relaxing and calm when teamed with soft blues, greens and greys.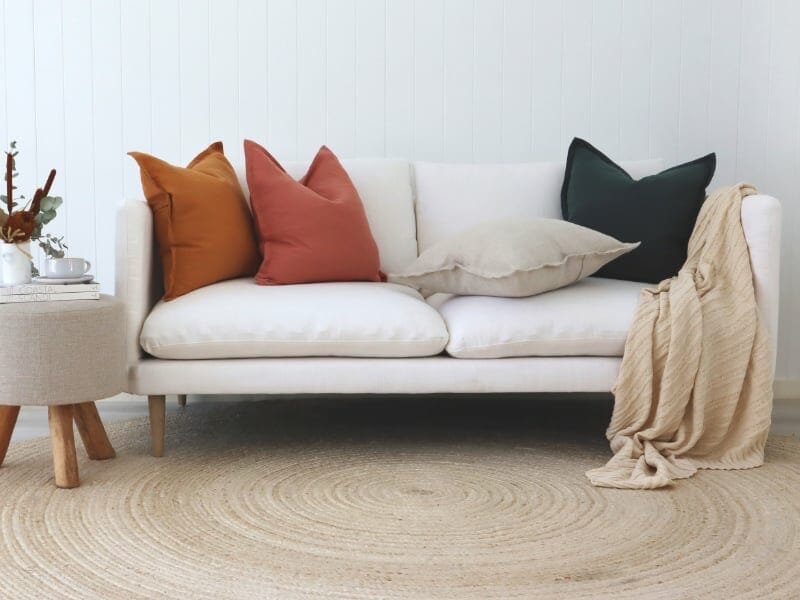 Offering warmth and a textural brilliance that stands out, natural linen cushions can be the perfect backdrop that offers you the flexibility to easily experiment with textiles and accessories in brighter, more vibrant hues. On the other hand, natural pieces can provide a neutral setting with a more quiet, clean and breezy feel. Team with natural accents in material like rattan and wicker, or layer with soft furnishings in subtle pops of colour for a lively finish that exudes an air of sophistication.
Similarly, working with the beauty and texture of green linen cushions is a fantastic way to add interest and style to a tired interior. While green offers a pop of colour, it can be just the right hue to welcome the calming and harmonious influences of nature indoors. Green pieces pair effortlessly with neutrals… think warm creams, greys, off-whites, or browns for a soothing environment. For a laidback monochromatic look, arrange green in a variety of different shades, and feature similar fabric texture throughout the room across your curtains and upholstery.
In addition to bringing in texture so your decor doesn't fall flat, linen soft furnishings, like our grey linen cushions, help provide depth to any decor scheme. When teamed with other grey accents in subtle tones and texture variation, grey lends a quiet, unobtrusive elegance. Grey pieces can create a cool scheme when paired with soothing blues and greens, just as easily as they can channel an edgy, modern and charming atmosphere when teamed with deep colours like navy and black, as well as touches of metallic accents in gold, chrome, or brass.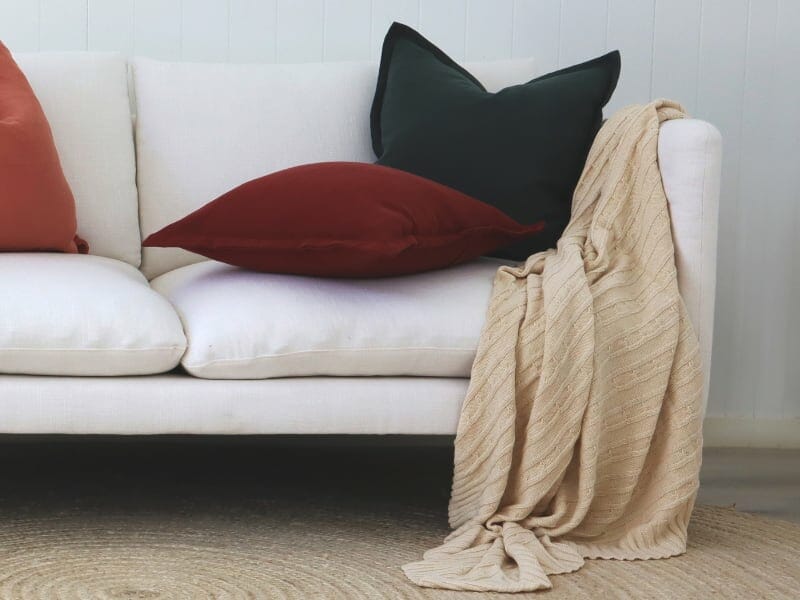 If you're looking for more of a lift with a darker, richer colour, then black linen cushions are the perfect fit to achieve just that. Black acts as the perfect backdrop for more vibrant accent tones and can turn any basic room into an inviting, sociable space. Deeper shades of navy, burgundy or charcoal grey can be styled with black to infuse the allure of linen to a wintry interior. Black soft furnishings make for unfussy contemporary pieces in neutral and all-white spaces, adding comfort and contrast that's needed to tie the look together.
Soft and sumptuous, blue linen is a dreamy choice for lounges and bedrooms as it's able to contrast and complement other shades beautifully. Enjoy the sensual pleasure of a soothing and inviting atmosphere with blue and white soft furnishings. Accentuate the look right up to date by combining blue linen cushions with contemporary tones such as gold mustard, forest green and soft grey with classic white. If you want your space to be bright and airy during the sunshine filled days, blue linen mixes beautifully with soft and dusty pastels.
A highly favoured fabric choice if you're looking to infuse a burst of solid colour into your home, pink linen cushions look wonderful when styled alongside other bold hues and textured fabrics. Offering instant appeal, pink linen soft furnishings are sophisticated, seductive and sure to make a dramatic statement in any season. Combine pink with azure, denim or sapphire on neutral upholstered seating to provide lively highlights that catch the eye. When paired with crisp white and soft grey, pink linen is really successful at creating a modern and elegant design finish.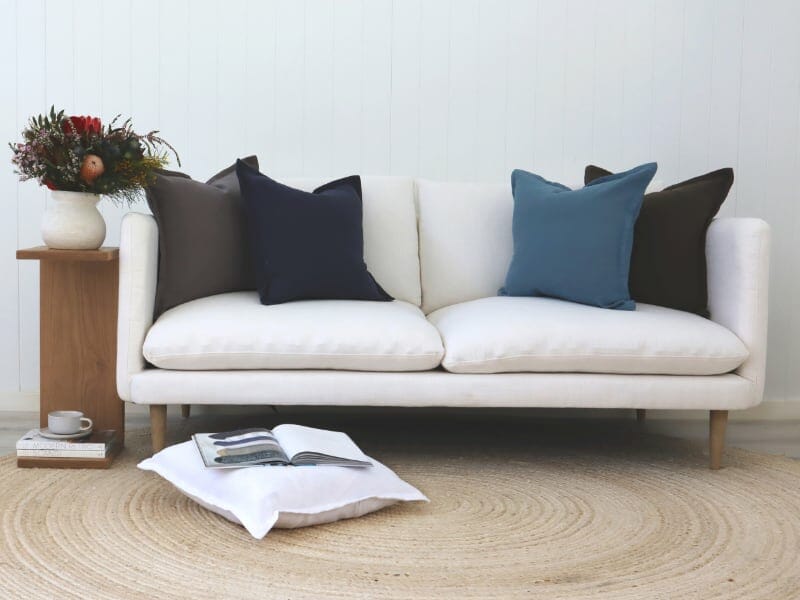 From indigo to cobalt, navy linen cushions sit particularly well with different shades of blue - soft, mid and deep tones - offering great scope for bright, neutral, or pattern mixing. The dark tone of navy linen captures the eye, causing vibrant, energetic shades like yellow, orange and red to pop, and easily finds its place in interiors boasting coastal, classic, and contemporary character. You can always put navy linen with bright white to create a classic, sophisticated finish - bring in gold or brass to add extra warmth and visual weight.
Furthermore, if you want to accentuate the swoon-worthy feel of your decor scheme, invest in a combination of linens in various weights for a tactile, layered arrangement. The fiery hue of rust linen cushions introduce warmth that balances the depth of neutral colours. To create a richer, more vital atmosphere, team rust linen with beige and a mix of soft and deep greens, ultimately promoting an earthy mood that invites you to relax and unwind. Alternatively, you can balance rust linen with saturated tones such as gold mustard, forest green or inky blue for a rich and grounded look.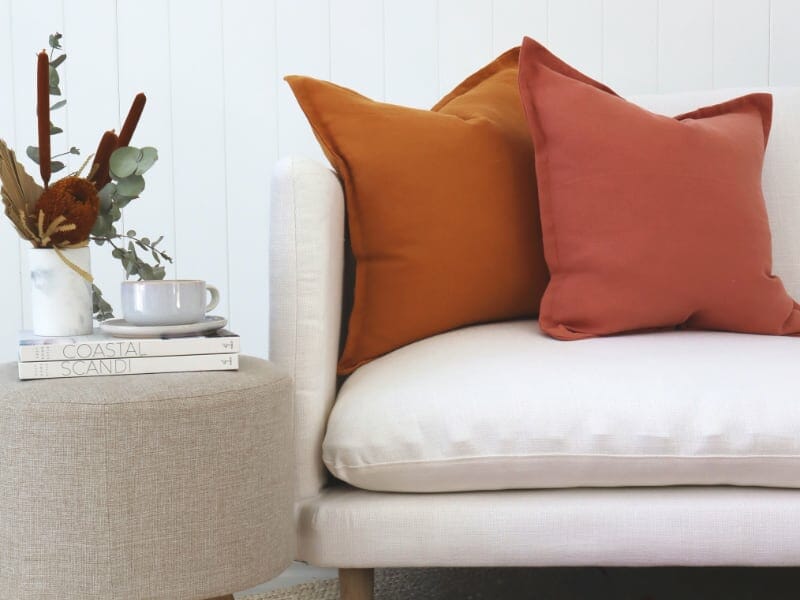 Take your home decor to dreamy depths with a few cleverly considered accent pieces and the best linen cushion covers Australia wide! Simply pepper your space with bold pops of mustard linen and other saturated soft furnishings for a contemporary look with a slightly eclectic feel. Neutral base furnishings or a bright white backdrop beautifully offsets mustard linen, allowing its verdant glory to really shine through and enrich the look and feel of the space. Continue the vibrancy of mustard with patterned soft accents sporting touches of leafy green, cornflower blue, daffodil yellow, and carnation pink for a happy, welcoming vibe.
To smooth things out, bring olive green to a display of mustard accents. Because of its versatility, olive green linen can shine through on its own, and simultaneously add a warm, modern feel to your home when paired with soft, muted neutral for a contemporary feel. When decorating with olive linen cushions, team with rich, traditional colours like reds, oranges, golds and wooden tones for a warm and cosy appeal. Whatever your aesthetics, olive linen has an undeniable allure that can both tone down or jazz up your interior environment.