Pink Cushions
From soft to hot, pink can be used to create energy, warmth and tenderness. Whether your taste turns to bright and bold, soft and subtle, our pink cushions are sure to provide ample inspiration. Shop our collection today and get free shipping on orders over $150, easy returns and excellent customer support.
---
Styling with Pink Cushions
Pink is one of the most versatile colours as it can be effortlessly morphed to suit a range of interior hues. Depending on your taste and how you use them, pink cushions can give your living space different vibes. Lighter shades can lend themselves to softness, delicateness and tranquility; while brighter, more saturated shades like fuchsia can sway towards femininity and strength. Surprisingly, pale pink can be construed as a neutral especially in a palette with other soft colours, making it a more interesting alternative to beige.
Blush pink cushions look stunning and elegant in plush fabrics, such as velvet, as it gives this hue an air of richness. When coupled with black and white cushions along with delicate metallic, it takes on an ethereal quality. Throw in a few grey pillows and your room is transformed into a Scandinavian haven. Team dusty pink cushions with neutrals, like light shades of brown, and the combination creates a rustic celebration; or pair them with cool dark tones to give your home an instant contemporary edge.
Another stylish way to decorate with pink cushions is pairing them with purple. The trick is to layer dark purple cushions, mid-weight and light pink so the display doesn't overwhelm. You may want to use different textures, sizes and patterns for extra dimension and visual interest. This display works wonders in a room featuring dark wooden accents, and where you're looking to achieve a more impactful and obvious statement with bright pink.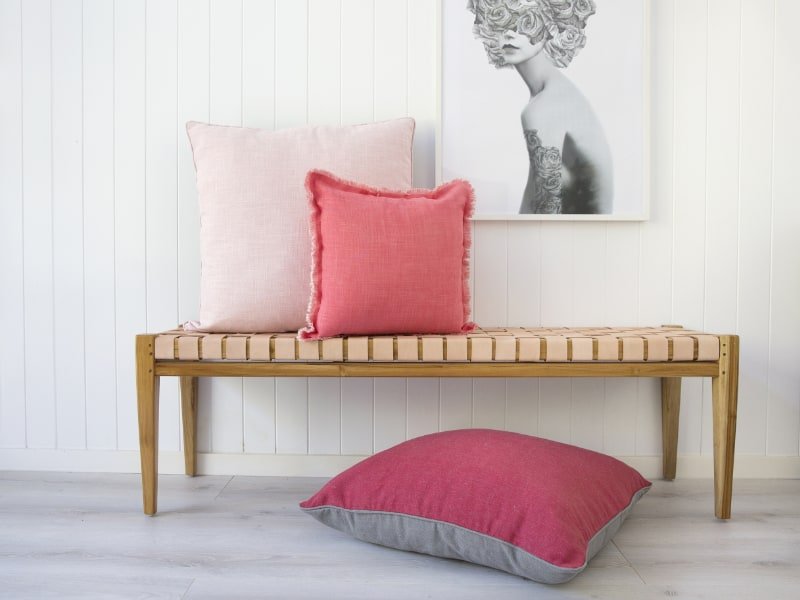 All the wonderful shades of pink
Pink cushion covers are such a joy to incorporate into your home decor. Softer shades offer subtleness and complement a range of neutral colours and natural textures beautifully. Muted shades like blush and soft peach add to the beauty and warmth of modern, contemporary and transitional aesthetics. Daring, bold pink cushion covers on the other hand, have the ability to bring an intense splash of colour that's often lacking in flat minimalistic spaces. When working with a more vibrant and bright pink, the trick is to add it in small doses so it doesn't overwhelm the overall scheme, instead, it remains fun, fresh and trendy.
Mixing and matching different shades of pink can result in a more upscale look. Consider the type of style you're going for, then mix solids and patterns in different shades for a completely unique arrangement. Settling for one shade can result in a rather flat or monotonous display. Block bright pink cushions can be a perfect backdrop for more muted and soothing tones in either geometric or floral patterns. Keep the rest of your decor in a simple colour to let your arrangement take centre stage.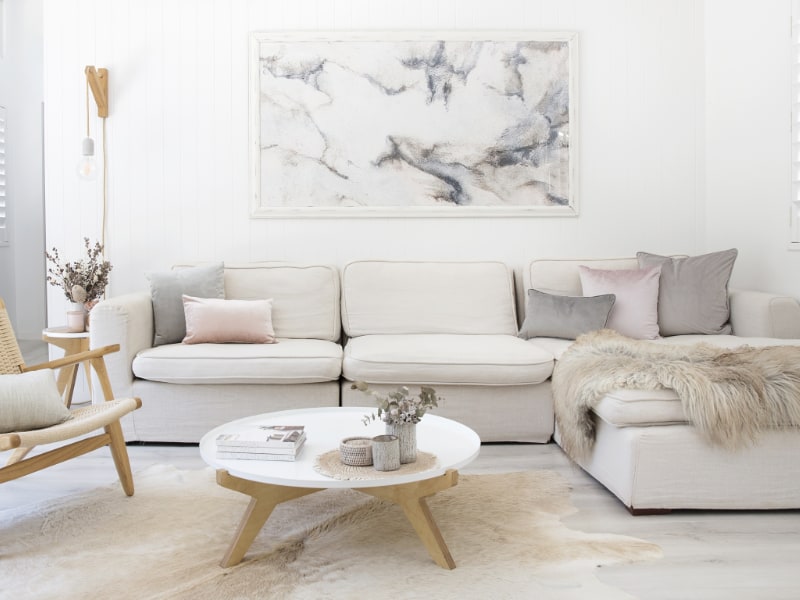 Use blush cushions for elegance
Incorporating blush decor elements into your space may be considered too feminine, but this is one gorgeous colour you can use to simply add more life to your interior space. Use it in kids floor cushions to create a soothing zone for children to relax, or combine it with dark neutrals for an elegant adult space. When combined with a darker shade of grey, blush cushions give the perfect contrast that appeals to any decor style. White furnishings and silver metallics also partner up quite nicely with blush pink. And while this combination works in any interior setting, it's in a chic and contemporary home in which these elements truly shine.
Make your room sing with fuchsia
Since pink comes in a diverse and extensive amount of different shades, the hotter end of the pink scale can add so much presence to a room. Select brighter and bold fuchsia cushions for a neutral room that needs some sprucing up. When paired with navy, this classic combination can create a powerful statement that's lively and instantly transforms a space. Navy cushion covers ooze sophistication while the fuchsia has the ability to warm up a moody colour scheme. Soft furnishings in fuchsia, charcoal grey, and emerald green paired with brass accents fuse together seamlessly, creating a vivacious and dynamic design finish.
Use coral cushions to lift a space
Coral colour has the same effect — in its most saturated tone, it can make your space feel lively and cosier. Surprisingly, it works with a broad range of decorating styles, so whether you're going for something bold and eclectic, or more contemporary, this colour is your best bet. A mix of block and patterned coral cushions shine instantly against a crisp white backdrop, and enhance a room's luxurious feel when styled with gold accents. Coral and aqua are also a pitch-perfect combination that's guaranteed to make any space look insanely chic.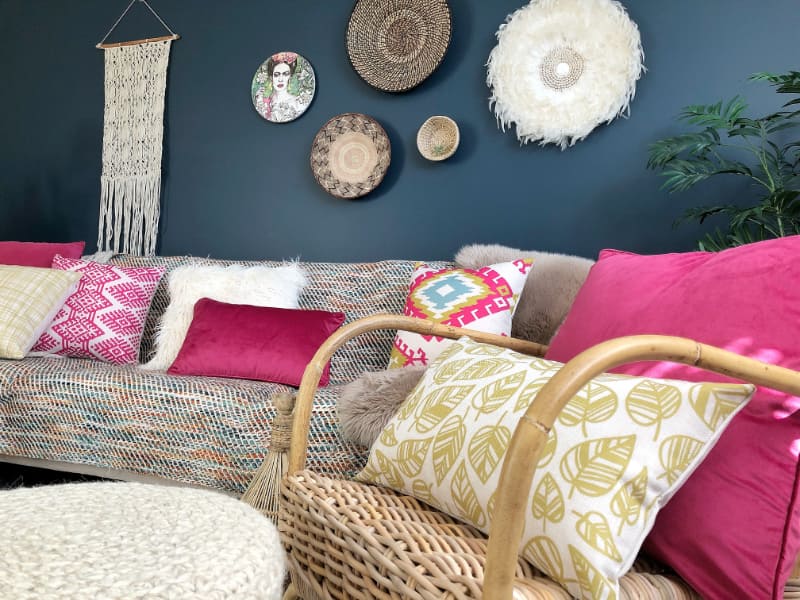 Add some energy with hot pink
What's more, you can infuse hot pink cushions if your neutral space needs a little boost so it doesn't fall flat. A vibrant and bold colour feels visually soothing when paired with muted tones. In addition, including natural textures such as wood, leather and rattan will effortlessly contrast with a striking shade of hot pink. Alternatively, you may partner hot pink with shiny textured silver soft furnishings for a glamorous look, forest green to create a stunning contrast, with deep blue for unexpected charm, or black and gold accents for a refined finish.
Rose gold creates a contemporary look
When it comes to seamless pairing, seafoam blue is an unexpected and gorgeous complement to rose gold cushions. The two hues play off each other to create a stunning layer of sophisticated flair. When placed close to each other, the soothing and refreshing nature of the blue cushion covers allows the warmth of rose gold to shine. To complete this colour scheme, introduce warm wood tones to accentuate the golden tone of rose gold, or contrast with white to highlight the rose gold and aqua.
Use peach cushions for warmth
For yet another enchanting look, cream and dusty pink cushions pair perfectly with peach to create a pleasing trio of warm hues. They add a lively touch to a neutral space — and can be a missing softer layer to a sharp, geometric design. Peach cushions can also create an effortless pairing with pale aqua for a stunning, almost tropical and exotic living room atmosphere. When balanced with cooler tones, peach takes on a more neutral tone that's perfect for a relaxed, comfy and cosy bedroom setting.