Black Cushions
Elegant, dramatic, strong, seductive and sophisticated; black can make a bold and lasting impression in your home. Give your sofa a new lease of life with our range of black cushions. Shop with us today and enjoy free shipping on orders over $150 plus easy returns and friendly customer support.
---
Styling with Black Cushions
Black has stood the test of time with its revitalising power to redirect our focus and add a sense of elegance. If your décor scheme has a dominant white or neutral colour, it is recommended to choose darker decorative cushions. We have a range of black cushions with interesting textured fabrics that help add a touch of your personality to any room. Unique styles in velvet, knitted, cotton linen, faux fur — each will find a perfect spot in your home interior.
Although grey cushions don't risk overwhelming the space; black cushions offer an unlimited portfolio of uses and tastes. If decorating with black is fairly new to you, try starting small by using this hue on your large base styles. Layer in colourful designs in front to accentuate the darker colour and add a striking feature to the scheme of things. This arrangement will help firmly establish the focal point; allowing the textures and patterns to effortlessly reveal themselves.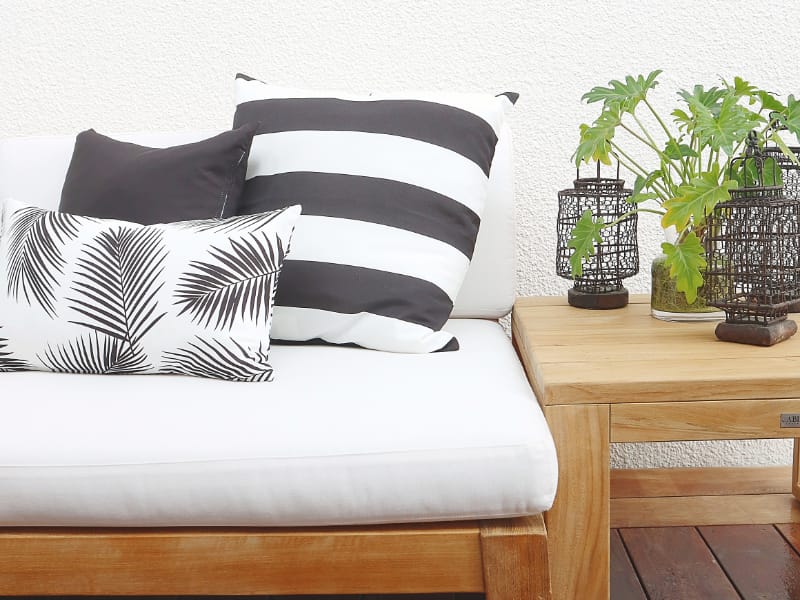 For a dramatic touch, incorporate just a few patterned blue and white shades to in front of your black cushions to increase their intensity. This creates a beautiful midnight-blue tone, that, when displayed in a contemporary living room, works seamlessly well. To further the impact, layer in a few designs in shades of dark grey to achieve a subtle sense of drama. When paired with other statement accents such as black-matted art pieces and metallic ornaments, it gives the room a regal yet modern feel that's hard to ignore.
Black cushion covers are a stylish and dramatic way to accommodate a wide array of bold and bright colours. Even better, black can enhance the colours, shapes and fabrics that lay around it. Pair with pink or rosy purple for a look that is elegant and chic, use with vibrant Ikat cushions to enhance their tone and draw attention to their beautiful patterns, or partner black with red for an enveloping and romantic atmosphere. When styling your interior with black and colourful designs, just a few solid black pieces are enough to tie things together and unify your overall decor scheme.