Striped Cushions
Classic, abstract or wild; stripes are versatile and can be used almost anywhere. We offer a wide range of striped cushions in many colours and styles. Shop your favourites and get free shipping on purchases over $150, 30 days easy returns and our friendly customer support.
---
Styling with Striped Cushions
We often underestimated the power of stripes, and how they can instantly transform the room. Whether you use them in a modern setting or in a totally eclectic way, they act almost like a magnet for the eye and become the rooms' focal point. What's gorgeous about striped cushions is that they're versatile. They can add a crisp, polished element, be elegant when they're tone-on-tone or wild when they're vibrant and bold.
When deciding on a colour palette, striped cushions can dramatically accentuate your interiors depending on how you use them. When used sparingly with blocks in your inside living areas, striped cushions don't feel chaotic or overwhelm each other. The combination is cohesive, but it also gives your eyes a place to rest. Opt for colours that either contrast or come from the same family. Clashing colours like orange and purple or pink and red, may look cluttered rather than graphic and punchy.
There is nothing more chic than mixing striped cushion covers with other patterns. Yes, stripes mix beautifully with florals and geometric shapes, but you may need to choose one colour palette that is a thread. For instance, connecting blue and white striped cushions with vibrant blue and white floral patterns makes works wonderfully. In addition, different colours and sizes of the stripe may have different effects. When rendered in a tight stripes on gold cushions, the effect is crisp and modern; broader strokes and more vibrant colours lend an undeniably chic look.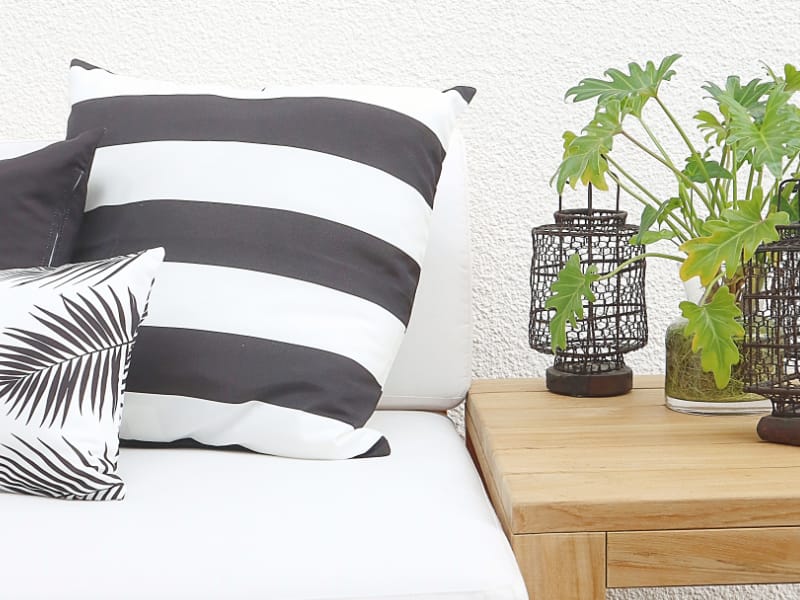 One of the best things about striped cushion covers is that they naturally draw attention, easily making your arrangement the focal point of the room. If your decor scheme feels slightly off, it could be the lack of visual appeal and dimension. Striped designs can add an elegant edge with a limitless array of colour combinations as well as scale pairing. You can simply use one or two punchy colours in oversized designs or as rectangular cushion covers for the greatest impact. Picture a spread of orange and white designs in oversized stripes, a look that is sure to garner attention.
For sleeker styling, black and white striped cushions can be a classic touch that holds your interior decor together. This forever-in-style colour combination works its way into just about any type of home aesthetic. If you're styling your outdoor areas, black and white striped outdoor cushions can lend an elegant touch to solid jewel-toned companion colours. While indoors, black and white stripes can make a room feel refined and expensive when partnered with neutral furnishings and metallic accents. Whichever way you choose to express your personal taste, stripes are sure to make a worthy design statement.