Navy Cushions
Navy is strong, preppy, versatile and timeless! Our wide selection of navy cushions denotes elegance and sophistication; and come in a variety of shapes, sizes and textures, adapted to suit every room and every interior style. Enjoy free shipping on all purchases over $150 and our 30 days easy returns.
---
Styling with Navy Cushions
Navy provides a well-balanced blend of both richness and intensity and manages to work well with just about every colour. It can easily act as a neutral base to warm up a place while still offering a nice contrast. Our navy cushions capture the eye, cause lighter and brighter colours to sing, and complement interiors boasting coastal, classic, and contemporary character. Since this is a dark and warm tone, colour companions should be clear and bright like our collection of yellow cushions, which really pairs well with navy.
Teaming navy cushions with different colours and prints in a cohesive manner is an art in itself — irrespective of whether you're decorating a contemporary space, a classic room or a more casual and relaxed interior. Bold block velvet navy cushions look great in a space when offset by an equally rich tone and paired with artwork, textured rug and metallic decorative accents. If you wish to incorporate more hues into the scheme of things, a good idea is to find a focal colour in the artwork then introduce, say, a block velvet in the same colour.
A lot of coastal designs incorporate navy blue cushions into their scheme since the colour is reminiscent of the ocean - another reason why you'll see the colour so often in large outdoor cushions. Think dark blue waves and an azure sky beyond, and you'll immediately realise why light colours make fine partners for dusty-blue shades and navy blues. White is a classic high-contrast hue that sets off deep-sea shades and gives navy a lift. Alternatives, you may replace the white and soft blues with aqua, cream, soft grey and off-white tones to get a different kind of tropical appeal.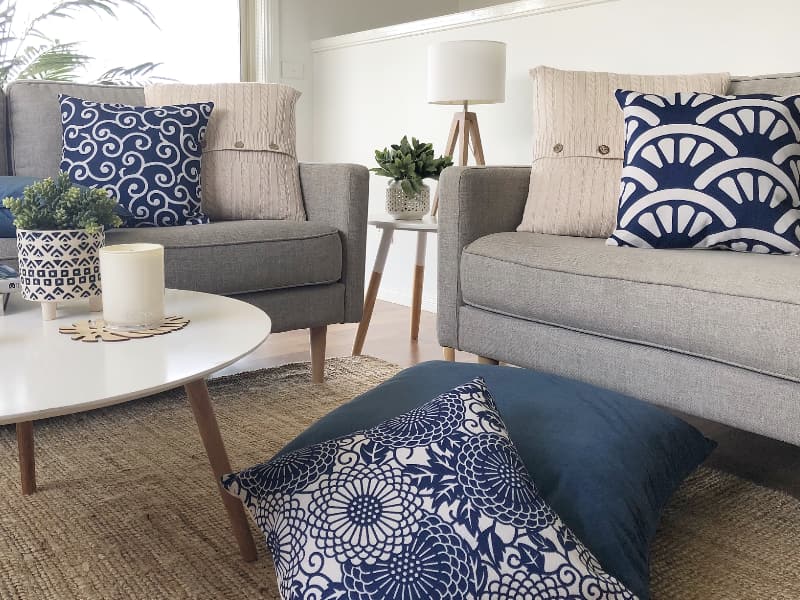 Create a subdued yet elegant look
Navy and white cushions are also great hosts of bold metallic accents. Gold, copper and bronze all create a dynamic contrast each in their own unique way. Even better, metallic finishes intensify the impact of white and navy. For example, try adding some feature copper cushions on top of an arrangement of navy styles for a look that oozes class. In addition, the style of this classic colour combination can be elevated further when paired with both warm and cool wood accents. If you wish to bring in contrasting beauty, incorporate a colour or pattern that you like best, or one that has been used elsewhere in your room.
Moreover, today's muted shades feel right at home when paired with this versatile colour. Sweetly subtle hues of dusty rose, cream and soft tan pair effortlessly with navy blue cushions. Incorporate large-scale and delicate patterns for a more matured look. Cotton-linen designs in colours such as rich jade inject earthy richness to a navy blue arrangement and can be balanced off with rich neutrals including caramel and ivory. For a serious style statement, opt for patterned styles in chevron, stripes and diamond graphics to add dimension to your overall decor scheme.
Partner navy blue cushions with punchy hues
Navy blue cushion covers in sumptuous velvet work especially well with others in jewel tones, including ruby, emerald green or citrine yellow. Layer these in punchy modern and geometric patterns like those found in Aztec cushions. If your interior is surrounded by a neutral wall surface, this combination of saturated colours will dominate the room. Bring in natural textures in grey, such as wicker chairs, jute rug and weathered wood finishes. Natural elements will ground the vivid colour palette, but because they are textural, they'll also lend much-needed visual interest and depth.
No colour holds an energetic presence quite like orange. Bold versions such as tangerine have a bold effect that warms up navy cushion covers. Infuse a combination or orange and navy blue covers as accent pieces in a room where you already have different shades of blue. You may want to opt for both block and patterns for extra style points. To maintain an up-to-date air, style your arrangement alongside with rich wood floors, creamy white soft furnishings, and touches of gold.