Floral Cushions
Channel your inner flower child and transform your rooms' decor with beautiful hues, bold prints and ornate details. From subtle motifs to oversized detailing; our floral cushions are the ultimate statement pieces. Shop our collection and enjoy free shipping on orders over $150, easy returns and friendly customer service.
---
Styling with Floral Cushions
When it comes to floral cushions, each pattern has its own personality that's reflected by style, size and colour — and each has the ability to add life and joy to a space. The fluidity of a floral print adds a playful note and lends visual and tactile softness to any setting. Perfect for indoor spaces and equally great when used in tropical outdoor cushions that add comfort and style to patio seating.
To set the tone for your blooming interior, consider which style is best suited for your home. Ditsy prints are perfect for creating a timeless, playful vibe, particularly when used in a pastel colourway, while more traditional designs will contribute to a sophisticated and romantic scheme. Modern flower cushions tend to avoid looking overly feminine and often feature more daring, abstract floral motifs that serve as the rooms' enveloping focal point. Consider the range of leaf cushions that are popular now and have been stylised for this purpose. If you're feeling brave, don't hesitate to have some fun with your display by layering both vintage and contemporary prints for an eclectic look.
Choosing your colour scheme depends on the size and scale of how much florals you use. For a fresh, tailored and designer finish, consider greens and whites with pops of pink — for a cosy, more intimate space, go bold with dark floral designs in deep blue hues and mix these with some large block coloured 55cm cushion covers. Alternatively, you may pick a collection of floral cushions and build your rooms' decor around them by pulling colours from the patterns. For instance, large-scale flower cushions can work as a primary source of inspiration; from them you decide the colours, textures and shapes of the furniture, accessories to pair them with and textile to incorporate into your home.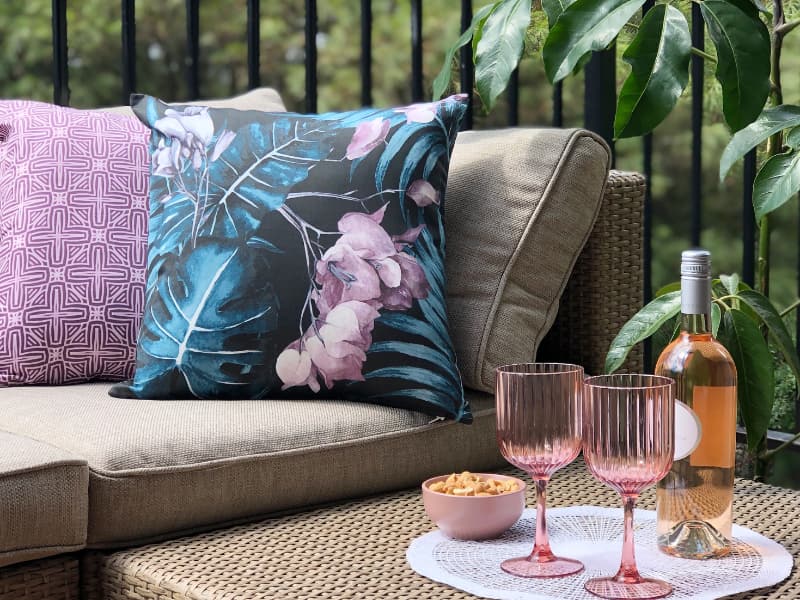 Colour options for floral cushion covers
Pink floral cushions are often the go-to pieces if you are looking to create a feminine and chic decor scheme. Pale, soft floral prints are also the hallmark of spring-inspired palettes. Floral designs in bright magenta can tie everything together in a neutral contemporary setting. Punches of mint green and lavender also complement pink florals beautifully. In a space dressed in such delicate hues of pink, mint and lavender, bring in an accent piece of furniture or artwork featuring all the shades to help tie the room together.
When planning to style with floral patterns, it's important to emphasise one colour. This works really well in a room with a base white or neutral colour palette. To keep it from feeling too sterile and flat, introduce at least one pop of colour. Here, using various shades of blue floral cushions in cotton-linen textures works especially well. Subtle shades of blue, like royal blue cushions, offer a soothing atmosphere that feels equally bright, fresh and almost tropical. You can create a similar effect with another spring favourite shade such as canary, olive green or lilac.
A combination of neutral surfaces and furnishings helps lay a stable foundation for bold-coloured floral cushion covers. Available in a mix of colours like orange, yellow, purple and green, floral pieces paired with brightly tinted artwork really add a splash of colour to a subdued colour palette. However, when working with multiple bold hues in a white scheme, it's smart to create balance with one or two rich neutral tones like a navy or smokey grey upholstery to keep the room from feeling too saccharine.