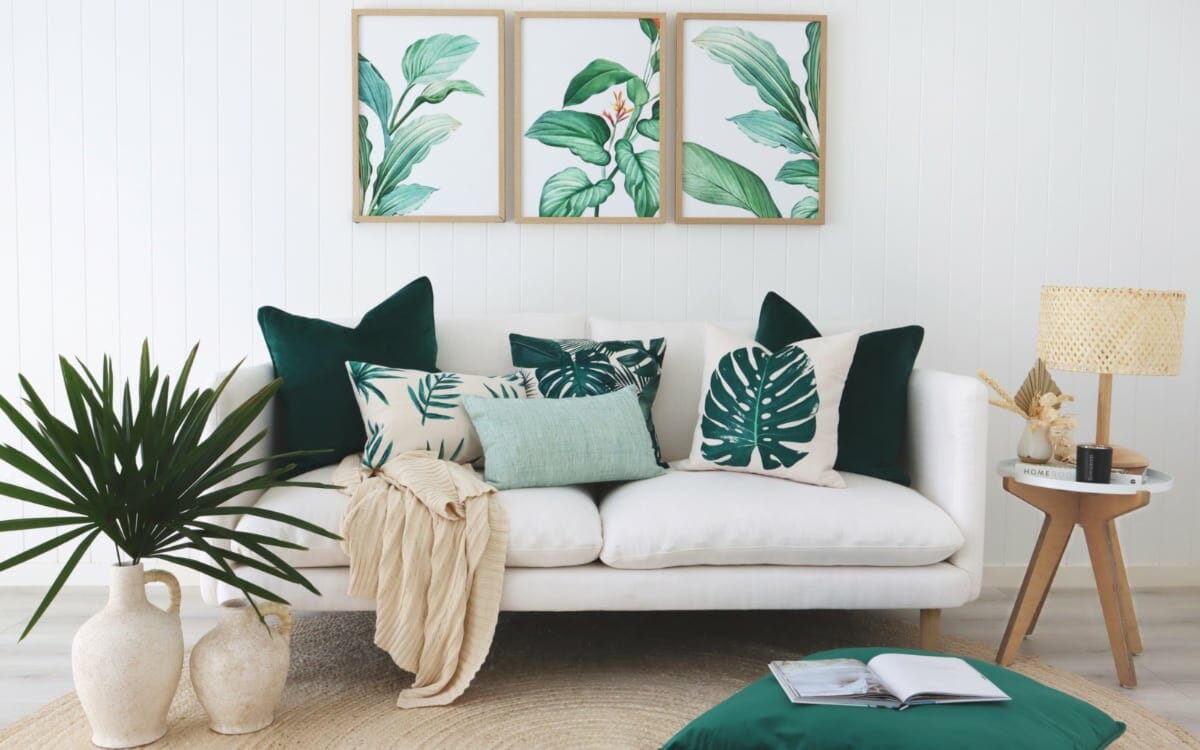 Leaf Cushions
Our green leaf cushions use a carefully selected range of foliage graphics and rich colours to help bring a sense of nature into your living space. Create paradise in your home today and get free shipping on orders over $150 and our famous, top-rated customer support.
Read more
Styling with Leaf Cushions
A touch of greenery can give a room a fresh yet contemporary vibe. In a simple colour scheme of green and white, leaf cushions create a bold contrast to sleek, modern seating. You may want to use vibrant shades of fern, forest green and moss to bring natural luxury to a room dominated by a neutral colour scheme. Include touches of invigorating black for definition and depth, soft pink for chic delicacy, or sky blue and shiny yellow for a relaxed coastal vibe.
Soft and elegant, palm leaf cushions are an easy way to bring a lively look to any living space. The universal appeal of palm prints allows them to adapt to any decor, from traditional and vintage to tropical and modern. In the bedroom, setting your palm soft accents against the neutral tones like black, white and grey creates a luxe feel. To create a free-spirited bohemian style, pair palm prints with wildly mismatched patterns such as stripes and geometrics. Toss in an ottoman or add some wall art in the same pattern for some extra pizzazz.
For an everyday, easy-living style, take a subtle approach by keeping it simple and fun. Tropical patterns are happy motifs, so introducing green leaf cushions adds visual interest to the scheme of things. Green pairs beautifully with an array of colours for a relaxing and rejuvenating vibe. Team with blue watercolour abstracts to create a soothing, natural look, soft beiges and off-whites for a complete sophisticated finish, funky flamingo motifs for a playful touch, or more muted tones of green to tie everything together.