Floor Cushions
If your little ones, or you, love the comfort of sitting on the floor, then you've come to the right place! Floor cushions are not just a gorgeous addition to your home, but offer the luxury of extra seating. Indulge in our beautiful selection to lounge and relax on and get free shipping on all purchases over $150.
---
Styling with Floor Cushions
Large floor cushions are often unappreciated decorative accents; yet they are great gems to add to your home whenever you need extra seating or more softness. A gorgeous casual seating for short-on-space apartments, making a meditation space a bit more cosy or simple dressing up an empty nook. Because they are usually quite lightweight and soft; these floor accessories are easy to move from room to room and can stack and tuck away nicely for occasional use. We offer one of the biggest ranges of large floor cushions Australia has to offer.
Available in an array of colours, prints and textures; from eclectic to vintage; contemporary to modern — big floor cushions can easily accentuate the look and feel of your living space. Bold hues add a dash of extra colour and drama to homes that tend to employ neutral and muted shades; while bold oversized cushions in neutral tones effortlessly ground and tie a vibrant design scheme together. Large square floor cushions are a great seating option; and since the shape is a simple, the colour and pattern can be bold.
Floor cushion covers can also be used to bring playfulness to a space whilst still preserving the elegance of the room. They are a stunning finishing touch to kids play zones and bedroom schemes. Opt for those that complement kids cushions and add tons of visual interest, personality and touches of whimsy. Those that use bright, cheerful and optimistic colours add just the right amount of cuteness for kids whilst still remaining a practical accessory for any grown up.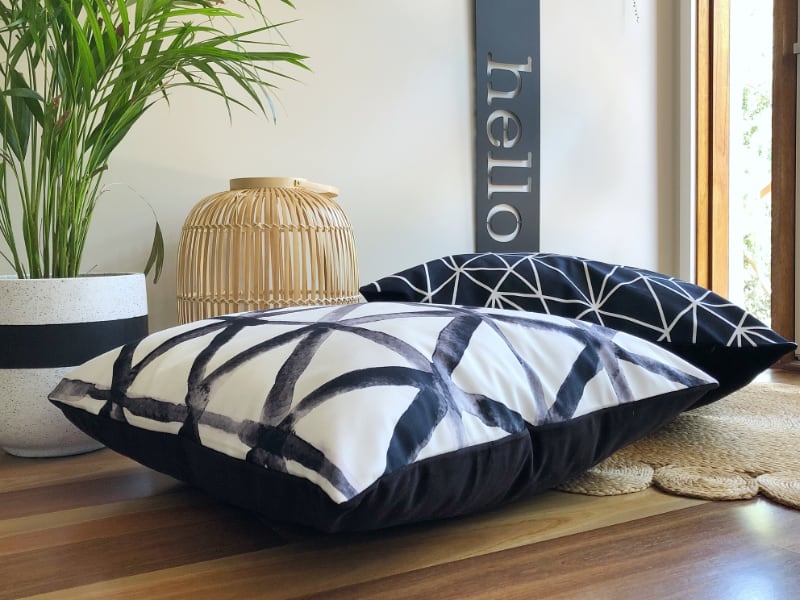 Emphasise patterns using large floor cushions
Soft, extra large floor cushions are not only stylish and comfortable, they also offer so much versatility to pull off a unique aesthetic. If you're looking to achieve an eclectic vibe, look for different striking patterns that can play off each other. Expressive geometric prints are a great way to give your room a visually interesting look. Pick one go-to signature accent colour to serve as a unifying factor throughout your space — or pick no more than three colours that already exist in the space to keep things from feeling a tad too overbearing. Style these with a grey, cream or any light-coloured rug to let them shine.
Another fantastic way to style with geometric patterns is to incorporate them in a lounge area with a black and white monochromatic colour scheme. Black and white palette is easy to work with and offers the perfect canvas for brilliant pops of colour. Floor seating cushions in striking hues can bring a bold first impression and give this classic duo a dose of pep. Play up with dynamic shades or red, pink, blue, orange, yellow or purple to help bring a sense of life without taking the spotlight away from the black and white key elements.
Play with texture to create visual interest
While combining vibrant patterns gives a room a dynamic touch, there is also room to style your space in neutral hues and different textures. Combinations of the same soft, plush texture offers a sleek, modern look. To achieve this, choose a simple colour palette, then use one soft texture at least three times in different spots throughout the home. For instance, velvet floor cushions pair seamlessly with regal velvet tufted sofas, and you can finish the trio with some neatly arranged velvet sofa cushions. Complete the look with an elegant lamp shade and enjoy a stylish look that is both cohesive and well put together.
Alternatively, you may introduce different textures, both rough and soft, to provide depth and extra dimension, especially when working a simple colour palette which on its own would be very bland and flat. Start with three pieces in varied textures and focus on how they will interact. Floor cushion covers in luxurious velvet or cotton-linen fabrics work really well with other textures including fluffy sheepskin, leather, jute or sisal. The key is to create the right balance so that your space doesn't feel too busy, but rather elegantly casual and lived in.
If you prefer to keep your backdrop bold and vibrant, giant floor cushions in a neutral colour-way are your secret weapon. They are a good way to ease into a more colourful decor, and provide a spot for the eye to take a respite from the bold hues. For instance, an area rug or sofa with a bright component nicely coordinates with muted colours for a look that's cohesive and elegant. Blush, pale yellow, blue grey, olive, mint or other green cushions will add a different perspective to your space without seeming too out of place with the room's existing bold pieces.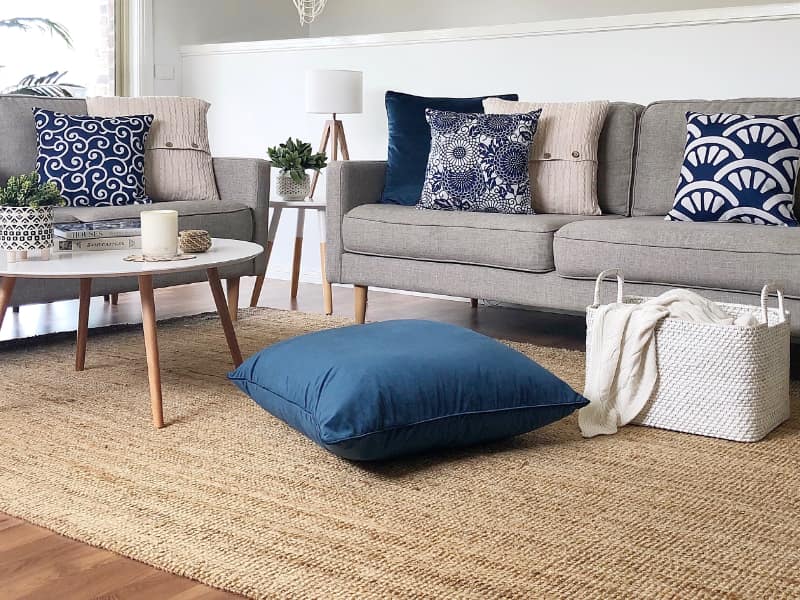 Consider using outdoor floor cushions
Using designs crafted especially for the outdoors will not only add a cosy touch to your external living space, but they are also perfect for adding a dose of colour. Outdoor floor cushions help soften the space with comfort and offer additional seating in a pinch. Bright colours and prints breathe new like to any outdated porch, patio or backyard, and look especially chic against a natural backdrop. For a dynamic touch, mix chevrons, stripes and florals in the same colour-way — or consider one type of pattern in different scales of small, medium and large.
What's especially great about outdoor floor cushions is that they can also tie interior and exterior spaces together with similar colours, patterns and styles. Continue a colour scheme already used inside to make your outdoor space feel more like an extension of your indoor living space. This can be as simple as using matching designs in both areas. Add a dynamic touch with a mix of square and round floor cushions. Go bold with brightly coloured pieces for an exciting look, or choose timeless patterns in neutral hues for a more casual yet sophisticated finish.