Mustard Cushions
Want to add an unexpected colour to brighten your home decor? A splash of a warm, golden hue may be the answer. Our range of mustard cushions will instantly liven up any interior setting and make for an excellent statement. Get yours today and enjoying free shipping on orders over $150, easy returns and incredible customer support.
---
Styling with Mustard Cushions
Our collection of mustard cushions are a brilliant addition to your everyday relaxed neutrals like tans, greys and whites. They bring warmth and add the perfect dose of contrast even to the most earth-toned canvas. Greys and monochromes are a stunning colour to pair with mustard because it's able to own its presence against the bold shade. Picture charcoal grey designs highlighted with patterned mustard cushions — a combination that instantly perks up your space and makes it feel homey and liveable.
While mustard colour cushions make a striking statement among more muted decorative schemes; they are much more usable than you would think. Pairing them with strong hues is a wondrous way to add an offsetting degree of drama in modern, contemporary and eclectic settings. You can go all the way in by coordinating mustard cushions with rich jewel-toned soft furnishings and bold textures. If you prefer something a bit more playful and fun, pair with aqua cushions and shiny gold accents for a finish that's both chic and sophisticated.
If you fancy playing with textures and various fabrics but haven't experimented much with colour, the easiest way to do so is introduce a bold hue in manageable doses to create a stylish scheme. You can instantly brighten up a space by introducing a single pop of colour; for instance, an all white room will offset vibrant mustard with shine and panache. Mustard cushion covers lend a strong modern design to a white canvas — making an understated yet intriguing statement.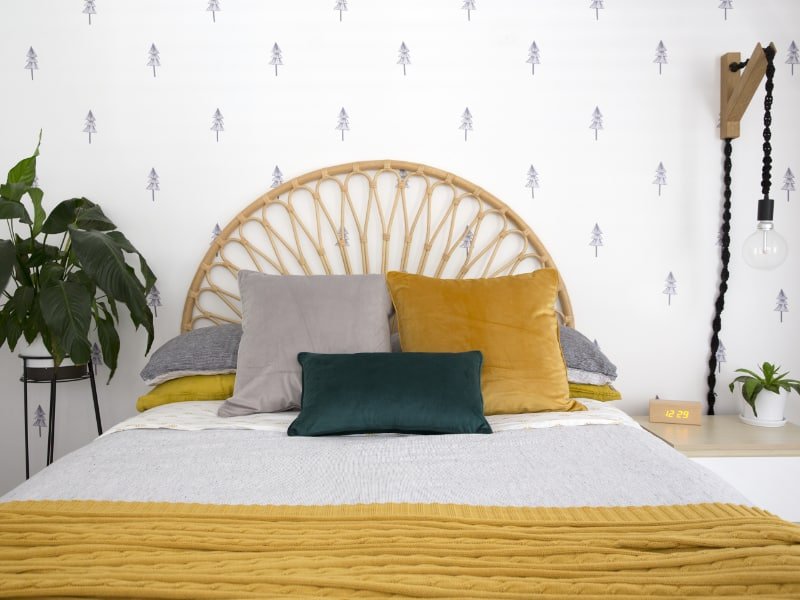 Lift the mood with mustard cushion covers
What's more, minimal addition of mustard cushion covers lend a warm, golden tone to dark saturated living spaces. It has the intensity needed to stand up to moody hues such as indigo, dark charcoal, hunter green or midnight blue for a much grander look and feel. This is perhaps why the colour features so predominantly in tropical cushions where it pops against the colours of green foliage. Incorporating mustard covers in rich velvet adds texture, and creates a luxurious feel that makes you yearn to relax and cosy up with a book. Bring in hints of blush to soften the deep, moody colour scheme.
While mustard yellow effortlessly partners with just about any colour, there are a few colours that make the perfect bold statement. Lavender, teal, chilly blue, blush pink and pistachio green are some of the best colours to mix with mustard to create a chic and sophisticated feel. The rich yellow colour ends up acting like a neutral, while letting these dreamy hues pop. Mustard designs can also be boosted by pops of burnt orange, emerald green, ruby red or purple for a more distinctive and revitalised aesthetic. Whether you're going for a style that's subtle or vibrant, we have the largest array of unique mustard cushions Australia has to offer.