Hamptons Cushions
Whether you want to add a relaxed holiday-inspired look or completely transform your whole home, our range of elegant hamptons cushions evoke a sense of enduring beauty and comfort. Get your collection with us and enjoy free shipping on purchases over $150.
---
Styling with Hamptons Cushions
Sea-side inspired homes capture our hearts with their timeless elegance, simplicity and liveability. Our hamptons style cushions are the perfect balance of refined and relaxed living, with a celebration of white in its many shades, as well as hues that draw inspiration from the beach. If you crave a space that says "come in and relax", our collection of hamptons cushions are for you and will help your living space be effortlessly chic.
Creating a relaxed coastal feel is fairly simple with our selection of hamptons style cushions. A soft, soothing colour palette of whites, creams, and beiges intermingle beautifully with coastal navy, teal, duck egg and grey blue tones, deep browns and pops of colour such as some mustard cushion covers. The right balance of colour ensures that a space feels breezy and open while maintaining its chic, simple sophistication.
Blue Hamptons cushions rich in texture and pattern layered on one another can ensure a design maintains visual interest, even in the absence of the use of bright colours. As with boho cushion covers, layering with different fabrics works well here. For example, cotton, linen, knitted and velvet fabric add dimension and depth to a room, and balance the simplicity of a mostly neutral colour palette. You may also opt for designs with geometric patterns, strong lines and ocean-inspired motifs, but soften these with block colours and organic prints like florals for an intriguing visual experience.
Hamptons style cushions - mild or wild?
Today's Hamptons style cushion covers can be insanely subtle and so versatile, or bold and alluring. Choosing the right style all depends on the look you want to achieve. For a rather understated look, coat your base surfaces with soft neutral shades and light wood tones, and layer in designs in equally subtle hues for a soothing and relaxed finish. Muted hues of green, blue, yellow and coral can create a style that ranges from soothing and relaxing, to playful and sophisticated. Textures like soft cotton and linen lend a casual and airy vibe that still feels stylish and on-trend.
Alternatively, you may stick to a pared down backdrop, and enhance the room's appeal with blue and white Hamptons cushion covers and decorative accents in darker intensities and varied sizes. An analogous colour scheme of indigo blue and charcoal grey in 55 x 55 size covers can add a dramatic touch to a neutral background. Play up this colour palette with a darker shade of mustard or coral in 45 x 45 cushion covers for a clear and beautiful contrast. Little punches of subtle colour through artwork will add visual interest throughout. Pops of soft tan or beige will ground the different saturated tones.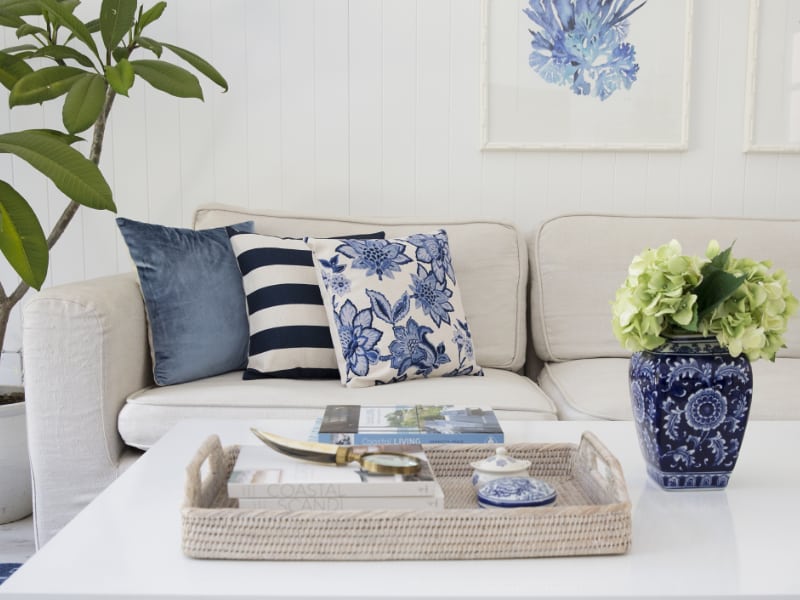 Use sea-inspired motifs and decor
Sea motifs infuse a sense of playfulness in any Hamptons-inspired decor scheme. Match these with bright white and turquoise Hamptons cushion covers for a fresh and airy look. The bold blue-green hue looks crisp against white, and works perfectly well in both traditional and modern sea-side homes. What's more, turquoise cushions can be used in varying shades for as little or as much impact as you desire. It's a colour that pairs seamlessly with neutrals, bold and dark hues, as well as a wide range of wood tones.
When combined with darker shades of blue and soft grey, the overall look feels contemporary and elegant. Hamptons style cushion covers in bright aqua or teal also pair beautifully with complementary colours such as coral and tangerine. This colour scheme creates a coastal vibe that's bold and vibrant, but not too over the top. Complete your Hamptons decor with a few furniture pieces and mirror frames in rich, warm timber, artwork with hints of mint green and pale yellow, and a soft textured throw rug.