Boho Cushions
Looking to bring a well-travelled flavour and layered eclecticism into your home? Our range of boho cushions provide a relaxed, alternative style and will help you get into your bohemian groove. Enjoy free shipping on purchases over $150 and our friendly customer support.
---
Styling with Boho Cushions
Boho style is all about flexibility and freedom and draws its inspiration from the free spirited, bohemian mystique of a world traveller. The recipe for the perfect collection of boho cushions is that it's better if they do not match. Layering gives you an opportunity to mix a striking combination of textures, patterns and colours. The whole point of bohemian cushion covers is comfort, topped with lots of charm!
Colourful, vivid boho pillows piled generously offer new hues to more pristine and neutral interior settings. Vibrant shades and lots of patterns such as floral cushion covers mixed with ethnic patterns like tribal and geometric prints are the main factors of boho chic style. A comfy collection of mismatched bohemian cushion covers is great to dress modern sofas and cosy beds.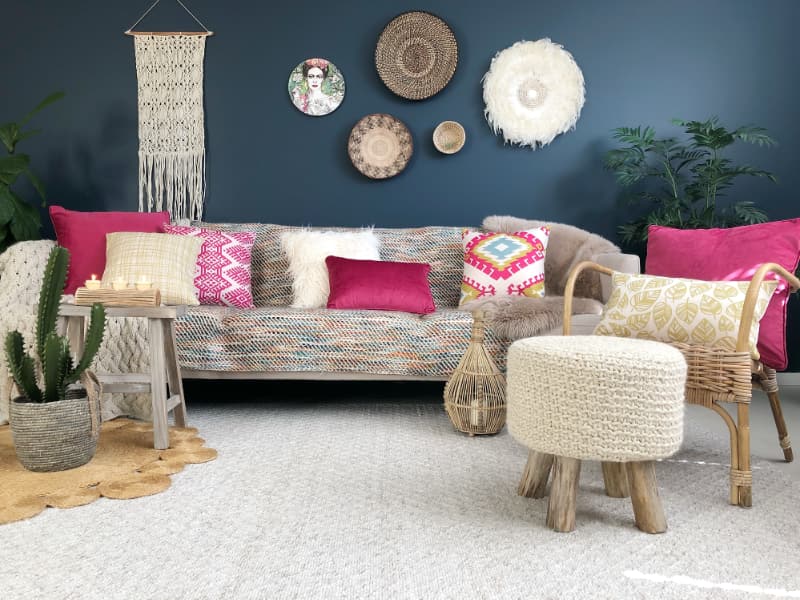 If brights aren't your home's calling card, embrace a subdued mix of boho cushions in shades like olive green, mustard yellow, burnt orange, maroon red and lilac cushions. Don't worry about them all being the same colour. As long as your bohemian cushions all have quirky, unique patterns in different scales to give an eye a catchy environment, they'll fit. After all, boho design isn't about matching, but rather, should inspire you to create and relax.
What's more, your boho cushion covers can be the focal of the room. This may mean sticking to a simple and neutral backdrop, and allowing your arrangement to take centre-stage. White wall surface, light-toned flooring and neutral base furnishing in either white or grey, then introducing boho cushions in a mix of bold and vivid hues, striking patterns and a variation or smooth and rough textures. You may also layer woven rugs and natural fibres for extra depth and dimension.