Blue Cushions
There is something about blue that brings a sense of calm and tranquility to a room. Its hue is just as enticing as a deep breath of fresh sea air. Choose from our wonderful collection of blue cushions in varying sizes, textures and patterns and get free shipping on orders over $150.
---
Styling with Blue Cushions
It's hard to ignore our range of blue cushions which offer a wide selection of hues; from cool calming tones for an undeniable relaxed atmosphere, to darker blue tones for high-end and simplistic elegance. To put it simply, blue cushions give you a dose of sophistication you crave without tying you down in any way. They create an oasis of comfort in the fall when teamed with knits in soft textured neutrals, and easily glide into spring when paired with pastels hues.
Blue cushions in cotton linen and velvet fabrics work really well in creating coastal interior vibes. When layered into a largely white or neutral space, focus is instantly directed to the couch — creating an energising aura of life and a relaxed glamour. To transform your home into a tropical paradise, team your block blue cushion covers with our stunning collection of decorative cushions with striking patterns. The best part about this pairing is that it works in any room and looks gorgeous the whole year round.
Teaming navy and indigo with white is a classic display that fits effortlessly in modern, contemporary and even traditional settings. The deep blue shades will offset the white and make it appear more crisp. Alternatively, you may team your dark blues with light blue cushions, some azure tones and perhaps a few corals for an eye-catching and refreshing combination. This colour scheme has the power to add style and comfort without overwhelming your interior space.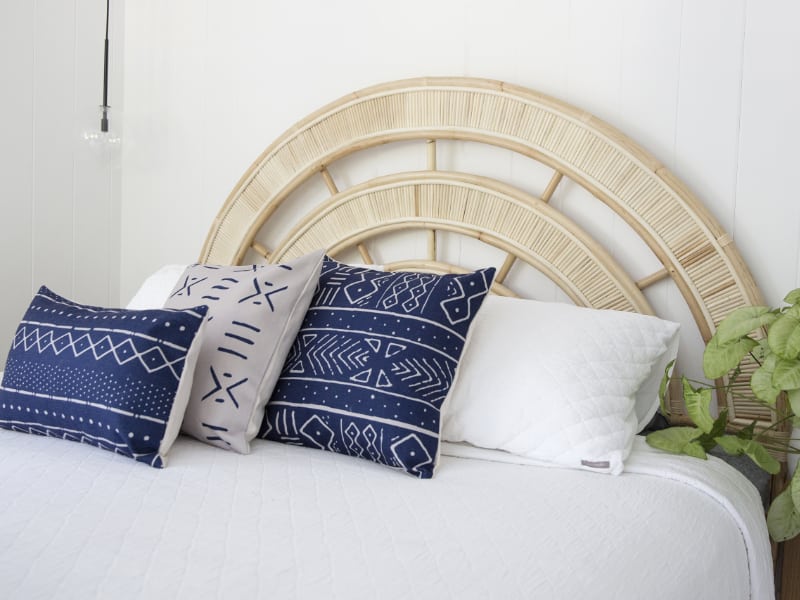 From dark to light blue cushions
One of the many things serene and relaxing living spaces have in common is most have one or more shades of blue. If you're in need of a colour change, consider incorporating lighter shades of blue to create an impression of a very delicate space. Pale blue cushions work great with earthy tones and pastel furnishings - common features of a Hamptons inspired style. Pairing with whites and soft shades of grey, blush, lavender, tan or mint gives a new sense of balance and harmony. Throw in one or two light wood elements and modern art for a contemporary bedroom vibe.
Meanwhile darker shades of blue such as duck egg or navy pair beautifully with brighter colours. The vivid contrast helps create an expensive modern feel to the room. Mix dark blue cushions with bright orange to bring a vibrant take in even the most elegant and traditional settings. In full saturated, both hues can be used effectively when a mostly-neutral palette needs to be punched up just a little. Bold, yes, but dark blue and orange offer a pop of boldness that does not change the style of your space, instead, accentuate it even further.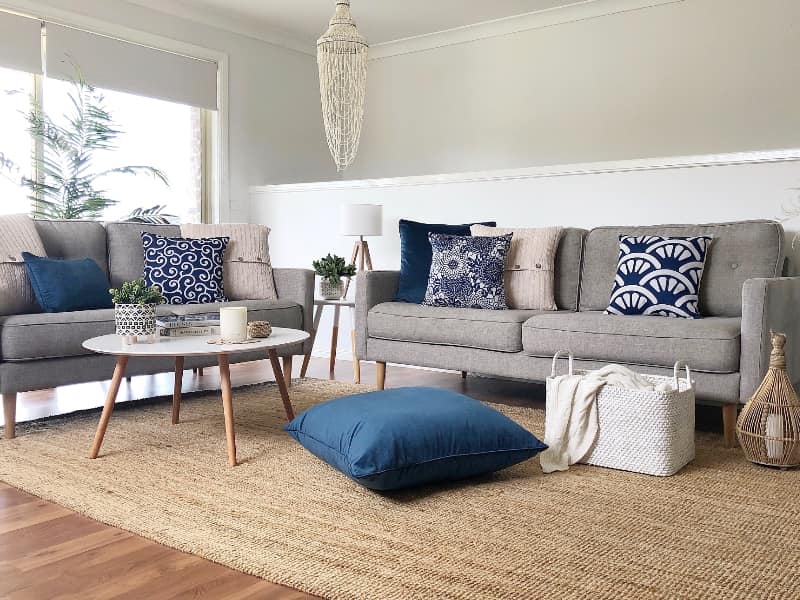 Colours that go with blue cushion covers
Blue also partners brilliantly with green. Both are calm, tranquil hues, and because they sit next to each other on the colour wheel, they offer far more personality and zip without any fear of clashing. Blue fabrics blend beautifully with green surrounds which is why the colour looks so good when used in blue outdoor cushions. Duck egg blue cushions are soft to look at while still providing an elegant and feminine feel. When combined with soft furnishings in a dreamy shade of green, both colours give a room a refreshing and serene touch that will set your guests at ease.
A display of boldly patterns in blue and grey are great for a glamorous twist in any interior setting. Mix and match block designs in darker shades of grey as background pieces, then bring in patterned sky blue cushions for a classic look that is still fun and memorable. To energise the combination of grey and blue, add hints of vivid fuschia or a darker shade of mustard and make use of the space on your floor. Throw in some Australian floor cushions in rich tones to add another layer of luxe. Saturated hues create a high-contrast colour scheme that looks lively even in the most simplest interior setting.
Create the look you want
If you're looking to create a sophisticated statement, style your living space with three saturated jewel tones. Rich shades of blue, green and purple lend a luxurious colour combination that's perfect for contemporary spaces. A display of emerald, amethyst and royal blue cushions in plush velvet and large-scale patterns enhance a room's upscale feel. Alternatively, you may pair a much brighter blue tone with lime green and coral accents for a personality-filled living space. Opt for neutral wall colour and furniture to mellow down your bright colour combination.
For a laidback aesthetic, pastel blues play nicely with soft lavender to form a soothing arrangement, showcasing both solids and patterns. To add depth and interest, opt for designs in various textures such as velvet, cotton-linen, faux fur and knits. Use plenty of white furnishings to help these subtle shades stand out. Soft blue hues also evoke a casual and relaxing energy when partnered with soft peach, mint green, pale yellow or blush. No matter your design style, you're guaranteed to find a stunning range of the best blue cushions Australia has to offer.