Colourful Cushions
Need to brighten things up? Add a splash of colour to your room and your collection with one of these vibrant, colourful cushions. Get yours today from Australia's best cushion store and enjoy free shipping on orders above $150, easy returns and friendly customer support.
---
Styling with Colourful Cushions
Vibrant and bright hues, bold and striking prints and florals, plush and sophisticated textures; colourful cushions are an effortless way to add style and comfort to your home. More than just adding an extra feather-filled layer to your nest, they are a great way to embrace new trend without committing to a costly project. Even more, they fit easily into an existing decor scheme, so whether your home features a modern, eclectic or luxe decor, you are definitely spoilt for choice.
Bring artistic details with graphic patterns; classic stripe, geometric, retro 70's prints and intriguing motifs proves that statement artwork doesn't just have a place hanging on the walls. Bring in a few multi coloured cushions into your living space with colour combinations of burnt orange, teal, deep brown and olive on one piece. The colour scheme makes a stunning and playful addition in a neutral scheme.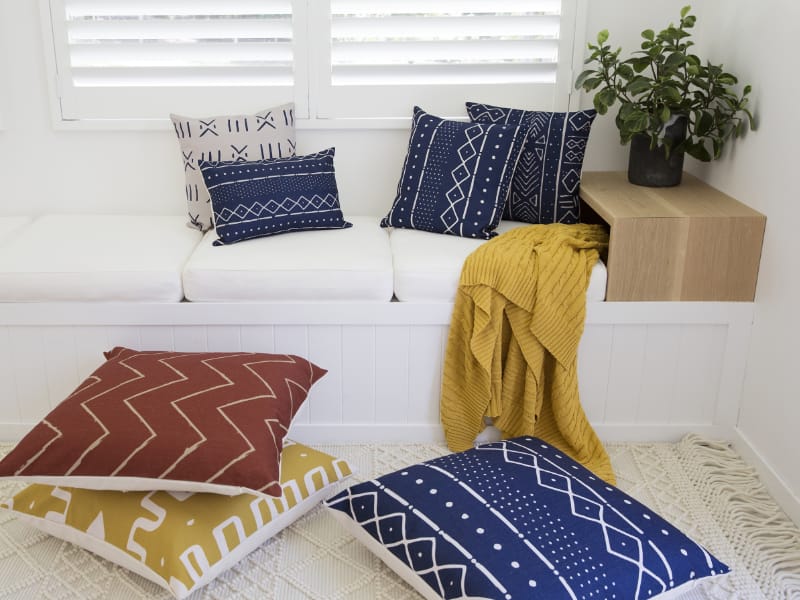 A few bright cushions can make a dramatic difference to a space that is predominatly white or neutral in colour. Like a blank canvas, adding some colourful pieces here can add warmth and provide an opportunity for you to express your personal style. If you want to add colour but maintain a consistent style, you could try adding some mud cloth cushions which have beautifully rich hues and a lovely organic pattern. Florals are another useful tool and can accentuate the rooms' style with soft colours and provide an excellent opportunity to broaden your colour palette. Whichever way you go, using colourful cushions is an excellent way to display your personality traits.
In addition, bright coloured cushions can infuse the same freshness to a dark colour scheme. For this scheme to work, it's important to have a right balance of bold and dark hues. Bright peachy tones, pops of coral and hints of citrus yellow inject spring-like energy to midnight blue, burgundy or plum. To keep your vibrant arrangement and dark furnishings light and soft, use patterned styles that incorporate a lot of white. Designs with hints of white will make enough of an impact no matter where you place them.