Faux Fur Cushions
They're sumptuous, cosy and welcoming. Faux fur cushions are the perfect accents to add textured opulence to your home. Explore our wide selection of fluffy cushions ideal for both living and bedroom settings. Enjoy shopping with us and get free shipping anywhere in Australia on all orders over $150.
---
Styling with Faux Fur Cushions
Faux fur cushions are surprisingly versatile and add instant luxe to a range of interior schemes. However, with fur, less is more. Since this material can easily draw the eye in, it's advisable to pick one or two fur pieces to complement a space. It's equally best to keep the rooms colour palette cohesive to let the design take centre stage. Toss one onto your sofa, and witness how it becomes everyone's favourite place to land.
Fluffy cushions are especially adept at making spaces that feel cool appear cosier, intimate and more engaging. If clean, modern lines are part of your interior's aesthetic, they can easily be integrated into the scheme of things, making the space feel less rigid. Like velvet, faux fur adds a welcoming softness that's perfectly comfortable and sophisticated. Think leather couch layered with a mix of cotton linen, knitted and fluffy cushions and you have yourself craving for a steaming mug of cider by the fire.
When it comes to faux fur cushions, one may often think of warm hues and perfect winter neutrals such as browns, greys, tans and navy. However, if you wish to keep the fur vibe going all year round, you may want to opt for something more vibrant in subtle pastels hues that feel cosy but aren't heavy during the spring and summer months. Blush pink, mint, soft grey, dusty purple and cream are a popular pick that exude an understated elegance in any interior setting.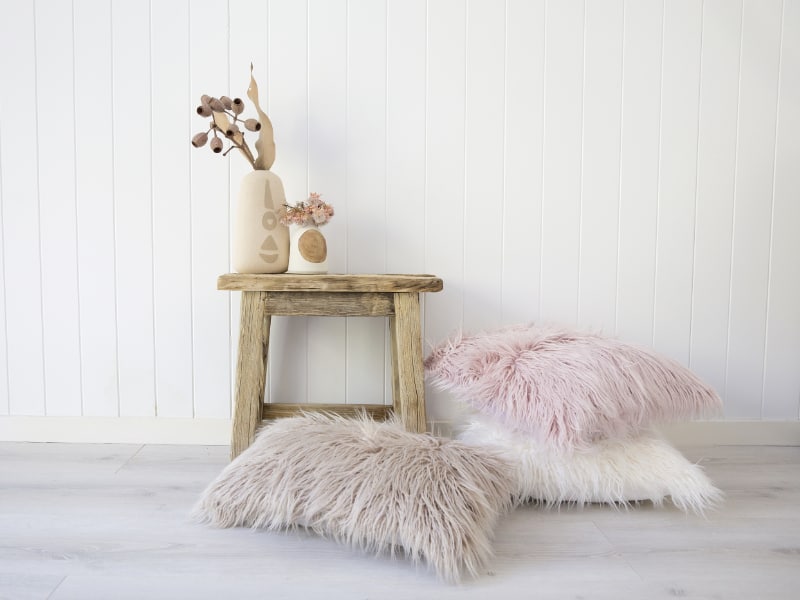 White fluffy cushions work everywhere
No plans of redecorating every season? You may want to go for a hue that complements just about any colour you can think of. White fur cushions are a staple in any home, and would seamlessly blend with a lot of colour schemes no matter the season. For instance, white faux fur effortlessly finds its place in a contemporary bedroom with elegant sage cushions, and even a multi-coloured eclectic living room. With white fur, you can simply decide to stick to a neutral arrangement, or add a few more designs in bright pops of colour for much needed depth and variation.
If you decide to go for a bright-coloured scheme, white fluffy cushions can completely be brought to life with stunning splashes of warm tones. If you're a bit colour-shy, start off with one single hue to make instant impact. Warmer shades of red, yellow, orange, pink or any hue you can pick up from other elements in the room will create a harmonious feel. If you are really looking to experiment, pair white fluffy covers with multi-coloured pieces in different fabric textures for an exciting atmosphere.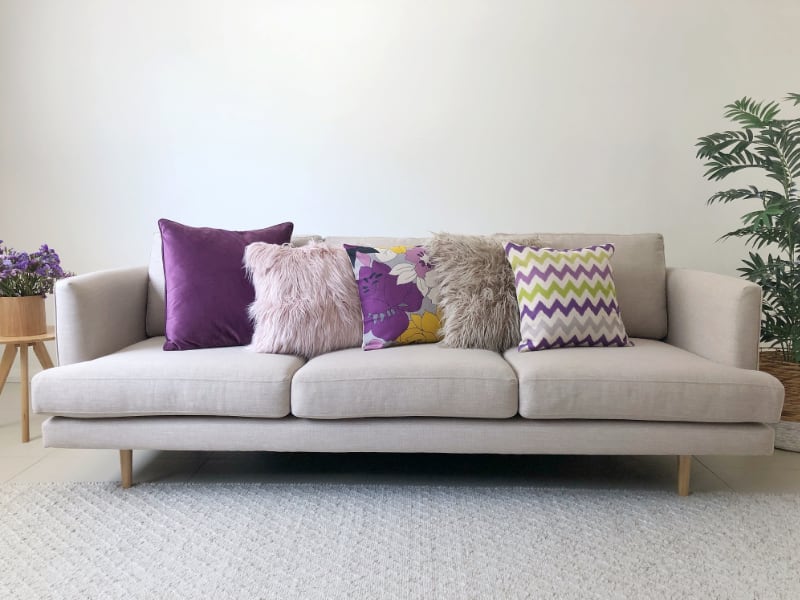 Use shaggy cushions for texture
What's even more special about faux fur cushion covers is how they add just enough soft texture to indicate that a room is a warm, cosy space. If your interior feels stark and austere, adding faux fur texture makes for a beautiful contrast and can be as simple as adding some smaller oblong cushions in this texture to add an element of softness to the scheme of things. This works particularly well if you're seeking to add comfort to rigid furniture such as wire, wicker or metal chairs. Any streamlined or cold-looking surface can benefit a great deal from extra cosiness with a touch of faux fur.
In a home full of neutral colours, a pop of soft texture and subtle colour can really accentuate the look and feel of the space and make it more inviting. For example, soft, warm and cosy pink fluffy cushions add just the right hint of colour and texture. They serve as statement pieces for the room. Introducing a new colour, print or fabric to pair with fluffy covers can add a sense of intrigue and make the whole space feel new again.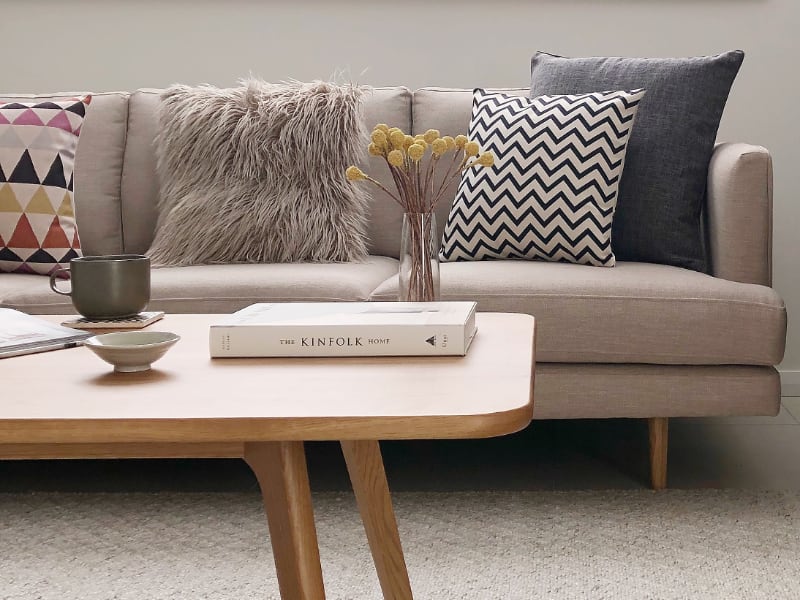 Use them to build a unique look
Muted medium grey fluffy cushions also work well in modern, contemporary and Scandinavian homes. In its understated tone, grey adds a sense of calm throughout the room and plays beautifully with white cushion covers, natural finishes and other organic materials. For instance, pair grey faux fur covers with white washed wood flooring and shiny silver metallic accents for a timeless look. In addition, grey fluffy covers can serve as a complete colour palette all on their own. Simply mix in a few different shades of grey to create dimension and visual presence.
Selecting just the right number of fur cushions can make your entire space feel fresh, on-trend but timeless, and refined. A gentle and tranquil colour palette will provide a purposeful feel to your living space, and a vibrant colour scheme could just be the mood-lifting touch your home needs especially when paired with gold and copper accents. Faux fur is truly a nice and elegant detail needed to transform a living space and give it a completely new and unique look.