Urban Modern style blends contemporary, minimalist styles and influences of industrial aesthetics but with a less edgy look.
Urban Modern style
Urban modern style exhibits smart spatial design and embraces building materials such as concrete floors, rugged wood, exposed beams, steel floor-to-ceiling windows, and unfinished surfaces — but the aesthetics are far more refined compared to industrial design.
The style aims to give those in inner cities — or anyone with long work days; a sanctuary of their own: to refresh and feel nurtured in.
Incorporated into this style is the use of slimmed-down furnishings to allow the unique architectural features to stand out. The style seeks out 'form-meets-function' practicality while adding an eclectic flair and putting every inch of the space to work.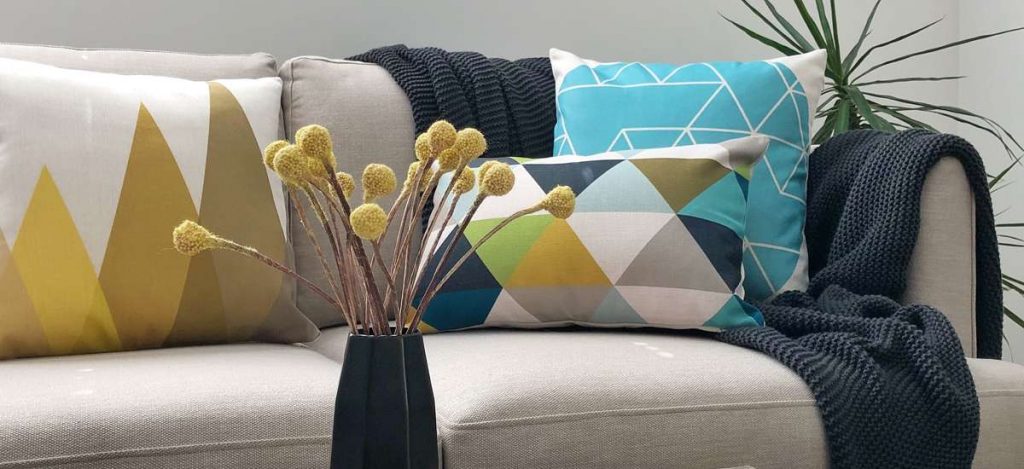 Features, colours, patterns and textures
Neutral colours such as greys, browns and even blacks are generally favoured in an urban modern home; with limited punches of coloured cushions in purple, teal, fuchsia, burnt orange, olive green and bright blue to add liveliness to a seemingly monotonous colour scheme. 
Large artworks are commonly used on the walls to help bring visual warmth and depth into the space. 
Textures often depend on the elements within the space. Smooth textures can be found on solid fabrics such as calico, linen and velvet; with occasional geometric or graphic patterns displayed on cushions, throws and poufs.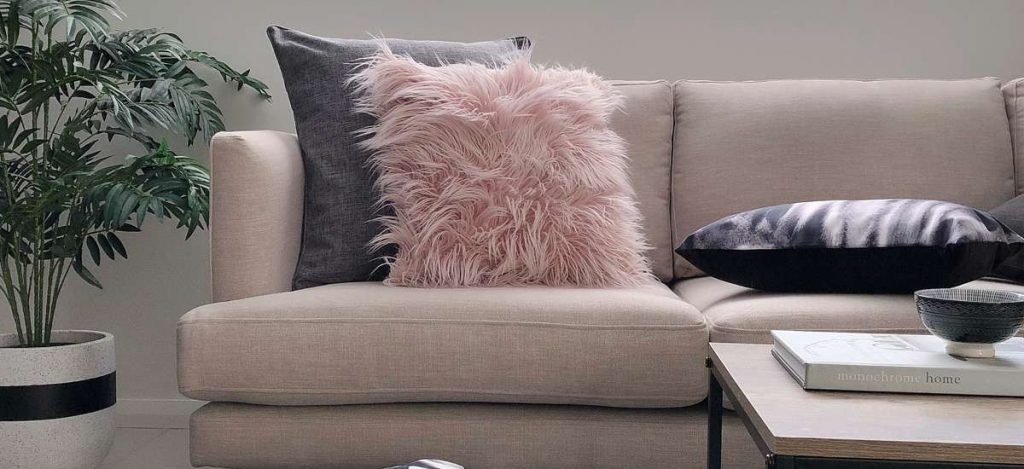 How to create the Urban Modern look with cushions?
There are different takes that can be implemented to create an urban modern look, as long as the core features are there. We've coordinated three different cushion collections which we're sure will inspire a look of your own.
But don't forget the accessories! For this style to take shape there should be some degree of minimal and clean aesthetics. Here, the rich and dark tones of a leather chair, plant pots, light fixture, wall ornament and artwork accentuate the neutral base of the room.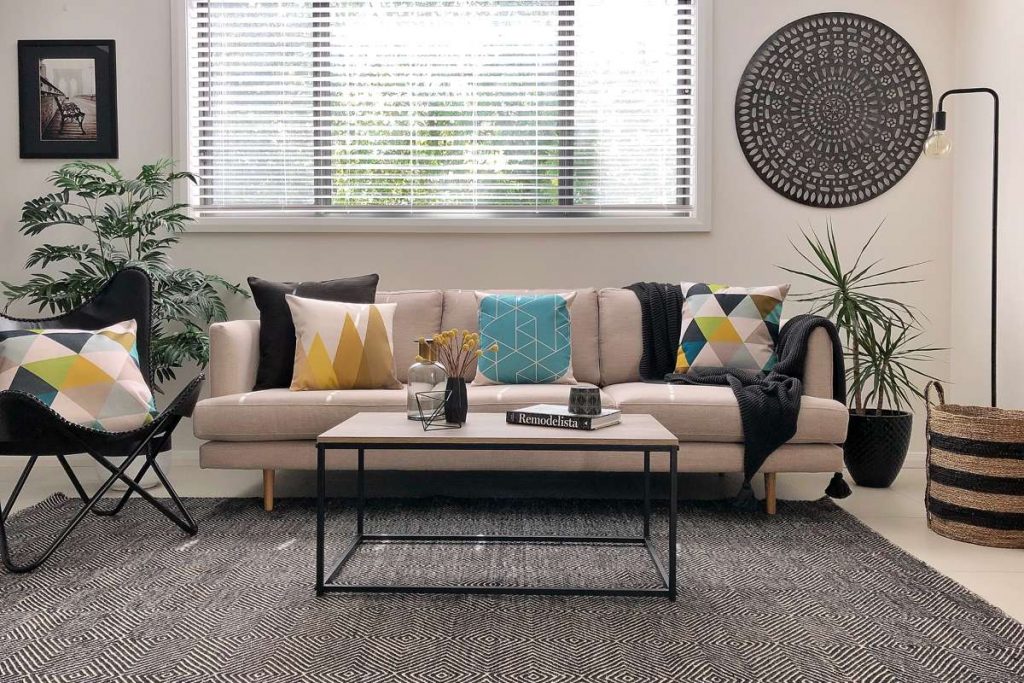 Look 1: Our Domino Collection
In this scene, we've selected our Domino Cushion Cover Collection which is perfect for a sophisticated appeal. It works well when paired with natural or bold accents to make your space look distinct and unique. 
Here, we've opted for a large cushion in dark grey as the base, and then we added some graphic cushions to soften the hard edges and bring in a playful element into the space. 
The different patterns and colours really bring the room together without dominating other accent pieces. The cosy wool throw adds texture and comfort, while the large potted plants provide a warm contrast to the darker tones and cooler metal finishes.
To achieve this look yourself, select one of our Domino Collections and offset it with black, grey and beige hues to create a successful decor scheme. Add a few potted plants to bring in a glimpse of nature from outside.
Shop the look…
Look 2: Our Sienna Collection
This time we've combined the tribal patterns in our  Sienna 7 Cushion Cover Collection with a couple grey knits. This set of vivid velvet cushions will tone perfectly with deep green or black accents — striking a stylish balance we all want to bring home.
In this scene, a refreshing pop of yellow on our graphic cushions spruces things up and instantly makes the room more interesting, while the grey cable knit cushions make the interior cosier and keeps the whole look from seeming too chaotic. 
A single rectangular velvet cushion adds variety to the cushion shapes. Our sumptuous mustard velvet floor cushion brings both visual and tactile interest into the room. The woven decorative basket, wall ornament and art add tons of charm and authenticity.
To create this look yourself, start with a neutral block sofa that will allow you the opportunity to play around with our Sienna Collection. Introduce some artwork for personality and visual interest.
Shop the look…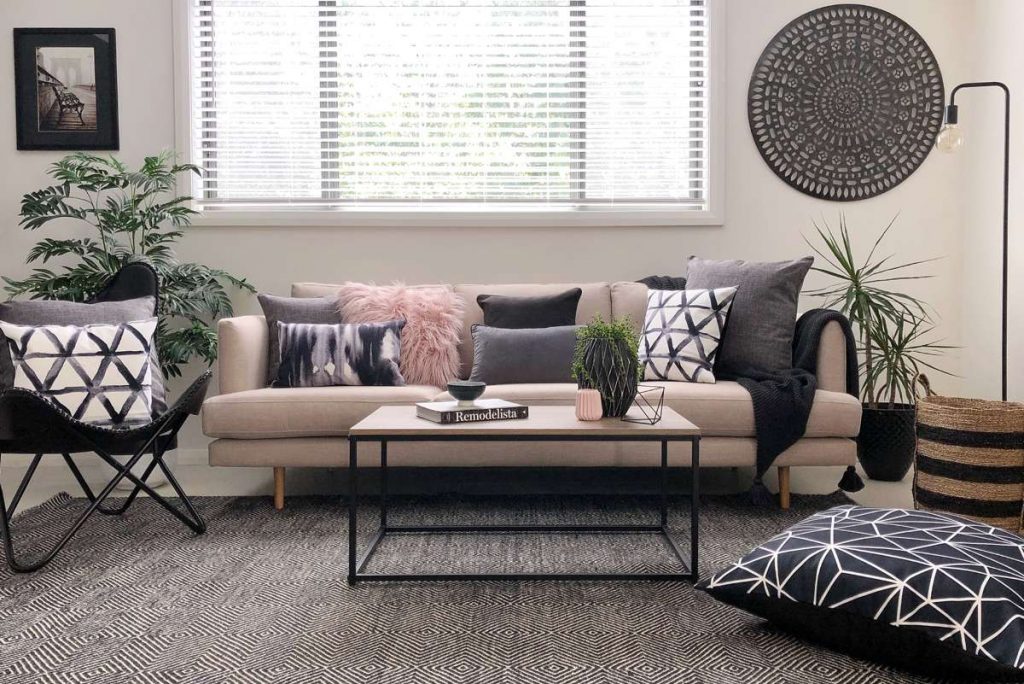 Look 3: Our Aughie Collection
In this scene, we have used Aughie Cushion Cover Collection for a clean modern look with a predominantly monochromatic colour palette.
Here, the white and black cushions temper with the rigid block cushions and provide the eye with something interesting to look at. The fur cushion in blush pink adds variation to texture and colour, and keeps the look from seeming too stately.
To create this look yourself, combine variety of patterns as long as they share something in common: a colour, a shape, a theme or a style — our Aughie Collection is a perfect pick!
Shop the look…
Other ways to achieve the Urban Modern look
Kalgoorlie Collection
Choose this collection if you have dark grey or black walls or furnishings and would like a splash of gold to really set the theme off. A hint of an ethnic motif and velvet fabrics is the perfect nod to your Urban Modern look.
Linear Collection
Choose this collection if you want a modern geometric theme with an urban twist. Works well with a neutral, deep navy or washed black decor and soft furnishings. The geometrics in gold will complement gold accessories while the overall look is sophisticated and contemporary.
Corban Collection
Choose this collection if you wanting a monochromatic Urban Modern look. Works beautifully on a neutral oversized sofa. The black and white theme allows accents of metalics and pops of bold colour to be introduced.
Hobson Collection
Choose this collection if you are looking for a rich teal accent with a subtle ethnic vibe to complement other raw elements in your room. Works well with natural soft furnishings or tan leather.
Happy styling!
Simply Cushions Team