Black and White Cushions
Contrasting neutrals can make a powerful, elegant statement. Black and white cushions feature bold patterns in striking textures, perfect for creating a plump, layered cushion display. Get your collection online and enjoy free shipping for purchases over $150 and 30 days easy returns.
---
Styling with Black and White Cushions
Black cushion covers are daring, elegant and striking, but a combination of black and white is classic, and for obvious reasons. It creates a stunning and dramatic decor that's both modern and timeless. Our collection of black and white cushions is, simply put, ridiculously fabulous. Even if you are obsessed with colour, you're guaranteed to fall in love with them.
They feature striking graphic patterns that give a fresh and unquestionably sophisticated look. Black and white cushions can be used alone for a monochromatic scheme that's anything but stark, or with other accents colours to create a high-contrast combination. When pairing with vibrant colours, it requires balance and thought to make the interior shine. Emerald green, shiny yellow and blush cushions work great for a summer combination, while red, darker shades of grey, silver and even gold looks stunning in the winter season.
When it comes to combining patterns, opt for those that are attractive in scale and quite uncomplicated. When done right, patterns give the display a sense of structure and aesthetic depth. Black and white striped cushions are classic and can instantly add visual interest to an otherwise basic space, but when paired with geometrics, it provides the arrangement with absolute luxe sophistication.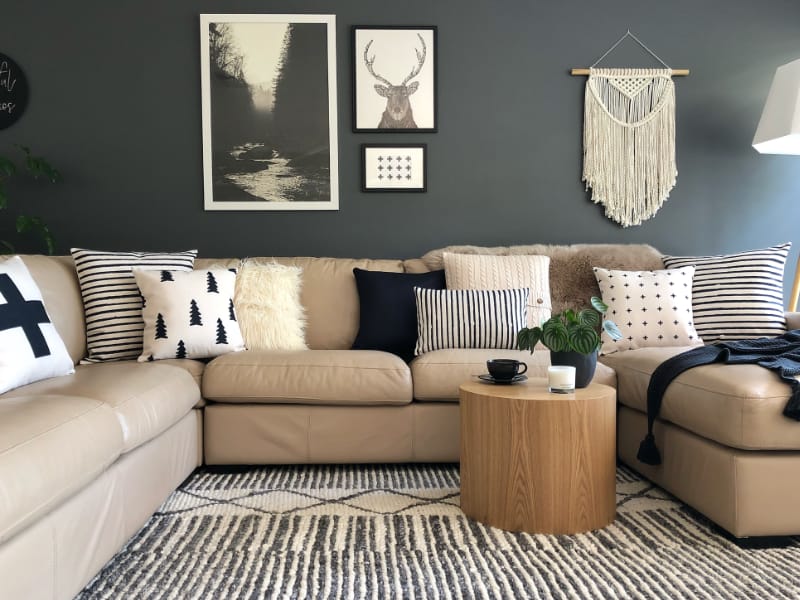 If you're looking to craft a modern monochromatic aesthetic, style black and white cushion covers with accessories in similar tones. For example, if you have white walls, pair with a black and white area rug, lamp shade, art piece or more soft furnishings in white shades for a look that feels uniform and balanced. To keep your interior from seeming too clinical and monotonous, incorporate furnishings in varied textures for extra dimension and depth. When done right, a monochromatic look can be stylish, cosy, and inviting.
Our online store showcases the largest range of black and white cushions Australia has to offer; and you'll especially love how this classic colour palette fits into just about any interior aesthetic, from modern and contemporary to traditional, Scandinavian and everything in-between. Incorporating the right decorative accents can transform a basic interior into a refreshed and enchanting living space. So whether used in a neutral decor setting or an already vibrant environment, black and white can be all you need to accentuate your home's wow factor.