Knitted Cushions
Want to make your space really warm, cosy and inviting? Our knitted cushions provide soft textures and beautiful tones. Bring your bedroom or lounge to life with our range of stunning knits and get free shipping on orders over $150 when you shop with us and our awesome customer support.
---
Styling with Knitted Cushions
There is something about knitted texture that exudes warmth and adds an element of nature. Our knitted cushions are elegant, fun and chic, depending on how you decide to incorporate them into your design scheme. They fit pleasantly well in any space as a complementing decorative touch. Whether bold and striking or subtle and sophisticated, they can be adapted to suit a host of interior styles.
Colour and pattern are pleasing to the eye but its texture that soothes or stimulates the sense of touch. Knitted cushion covers can transform the look and feel of your room with their desirable texture; and when paired with other fabrics such as velvet and faux fur cushions, they give the look an element of depth, visual weight and indulgence. Versatile and stylish, they are sure to last a lifetime, thanks to both their durability and classic style. In a home with clean lines and smooth aesthetics, our knits can be used to add an abundance of texture and a burst of cosy that prevents the space from seeming too clinical and cold.
Similarly, incorporating our colourful knitted cushions into an understated neutral space will add visual interest and prevent the scheme from looking gloomy. For instance, square red cushions add a dash of colour when paired with different shades of grey block designs, ensuring that the room looks interesting and layered. To bring in laid-back feel and details that remind you of the tropics; team white and blue knits with floral prints, soft greys and punches of teal.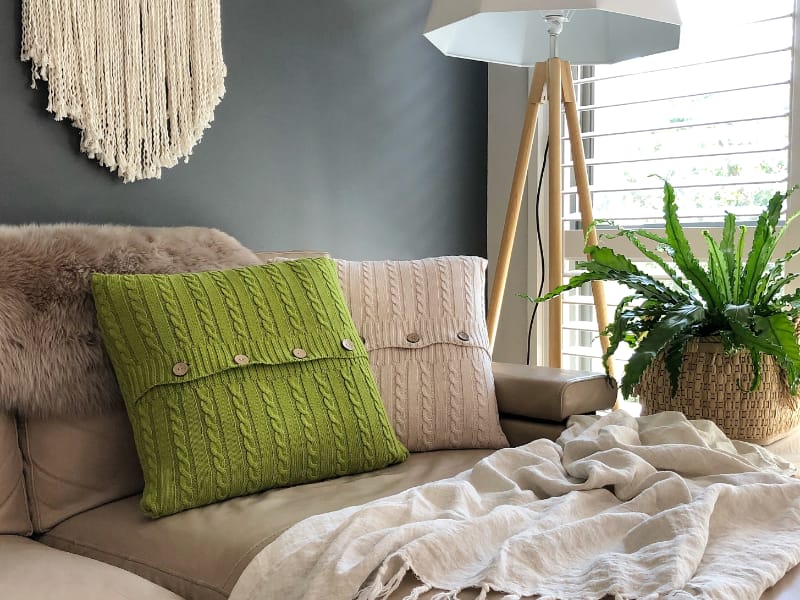 Nothing turns up the cosy and inviting appeal of an interior space quite like knitted cushions in neutral hues. For example, warm tones of traditional browns, creams, beiges and natural cushions can envelop your space with very little effort. These beautiful tones pair beautifully with stunning golden wood finishes to complete contemporary schemes. What's more, neutral knits partner seamlessly with white woodwork furnishings, natural rugs and fibres, and hints of yellowish-green foliage to create a relaxing and casual retreat.
Exciting colours of yellow, citron and leafy green can take a modern turn in an elegantly appointed living space when paired with neutral knitted cushion covers. Ranging from muted to bright, the tones nicely play off one another while quietly adding dimension to the scheme of things. Purples shades of orchard, hibiscus, mauve and magenta also combine with neutral knits to cultivate a distinctive design that feels youthful and chic. Try this palette in interiors that feature naturally warm stained flooring and furniture pieces.