Yellow Cushions
Bright and fun, yellow oozes creative and intellectual energy. Our unique range of yellow cushions has a sunny appeal and a versatile nature. Treat yourself to good quality cushions and enjoy free shipping on purchases over $150, plus friendly customer support and 30 day easy returns.
---
Styling with Yellow Cushions
Yellow brings a sunny disposition and a lighthearted touch to any space. Our range of yellow cushions offers different personalities; bright shades that look modern and chic, and darker, more saturated shades that are warm and surprisingly debonair. Whether your home features a traditional, modern, contemporary or modern aesthetics, yellow refreshes and revitalises even the dullest setting.
What colours work well with yellow? The answer is almost anything. In neutral settings, yellow cushions keep the scheme from feeling washed-out, and add playfulness and a sense of adventure. When teamed with a complementary colour, like purple, the two hues create a contrast in the most beautiful way. A combination of blue and yellow adds a touch of cool freshness, while coral offers a bit of feminine boldness. When paired with teal and orange cushions, it adds dimension and depth to the space.
When decorating with yellow cushion covers, the hues can take an elegant turn when used on sumptuous material. Deep earthy tone velvets paired with yellow in a muted mustard shade, provide the ultimate in luxurious sophistication. When paired with geometrics, say black-and-white patterns, the combo becomes a modern, electrifying duo.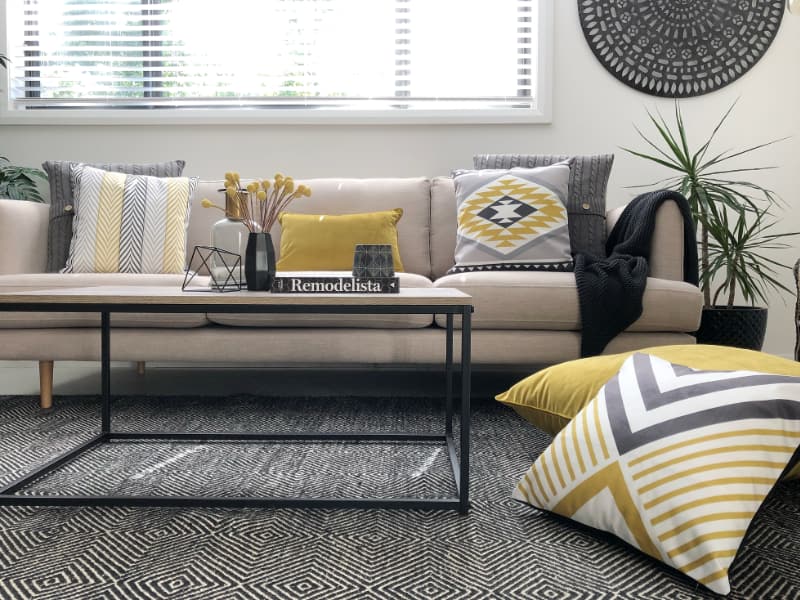 Use yellow cushion covers to lift a room
If you're seeking to brighten up your interior space, a vibrant yellow is the sunny shade you're definitely looking for. When placed next to a crisp white, you get glorious sunshine! It goes without saying that styling your home with lemon cushions adds an upbeat dose of excitement. This bright shade really pops against white, but can also be paired with grey tones and walnut for a dose of sophistication. If you want to get really loud and use the power of contrast, try throwing in some cushions in red for a vibrant look. Even as a "sneak-me-in" colour, lemon yellow makes a statement in any decor scheme.
Surprisingly, yellow block colours can make a wonderful backdrop for much lighter pastel colours. Use them as outliners for softer hues like lavender, seafoam blue, rosy blush, sage and soft greys or tans. Yellow cushion covers also go unexpectedly well with natural materials and textures. Rich wood tones, dark leather, brown metallics and rattan are all rich enough to be warming even to a cool and subtle yellow palette. What's more, these natural textures create balance without clashing with yellow splashes.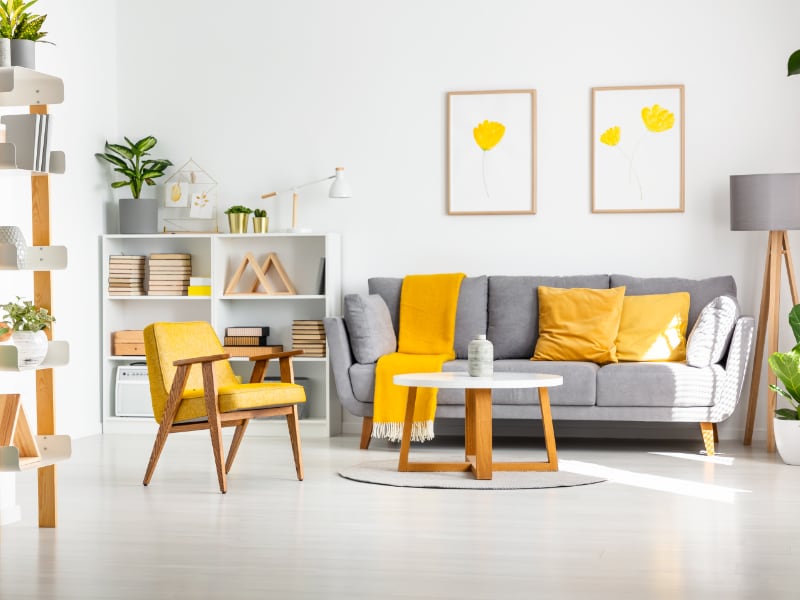 Combine with complimentary colours
If you're styling your home with dark, saturated colours, give your decor scheme some sharpness with mustard yellow cushions, paired with white and grey accents. This buzzy yet understated palette can lighten up your space and still feel lively all at the same time. This colour also looks super striking when partnered with teal accents. What's especially amazing is how versatile mustard yellow and teal are — add vintage accessories and textures and you end up with a boho vibe; bring in touches of blue, sandy browns and flower cushions and you have yourself a tropical escape; or introduce gold metallic accents and wood tones for a more contemporary setup.
A touch of playful prints and blue can really ground yellow. An ultra-muted tone of blue is soothing and relaxing, adding just the right softness to daring yellow. This is the reason why blue and yellow cushions are trendy enough to serve you well all year long. Both colours come in a variety of hues and shades. In subtle tones, they leave a room feeling homier and cosier. In bold shades, blue and yellow lend a cheerful allure that is trendy and full of charm.