Scandi Style is the perfect interior look for those who lean towards a more restrained style but favour relaxed warmth over sleek minimalism.
Scandi style
Think simplicity, functionality and the pure pared back beauty of clean lines, natural materials, varied textures and superb craftsmanship – modernism with a slightly rustic edge. Scandi style is uncluttered and unfussy.
It's a look that derives from the handcraft traditions of Denmark, Sweden, Norway and Finland that led to the mid-century modern style of the 1960s and 1970s when every stylish Australian home sported Parker furnishings modelled on Scandinavian designs.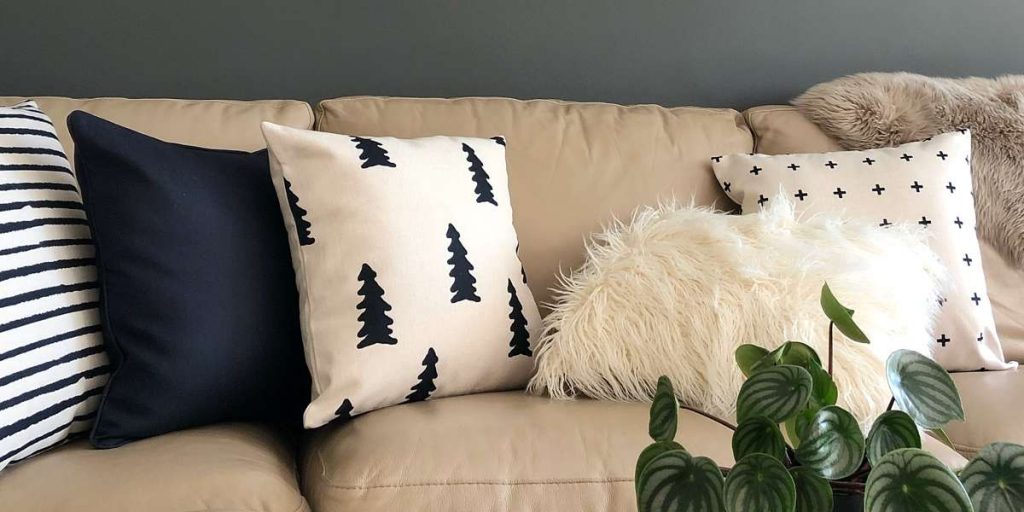 Features, colours, patterns and textures 
Textiles feature cool greys, blues, black and white and lately dusty pink and other pastels. Key elements to incorporate are blonde timbers, soft and tactile sheepskin throws, handcrafted ceramics, large-scale pendant lighting, freshly laundered rumpled linens, timber floors, wicker elements, indoor greenery and candles.
There's a secret ingredient, however, to Scandi style that the Danes refer to as hyggeligt.
It's a term that is often translated into English as 'cosy' but really encapsulates an indefinable sense of warmth, welcome and well-being. Hyggeligt adds an essential sense of comfort and conviviality to even the coolest and most minimal of interiors.
How to achieve the Scandi look with cushions?
So how to create the Scandi Style look with cushions? We've got you sorted with pre-styled cushion collections that will take your home to wonderful Copenhagen (or Oslo or Stockholm or Helsinki) in a snap. For more ideas, be sure to check out our full range of Scandi Cushions.
But don't forget the accessories. In the scene below, the deep blue wall is the perfect foil for black and white prints and a wall-hung planter. The simple timber coffee table is perfectly Scandi, especially with the addition of a potted plant and candle. A handwoven rug adds that essential touch of warmth.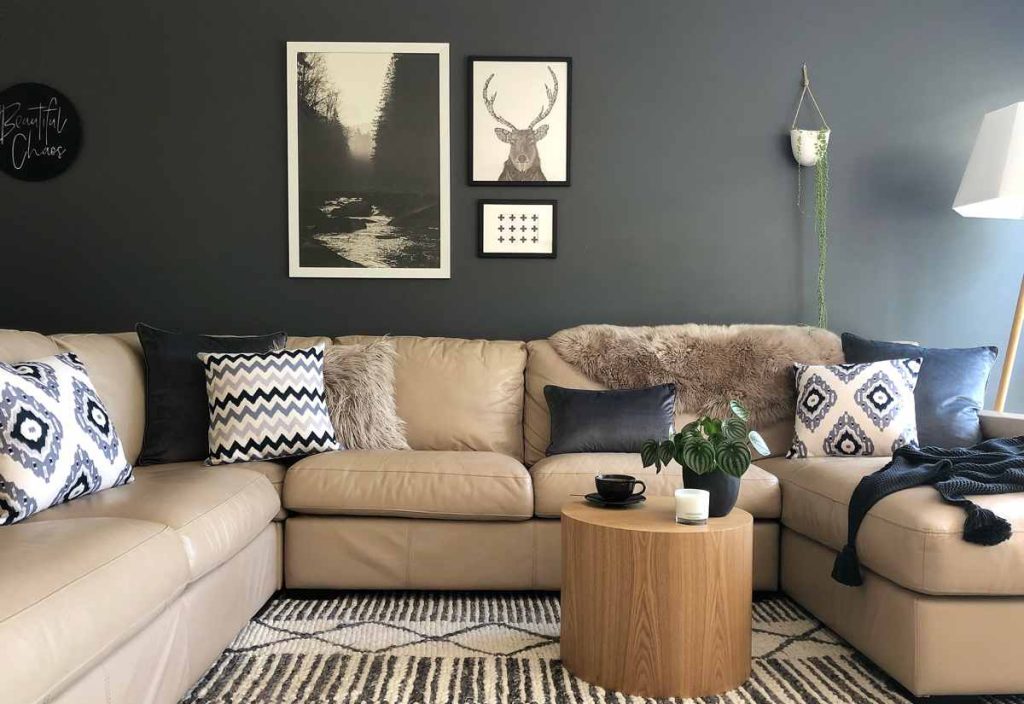 Scandi Look 1: Our Aarhus Collection
In this scene, we've added our Aarhus Collection, named after Denmark's second largest city. The Aarhus uses a classic grey colour palette to achieve a Scandi look with a touch of Boho.
In this scene, we've started with a base of two large space grey cushion covers and then added some graphic patterns which complement the rug and pop against the solid colours. A single rectangular velvet cushion adds variety to the shapes. 
Our gorgeous Ecru Faux Fur Cushion and the fur throw add texture, while the cosy wool throw, blonde timber, indoor plants and a candle provide all the elements of Scandi style.
To create this look yourself, start with any neutral, grey or black sofa and add one of our Aarhus collections. Then accessorise to your heart's content!
Shop the look…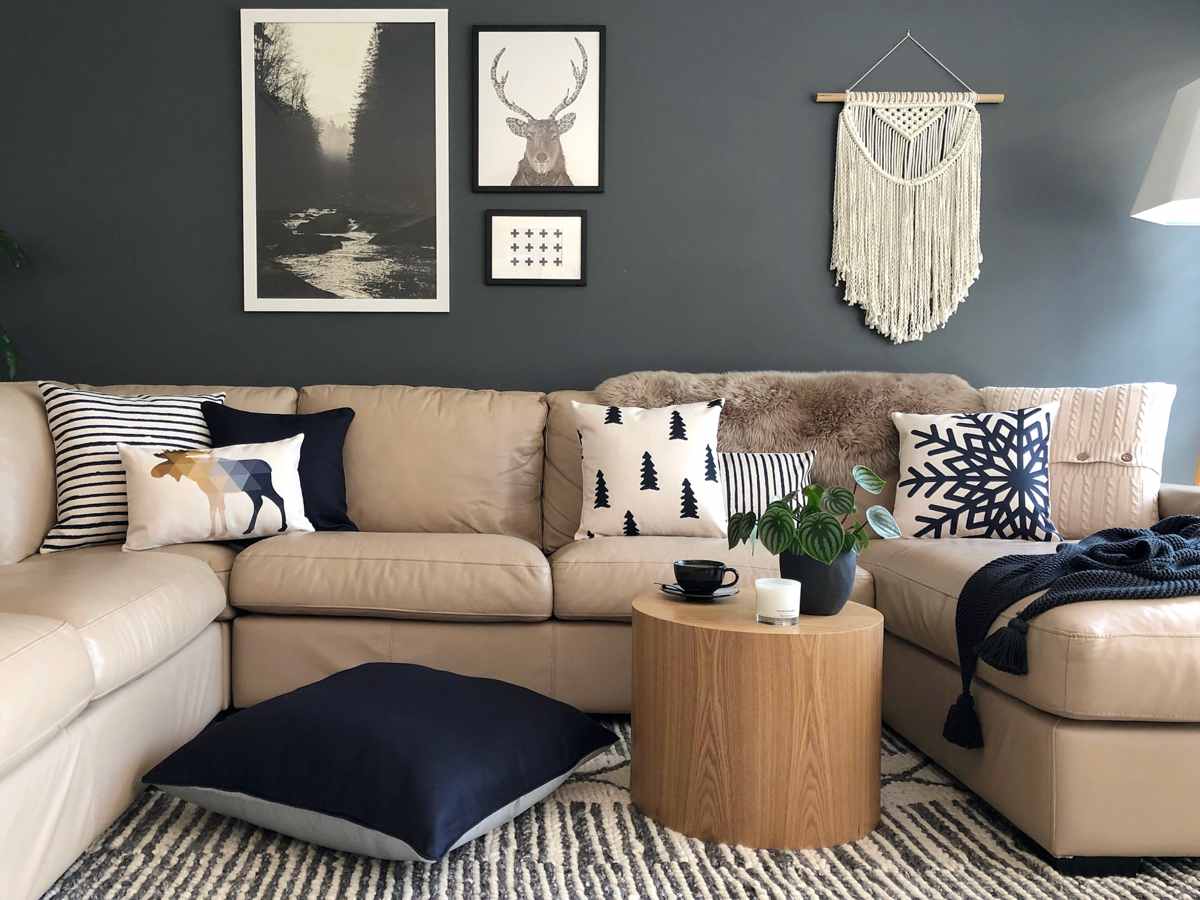 Scandi Look 2: The Oslo Collection
This time we've added our Oslo collection for a more literal Scandi look. Both the colour palette and the designs in this collection are pure Scandi and leave no doubt as to their Nordic origins.
In this scene, our Oslo Collection feature distinctly Scandinavian pine tree and snowflake motifs as well as stripes. We've added our favourite moose for a dramatic shout out to Scandi design, while the plain navy cushions and a textural cable knit cushion complete the feeling of hyggeligt in a space that oozes style, warmth and comfort. 
The gorgeous Aspen two-toned floor cushion ties the look together, while the fur rug adds texture and cosiness. To create this look yourself, pair the Oslo Collection with a grey or neutral sofa and white and blonde timber furniture.
Shop the look…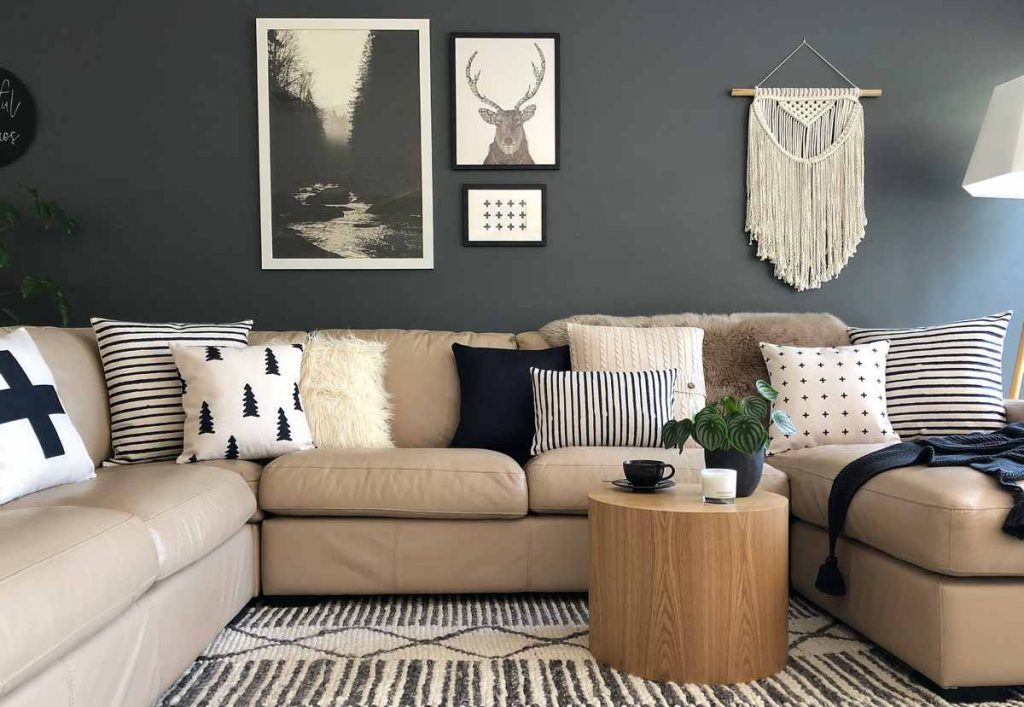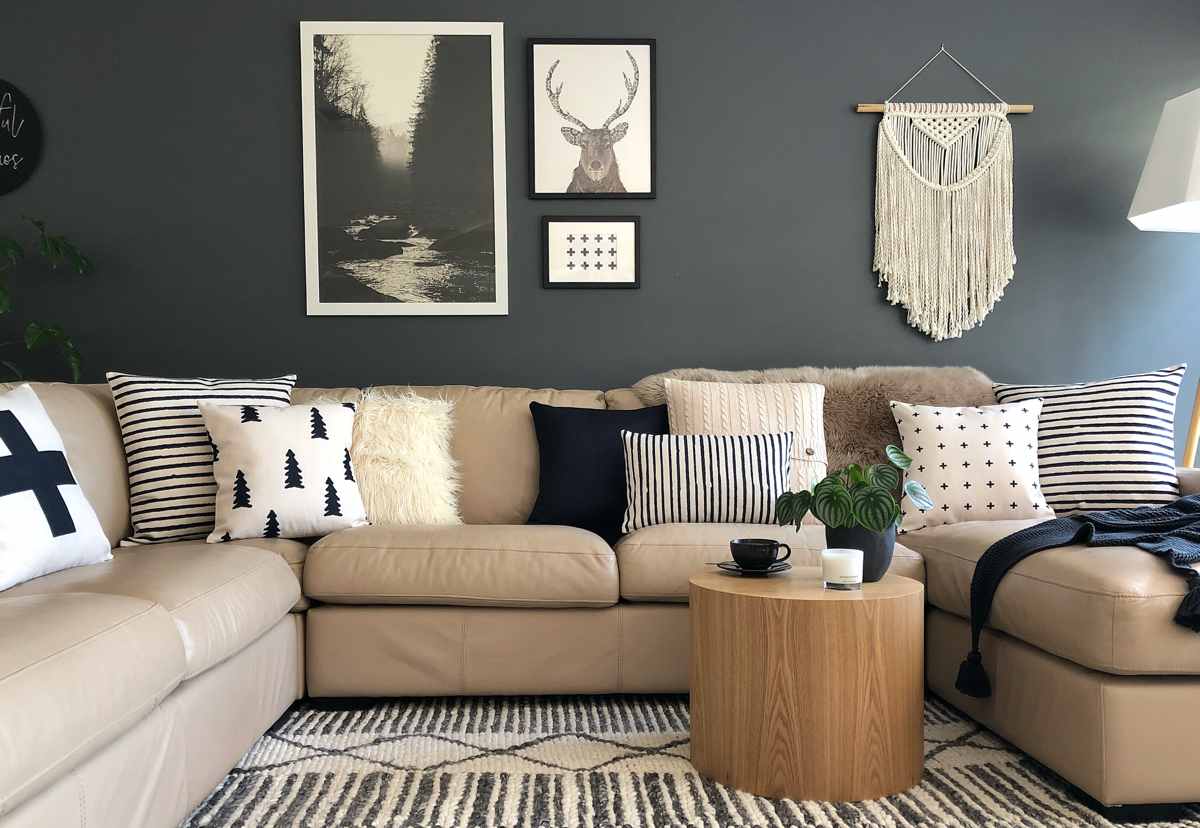 Scandi Look 3: Our Cora Collection
Using minimal colours, but introducing varied motifs, this look is fresh and on trend. This time we've used our Cora cushion collection in black and white to achieve a quintessential modern Scandi look.
We've started with two large striped Cora designs and added a range of patterned cushions and plain textural cushions in faux fur and cable knit.
To achieve this look yourself, start with neutral, black or dark navy furnishings and add one of our Cora Collections. Add blonde or white furniture, candles and indoor plants for a pure Scandi style.
Shop the look…
Other ways to achieve the Scandi look
Bronte Collection
Choose this collection if you're going for a contemporary Scandanavian design with texture. Works well with all neutrals and has a versatile range of colours that can be used to inspire other accent pieces.
Narvik Collection
Choose this look if you want to add some subtle yellow elements to your Scandi look to lift the room. Works best with neutral or washed grey soft furnishings and blond timber. 
Ingrid Collection
Choose this look if you want to introduce a muted multi-textured and tonal look with a nod to Scandi motifs. Works with neutral, pale pink, aqua or pale brown soft furnishings.
Hram Collection
Choose this collection if you are after texture and subtle references to Scandinavian decor. The grey and gold theme adds sophistication and lifts darker spaces or light furniture. Works well with neutral, black, dark navy and grey toned soft furnishings. Add some gold accent pieces to finish the look.
Create the Scandi Style look effortlessly with our carefully curated range of cushion collections, then celebrate by inviting friends over, lighting lots of candles and serving spicy warm mulled wine.
Follow it with by roast pork stuffed with apple, Swedish meatballs or another classic Scandinavian dish for dinner. And don't forget to change your toast from "Cheers!" to "Skål!" (pronounced "Skoll") when you sit down to dine in your newly hyggeligt home.
Happy styling!
Simply Cushions Team