Mid Century Modern style is closely associated with the mid 1950s to the early 1960s but reimagined for the 21st century.
Mid Century Modern style
This look is marked by a mix of organic shapes, clean lines and minimal embellishments that offer sleek, sophisticated, functional and colourful design trends that are both stylish and comfortable. It relies on function, simple form and the use of fewer choice pieces.
The aim is to not clutter the space but rather, highlight and draw attention to each piece of furniture. Scandinavia, particularly Denmark and Finland, was home to some of Mid Century Modern's leading designers.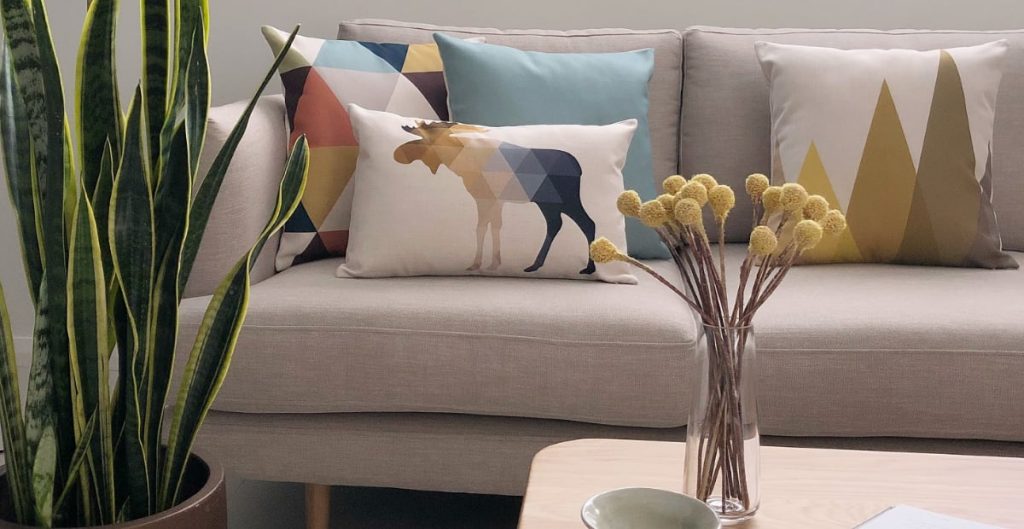 Features, colours, patterns and textures
Warm, neutral tones are accentuated by pops of deep earthy hues of orange, olive green, burnt umber, pumpkin, chocolate brown and mustard colour. The opposite side of the spectrum includes a few strokes of rich colours like pink, taupe, grey, turquoise, black and yellow to give the style strength and presence.
Patterns around this look are asymmetrical, abstract and geometric and give a room a strong graphic touch.
These show up on everything from glassware to wallpaper. Textures drawn from pillows, throws and drapery are woven from heavy synthetic fabrics such as burlap or nubbly wool knits for added weight and quality.
How to create the Mid Century Modern style with cushions?
So how do you create a Mid Century Style look? We've coordinated a few cushions from our various collections to get you started. For this style to work, it is important to have just the right accessories in place.
Here, a white background acts as a canvas for more daring Mid Century Modern furniture and accessories. The simple timber coffee table, floor lamp, sofa and armchair incorporate different heights to prevent the space from looking too uniform. The area rug adds a textured touch to the clean lines that dominate this design aesthetic.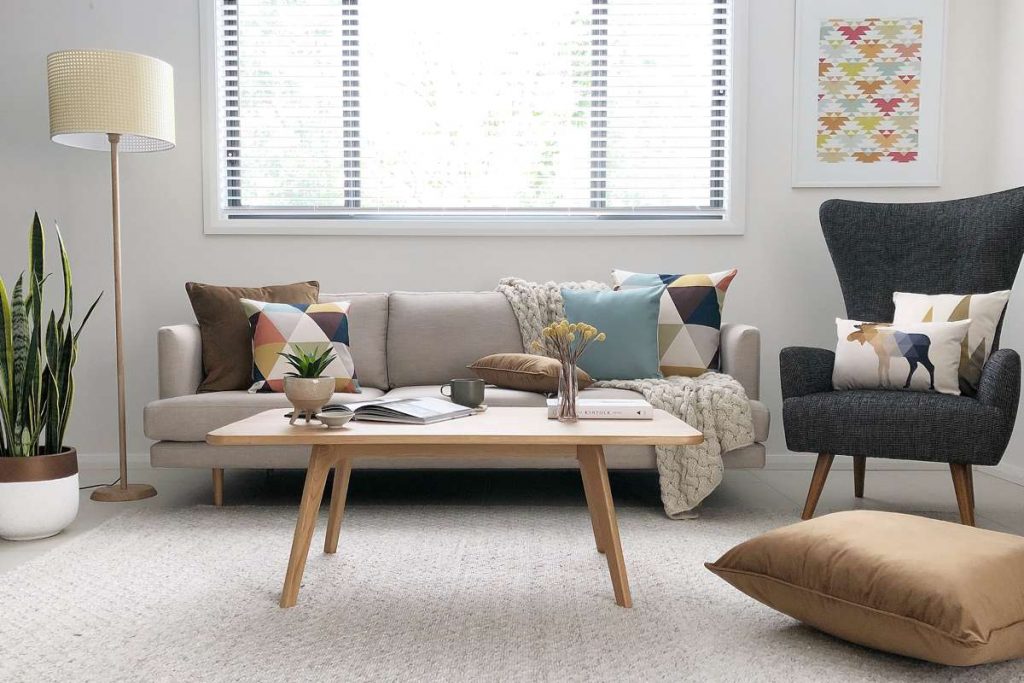 Look 1: Our Kafka Collection
In this scene, we've selected our Kafka 7 Cushion Cover Collection which is perfect if you want to achieve a mid century Scandi look. It works well when paired against a neutral background to give the room a distinct identity of its own.
Here, we've opted for velvet brown cushion covers as the base, and then we added pattern using our Alfama Impressions cushions in two sizes. These act as strong accents and boost the sleek and stylish characteristics of the entire look. A single rectangular velvet cushion adds variety to the cushion shapes.
Our gorgeous teal cushion softens the look while the knitted throw adds texture and complements the area rug. The potted plant, floor lamp and artwork tuck nicely into the decor and create a warm and comfortable ambiance without adding clutter. To create this look yourself, pair any of our Kafka Collections with a grey or beige sofa. Add a few accessories for visual interest.
Shop the look…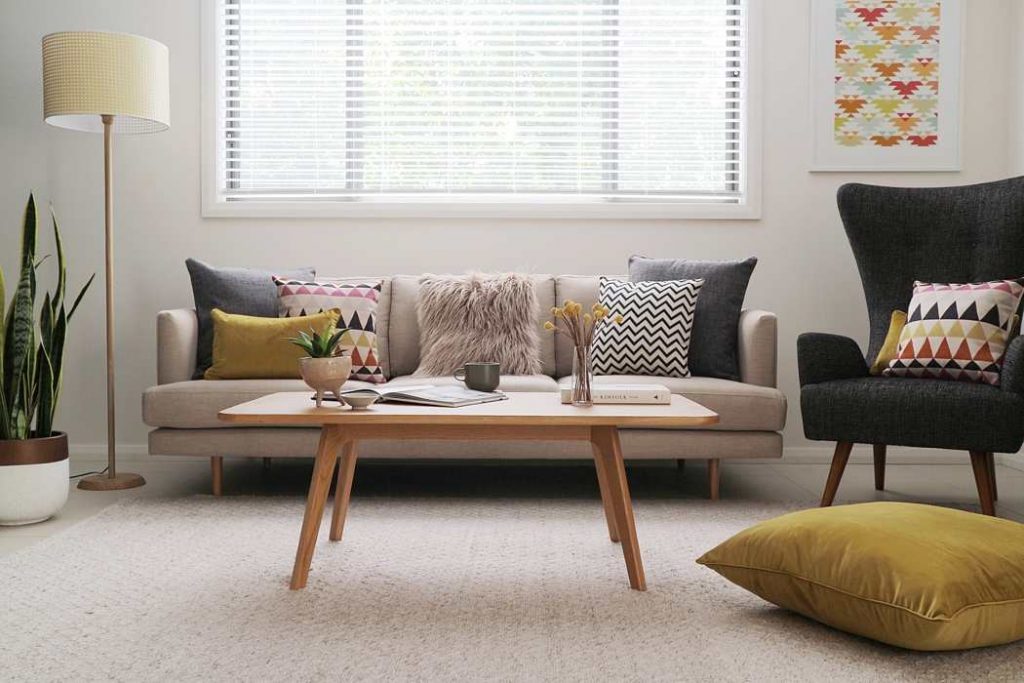 Look 2: Our Breuer Collection
This time we've opted for the Breuer 8 Cushion Cover Collection which has an air of sophistication. In this scene, the two graphic patterned cushions in gold, rust and pink tones make a particularly strong, rich and impressive statement, while the mid grey solid cushions ground the look. 
The plush Ecru Fur cushion brings in a warm aesthetic that is both inviting and soothing. Our stunning mustard rectangular velvet cushion introduces some depth and variation to the cushions colours and shapes. To create this look yourself, start with a sofa in soft-hued fabrics and then add one of our Breuer Collections.
Shop the look…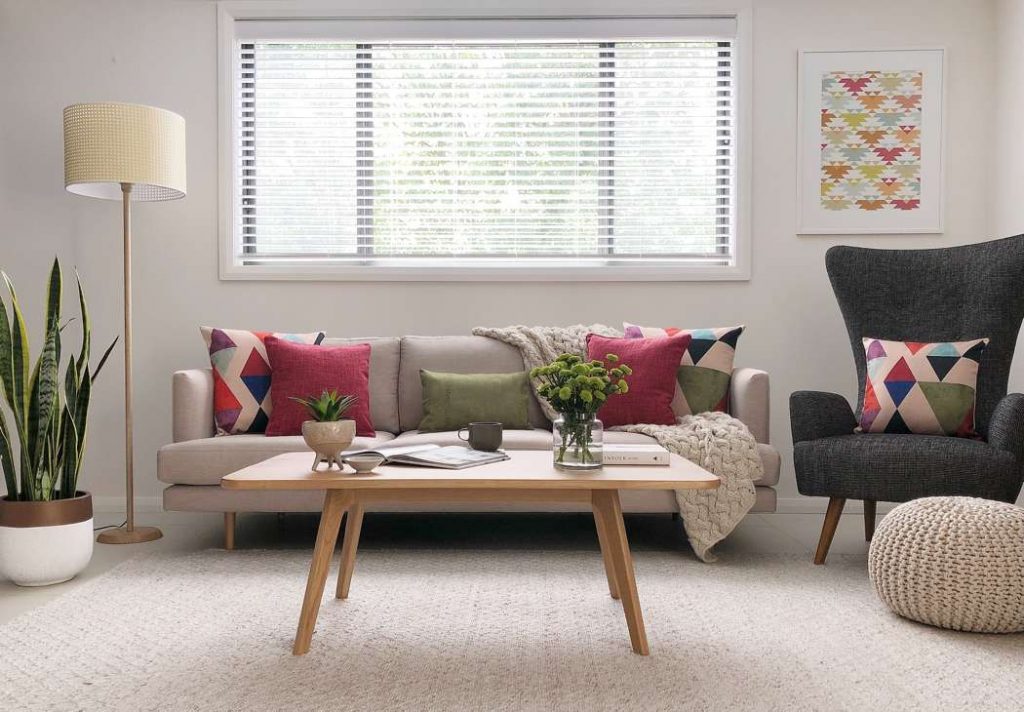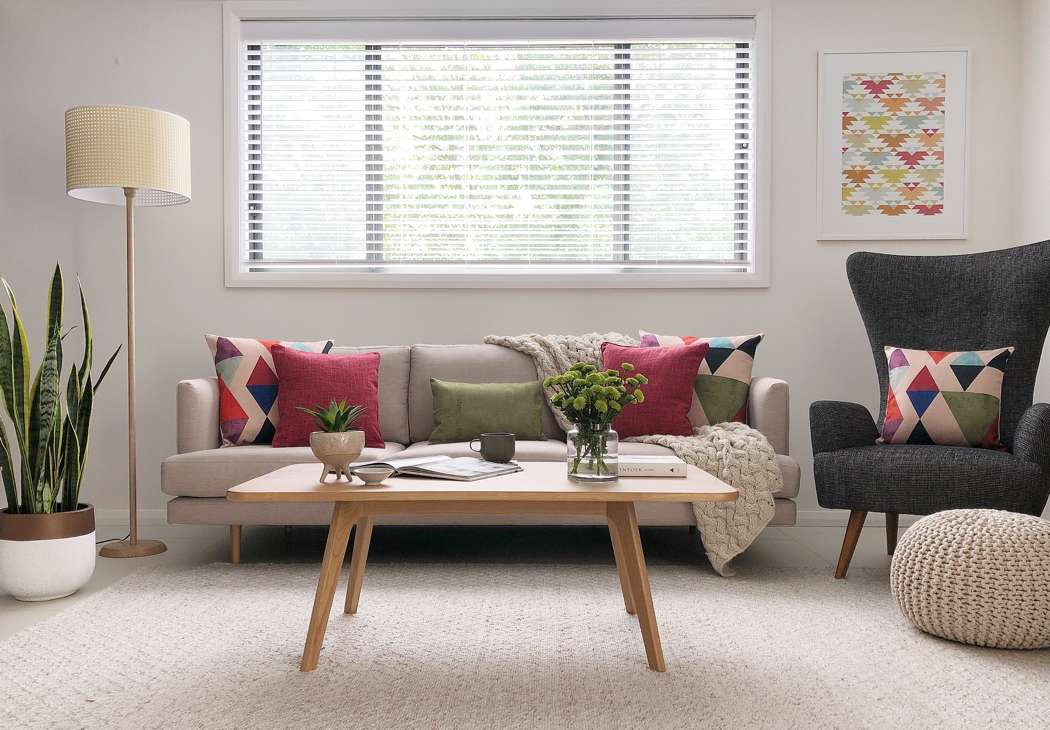 Look 3: Our Phoenix Pop Collection
Here, we've used Phoenix Pop 6 Cushion Cover Collection that includes rich, vivid colours to enliven the earthy neutral backdrop. In this scene, a pop of large graphic patterned cushions accentuate the neutral colour scheme and introduces plenty of aesthetic appeal.
We then paired these with two burgundy cushions with a touch of maroon to offer a fresh twist and make the look feel more cohesive.  The rectangular olive cushion adds just the right balance while the knitted throw soothes the overall look. 
The colour palette really flows together rather than feeling cliché, resulting in a lively and inviting atmosphere. To achieve this look, try keeping your walls white and your sofa in neutral colours to allow the Phoenix Pop Collection to stand out. Add a kitted throw and ottoman for more quality and depth.
Shop the look…
Other ways to achieve the Mid-Century Modern look
Pesce Collection
Choose this collection if you want to highlight existing teal accents, or if you have a neutral sofa and you want to add Mid Century Modern style.
Aalto Collection
Choose this collection if you are going for a slightly more feminine Mid Century Modern look. Complements neutral, tan or chocolate brown soft furnishings and accents and mid to dark timber tones.
Saarinen Collection
Choose this collection if you are after a classic Mid Century Modern look. Works well with all timber tones and all dark Mid Century type colour-ways; greens, rusts, black, brown and neutrals.
Woodstock Collection
Choose this collection if you're after a more subtle nod to Mid Century Modern Design. Works well with green or slate grey accents and particularly suits neutral, green or grey toned soft furnishings and with light walnut to dark timber finishes.
Happy styling!
Simply Cushions Team