How many cushions on a couch? Too many can be impractical, while not enough can look sparse. Find out how to achieve the perfect balance below. 
How many cushions for a 2 seater sofa?
We recommend using 2 to 4 cushions on a 2 seater sofa or couch. Using 2 cushions creates a pared down and minimal look, 3 cushions creates an eclectic and more modern style, while 4 cushions provides the opportunity to add depth and balance to your arrangement.
Using 2 cushions on a 2 seater sofa
Displaying a pair of cushions on your 2 seater sofa gives it a pared down look and is often a favourite for those who prefer a minimal way of decorating. The cushions can be placed at each end of the sofa or slightly towards the centre. You may select identical cushions to keep your decor scheme simple and elegant.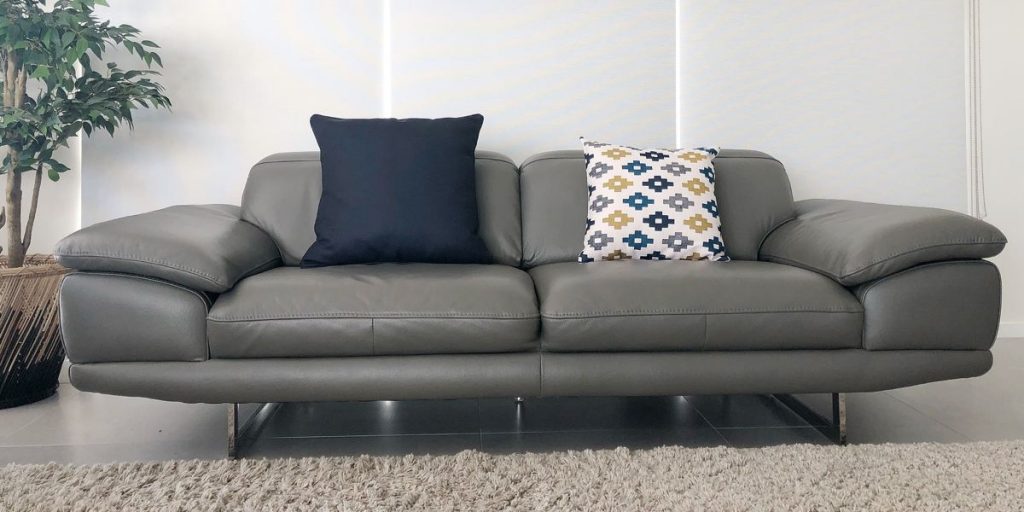 Using 3 cushions on a 2 seater sofa
Odd numbers are always ideal for a modern or eclectic look, and 3 cushions work equally well on a 2 seater sofa. Your selection may vary in shape, colour, texture and size depending on your taste and style. Pair block colours like the blue cushions used below with striking patterns to keep things lively and fun.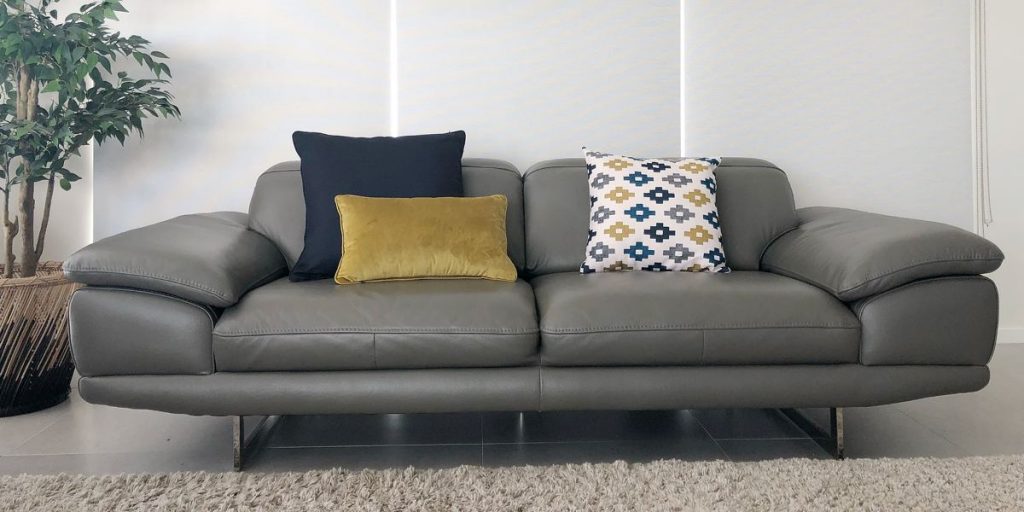 Using 4 cushions on a 2 seater sofa
If you wish for more cushions on your 2 seater sofa, then 4 cushions are perfect for adding more depth. These can be arranged by placing three cushions on one end — starting with a larger cushion, then a slightly smaller one, and finish it off with a rectangular one in front — and a single cushion on the other far end.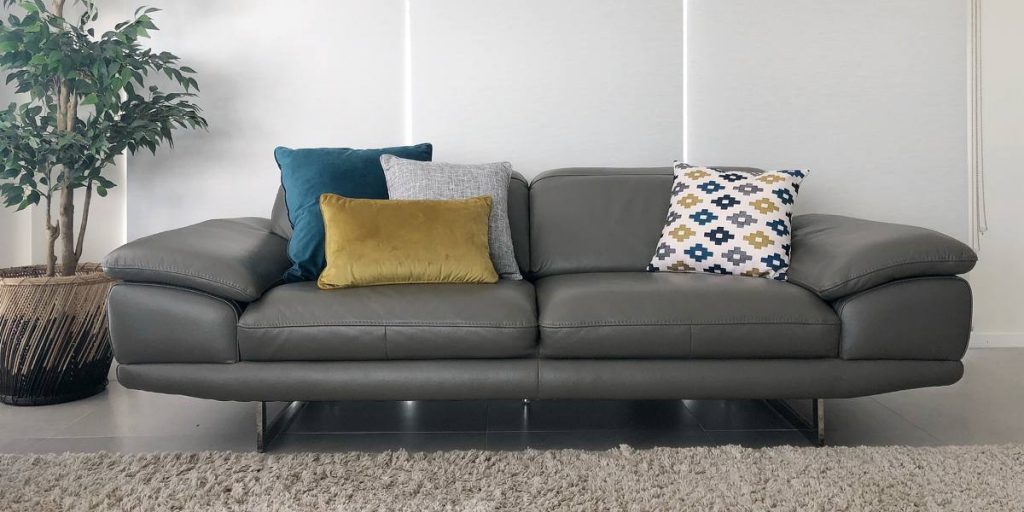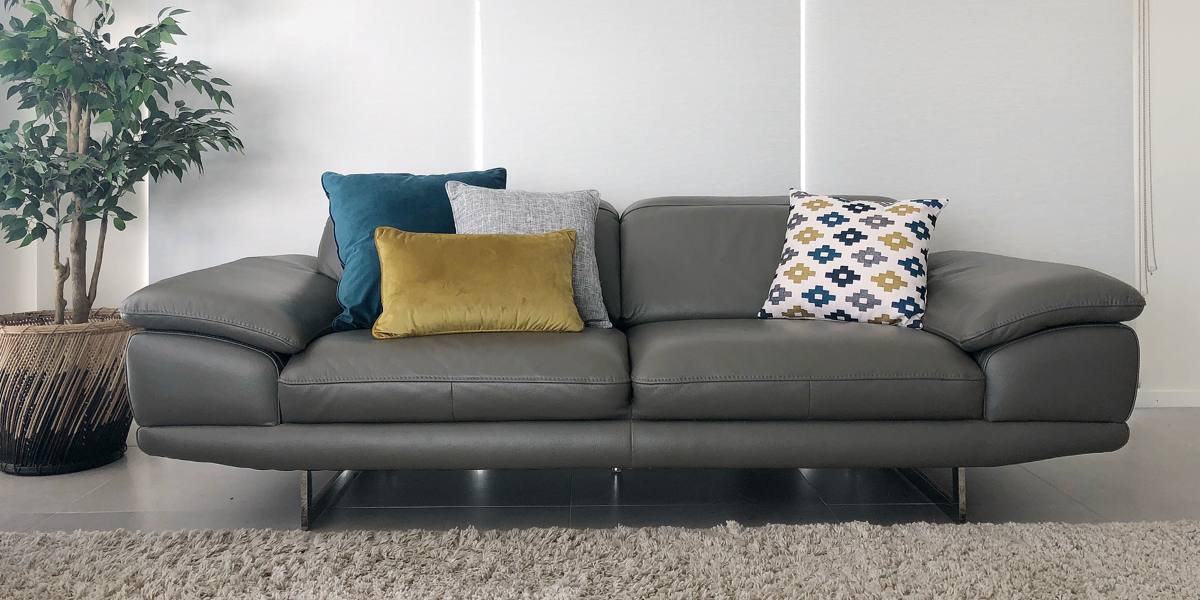 Alternatively, for 4 cushions on a 2 seater sofa, you may opt for two pairs of identical cushions. One pair of big cushions in a large size, and another pair of slightly smaller cushions. The larger cushions may be in block colours and the smaller ones in striking details.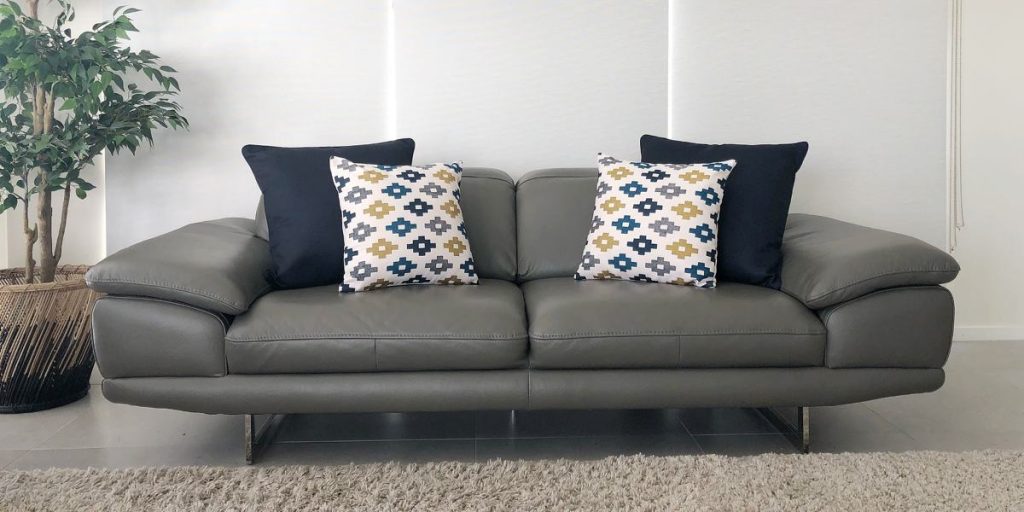 How many cushions for a 3 seater sofa?
We recommend using anywhere from 3 to 6 cushions for a 3 seater sofa. Using 3 cushions creates a pared down look, 4 cushions helps to create symmetry, while using 5 and 6 cushions creates a much fuller look with plenty of opportunity to showcase textural and size differences.
Using 3 cushions on a 3 seater sofa
Create a simple pared down look with 3 cushions on a 3 seater sofa. The 3 cushions can be arranged the same way you would on a 2 seater sofa, with 2 cushions on one end and a single cushion on the other end.  You may opt for cushions that match to create unity or ones with varied shapes and textures.
Using 4 cushions on a 3 seater sofa
When using 4 cushions, choose a pair at the back of your arrangement, like the grey cushion covers below, that are large enough to showcase their colour. Then use smaller ones that are highly patterned or with at least one colour pulled from the larger cushions. Place each pair on either side of the sofa to impart a sense of symmetry and order.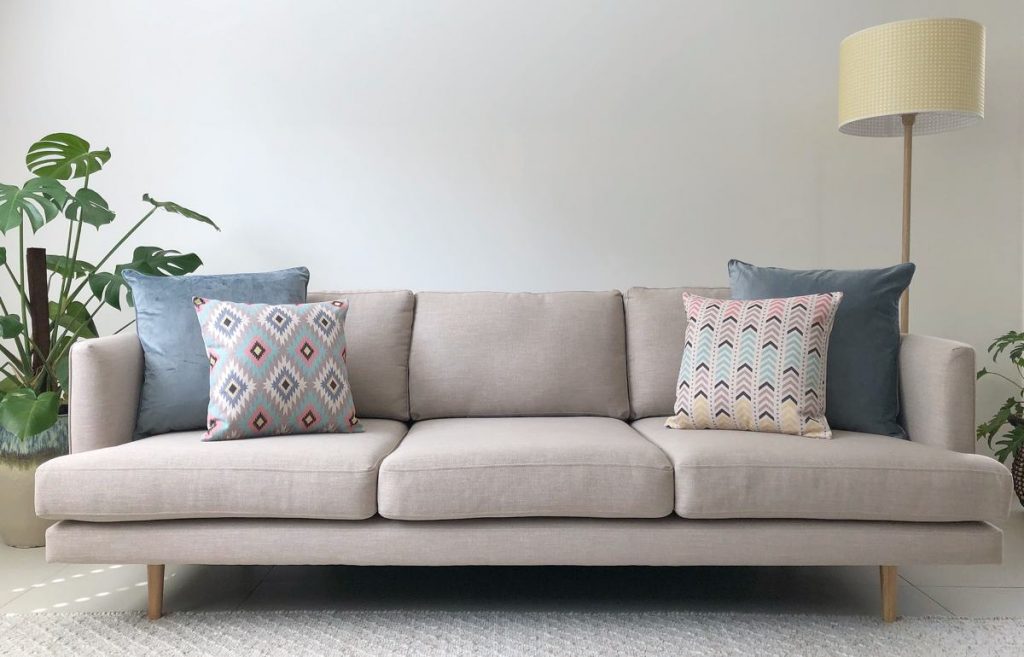 Using 5 cushions on a 3 seater sofa
Placing 5 cushions on your 3 seater sofa offers an eye-pleasing proportion without cluttering the couch. Layering a variety of textures, patterns, and colours keeps things lively and casual. For an attractive look, place a pair of cushions on both ends and a single cushion in the centre. Using a different shape here with the centrepiece like a rectangle really adds a stylish finish.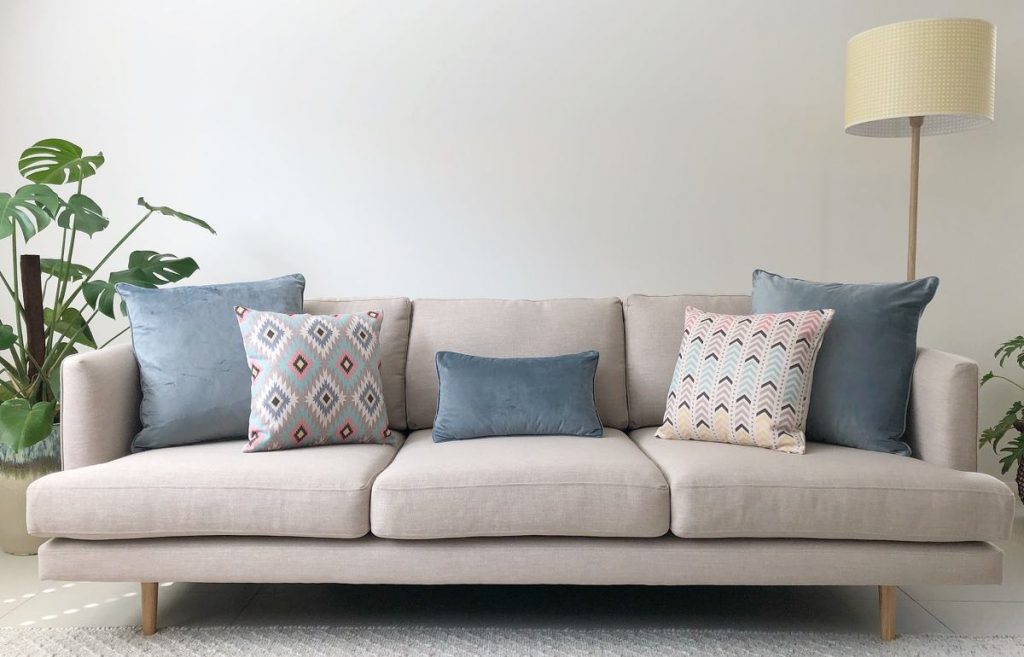 Using 6 cushions on a 3 seater sofa
Using 6 cushions really maxes out the space available on a 3 seater sofa so it's important you choose appropriate sizes or you may end up with nowhere to sit. You can use 6 cushions that match cohesively in pairs or threes, or try 6 cushions in 6 different fabrics but with a similar colour palette to create a more eclectic look. When arranging, try using 3 cushions on one end, 2 on the other and one of your best rectangular cushions in the centre.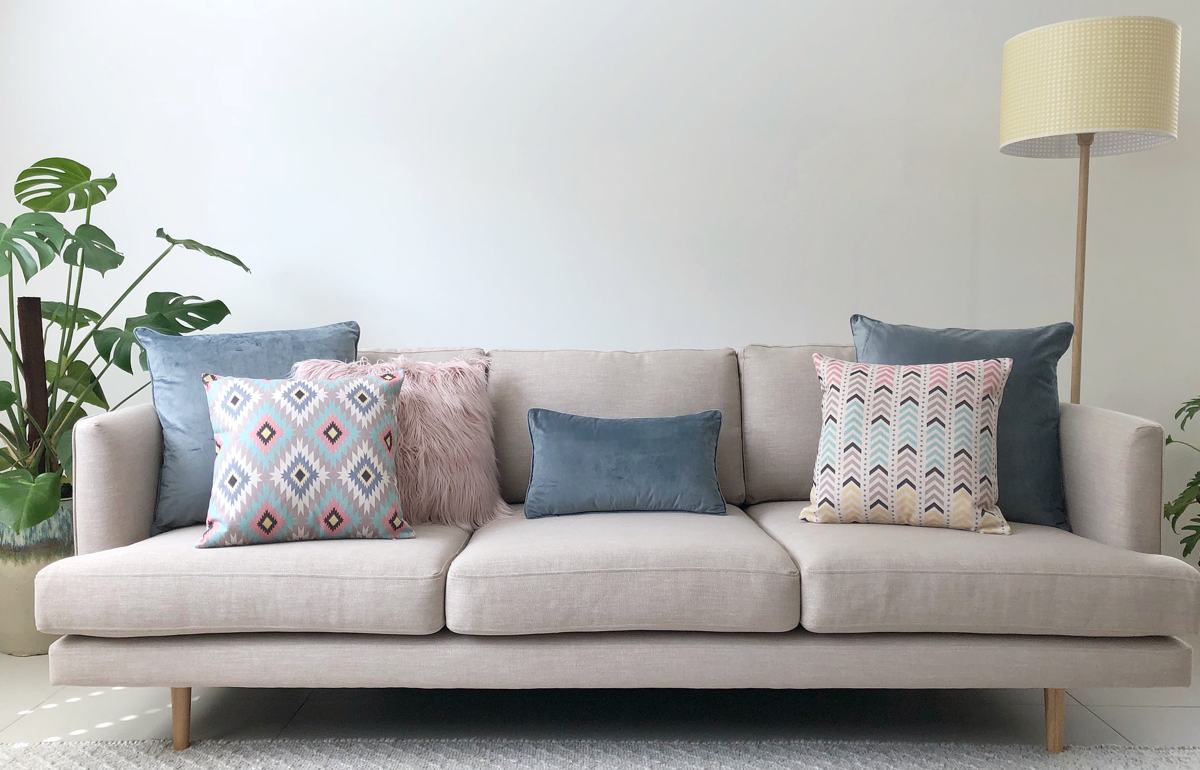 How many cushions for a corner sofa?
We recommend using anywhere from 4 to 9 cushions on your corner sofa, however, this depends on the style of the couch as they come in varying sizes and lengths. Use 4 for a simple approach that focuses on the corners, use 6 for a similar layout with more depth, or experiment with 7 and 9 cushions to create cozy little pockets of style.
Using 4 cushions on a corner sofa
When placing 4 cushions on a corner sofa, you can opt for a single large one at each end, like the mustard cushions shown below, and 2 feature cushions in the centre. The cushions in the centre may be patterned or in bold colours to really bring the couch to life. This arrangement is simple and requires little time to re-create when cleaning up.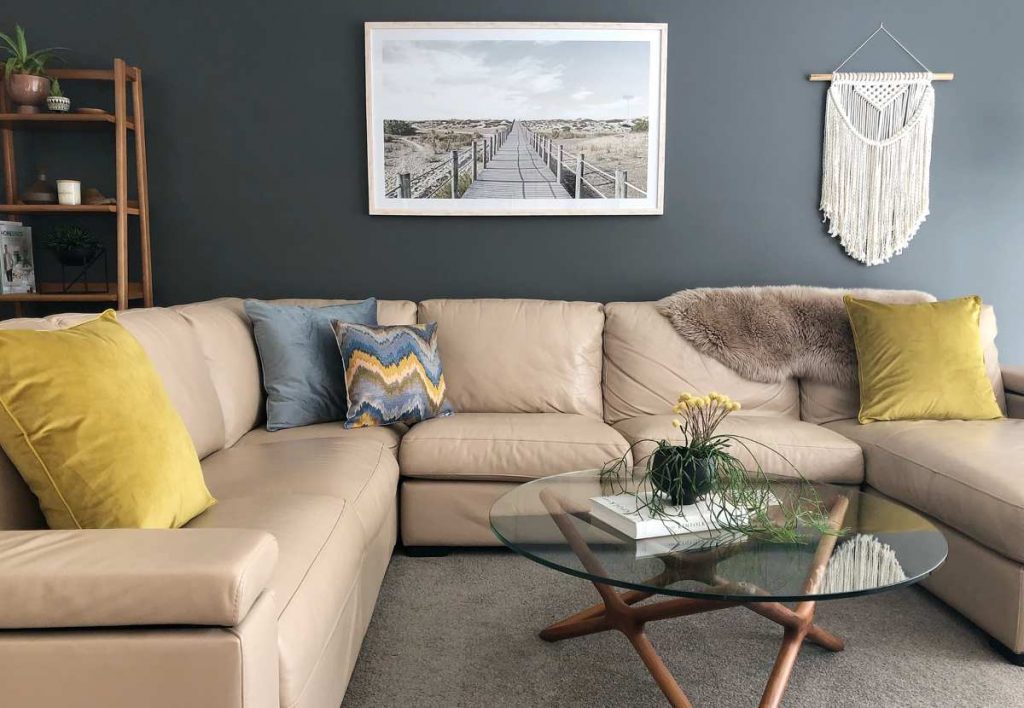 Using 6 cushions on a corner sofa
Alternatively, you could go for 6 cushions for your corner sofa. This will help to bulk out your ends for more comfort and allow you more scope for mixing colours and textures. It's best to use pairs on the right, left and middle section to create a balanced look. Select cushions in varying colours and patterns for an intriguing decor statement.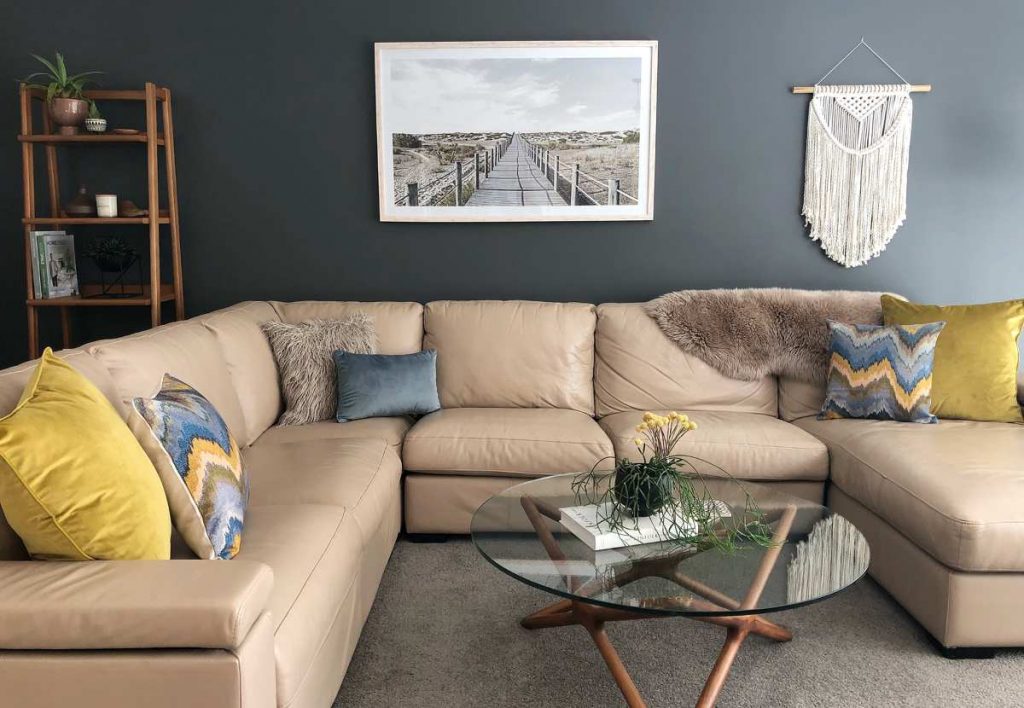 Using 7 cushions on a corner sofa
When using 7 cushions on a corner sofa, it is best to choose a collection with corresponding colours and patterns so that your sofa is not disjointed. The middle of your sofa will become the focal point so be sure to use a feature cushion here that pulls the whole collection together. When arranging, place 2 cushions at each end of the corner sofa and 3 in the centre.
Using 9 cushions on a corner sofa
It may sound like a big number, but a 9 cushion collection is quite common on large corner sofas. With so much space on offer, there is a real opportunity to create a look that is both stylish and comfortable. Cohesion is key again here. You're aiming for the collection to have a central theme of colour or pattern running right across the sofa. When arranging, it is best to stick with 3 pockets of 3 cushions. Start each collection with the largest cushion as the base and work your way forward moving down in size and carefully considering which cushion to showcase as the feature in the front.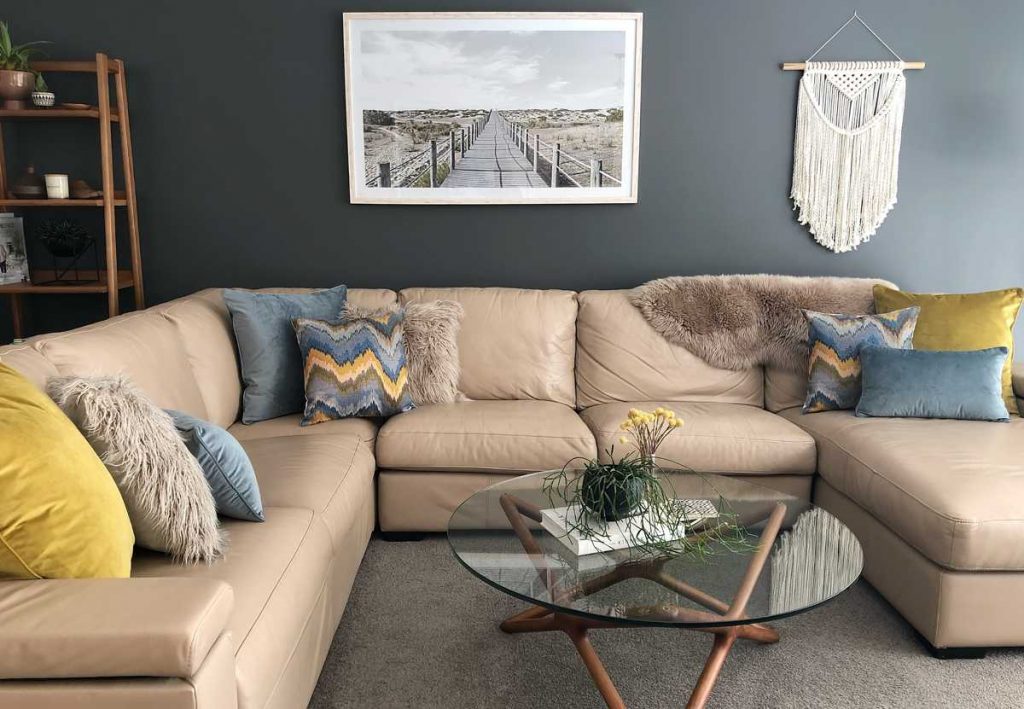 Using 1 Cushion on a Sofa
Decorative throw pillows are just one way to dress up your sofa and living space to give it a more designer layout and feel. However, one question we are often asked at Simply Cushions is, 'how many is too many?'. After reading this article, we hope you now have a better idea.
On average, people tend to go for two to four cushions when they have an average-sized couch. This seems to be the cushion sweet spot when decorating and avoids going overboard. But if you have a couple more, then this may not be the answer you were looking for. Other factors are at play like the size of your sofa, the size of the cushions you want to use, and the kind of statement you want to make.
How about just a single cushion? Even if you have a smaller space, we sit here assuming you will at least have a matching cushion. However, if you wish to step outside of the box and you want to be daring with the single decorative throw pillow on your couch, then go for it!
One single, very well designed and visually appealing cushion may really be all you need to completely transform the room for the better. However, this one cushion placement must be strategic. Let's take a closer look at this below.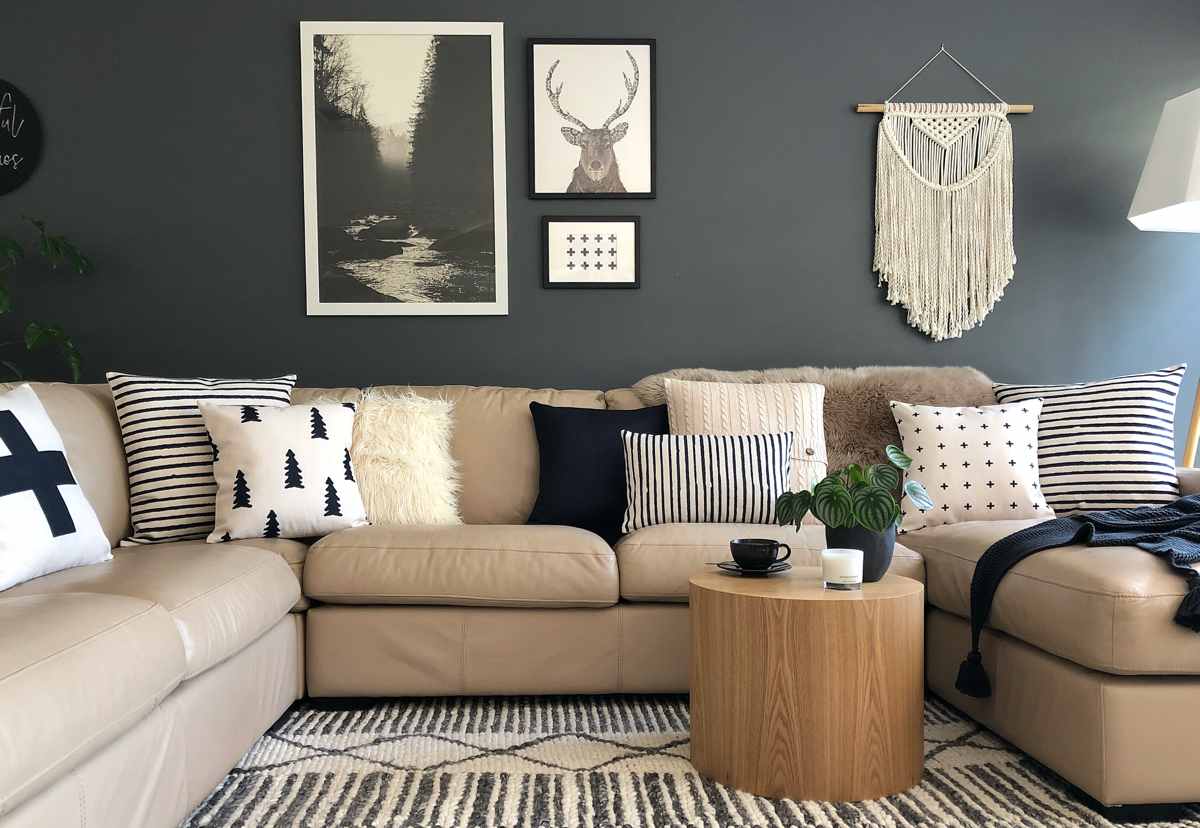 Smaller sofa or just chairs
If you have a smaller sofa or you don't have a sofa at all and have chosen a couple of armchairs or an accent chair for the space, then you will want one single cushion on each. Smaller sofas can't accommodate more than a single cushion, but this also helps you maintain control while styling and not go overboard. One cushion allows for practicality and simplicity while maintaining a clean and balanced aesthetic.
Stronger punch
Looking for drama or a stronger punch? Go for the more powerful aesthetics for your single cushion. If you have a visually striking cushion, then it can play up the space all on its own. With this, you have the opportunity to play around with different colours, patterns, and designs so you can get exactly what you think will be perfect and complementary.
Matching colours
One cushion is also acceptable on a sofa when the colour of the cushion happens to match the colour of the sofa. This works on any size sofa as well. Just because you have a spacious sofa doesn't mean you have to fill it up with cushions.
Happy styling!
Simply Cushions Team