It's easy to spot cushions you love, but not as easy to arrange them to suit your desired look. Let's dive into how to arrange your cushions.
How to arrange cushions
How you arrange cushions depends greatly upon; where they'll be used, the colours in the space, how many you have, their colour or pattern, their texture and size, and ultimately the look you are trying to create. While the options for lounge cushions are endless, the rules remain the same; get the right colours, focus on layering, mix size, shape and texture and above all, experiment! 
Below are some of the most popular cushion arrangements on sofas with helpful tips and instructions on how to best pull them off.
The 2-1 cushion arrangement
This arrangement consists of two cushions placed on one end of the couch; this could be a larger cushion in block colour acting as a base, and a slightly smaller one in front — and a single cushion placed on the other end of the sofa.
Subtle patterns and varied textures can be introduced with this cushion arrangement for a timeless elegance. For a laidback look, you may want to choose cushions in a matching or similar colour to the couch.
Alternatively bold geometric prints in contrasting colours to the sofa keeps things lively and adds visual interest. Many people enjoy the simplicity of displaying a few cushions on the sofa; and this is a perfect arrangement for achieving a minimalist look.
Double sides arrangement
An effortless arrangement that builds from two large cushions placed on either side of the couch and an addition of front cushions on each side.
Start at the end of the sofa with larger cushions, 55cm x 55cm in size — and work your way in with slightly smaller 45cm x 45cm cushions up against the larger ones.
The smaller cushions in detailed patterns accentuate the larger block cushions which offer a more grounded and relaxed look.
However, a pair of identical cushions keeps things elegant and modern. This placement is perfect to impart a sense of symmetry and order without cluttering the sofa.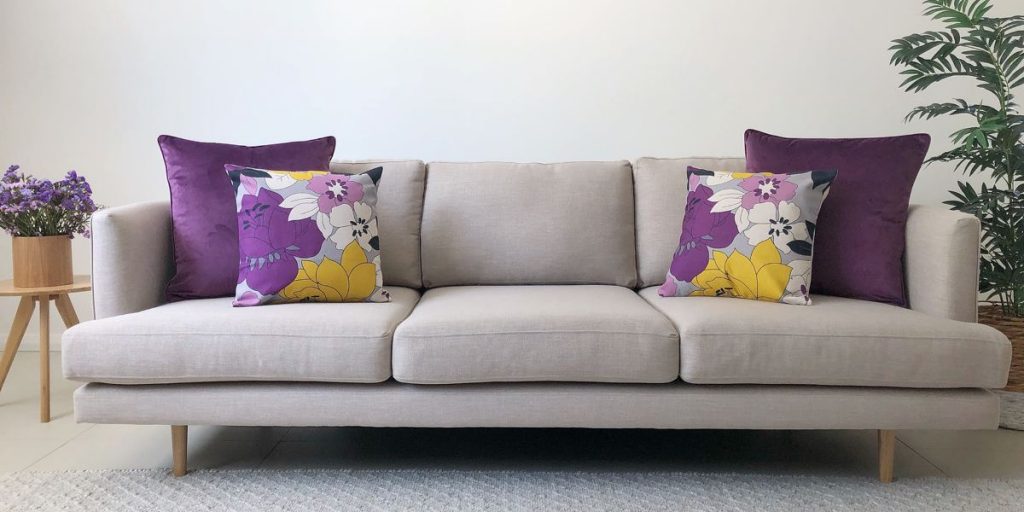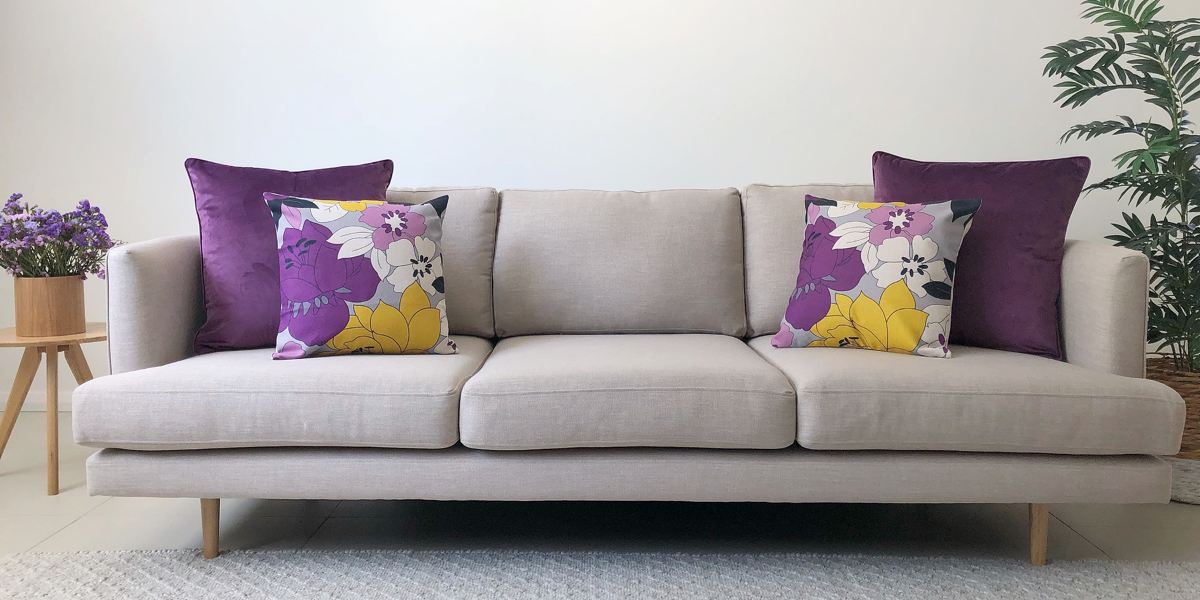 Balanced cushion arrangement
This arrangement includes two cushions on each side of the sofa plus a feature in the centre. This is a common arrangement used with outdoor cushions and provides a finished look to a sofa.
It consist of two large cushions as the base, two slightly smaller ones overlapping the two outer cushions, and an additional feature cushion in the centre that could be smaller in size or different in shape depending on your taste.
With this kind of arrangement, play with colour, patterns and textures for an interesting and appealing layered look.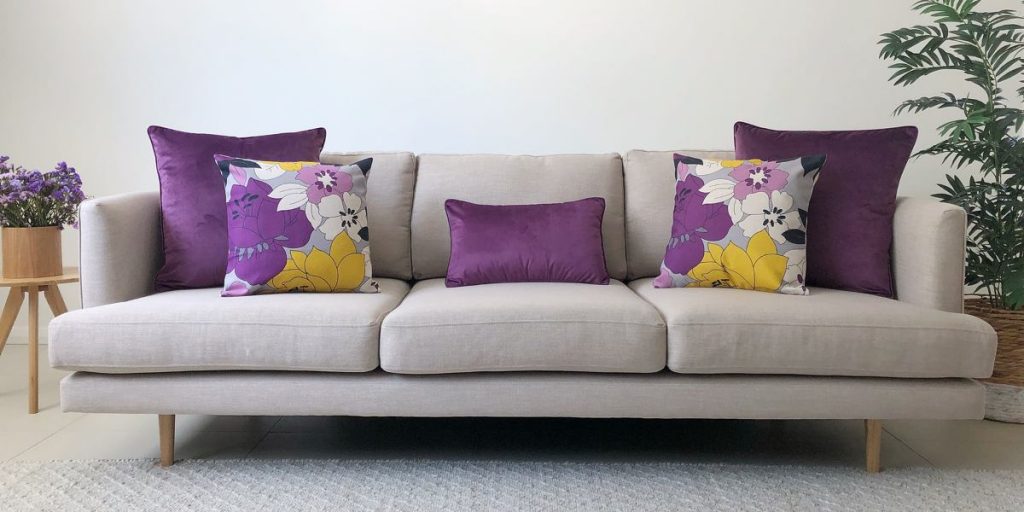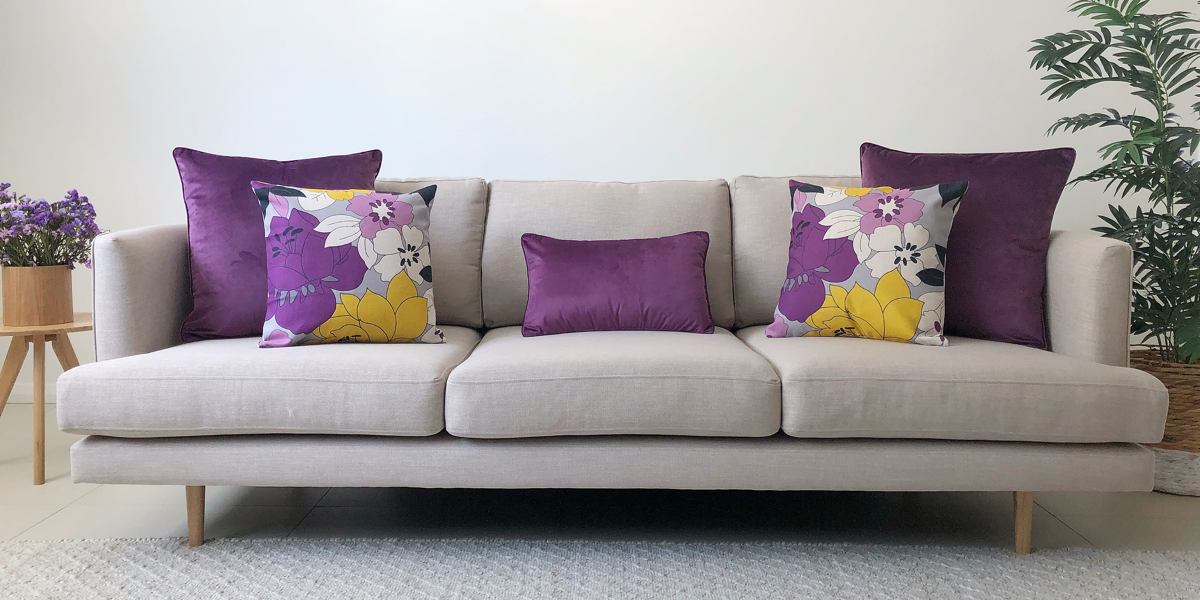 Central cushion arrangement
Cushions don't always have to be confined to the ends of the sofa — a little change in placement adds variation to your décor. To work this arrangement, place cushions slightly away from the ends of the sofa.
For a more relaxed and aesthetically pleasing look, try grouping cushions in odd numbers; for instance, a group of three or five cushions. Equal numbers of cushions work equally well and offer a more organised and anchored feeling to the decor scheme.
This arrangement creates a structured look on sofas that are too small to accommodate multiple arrangements or too long for arrangements at either end.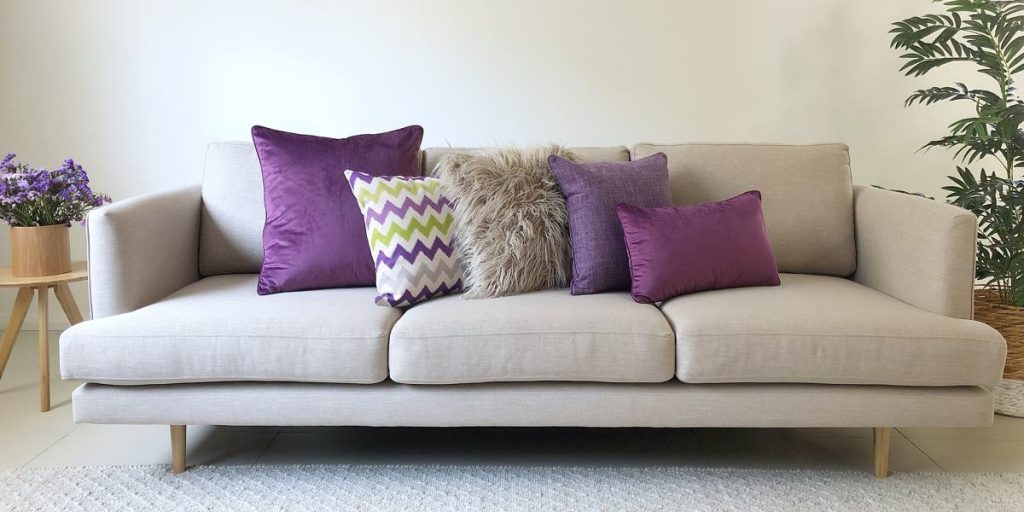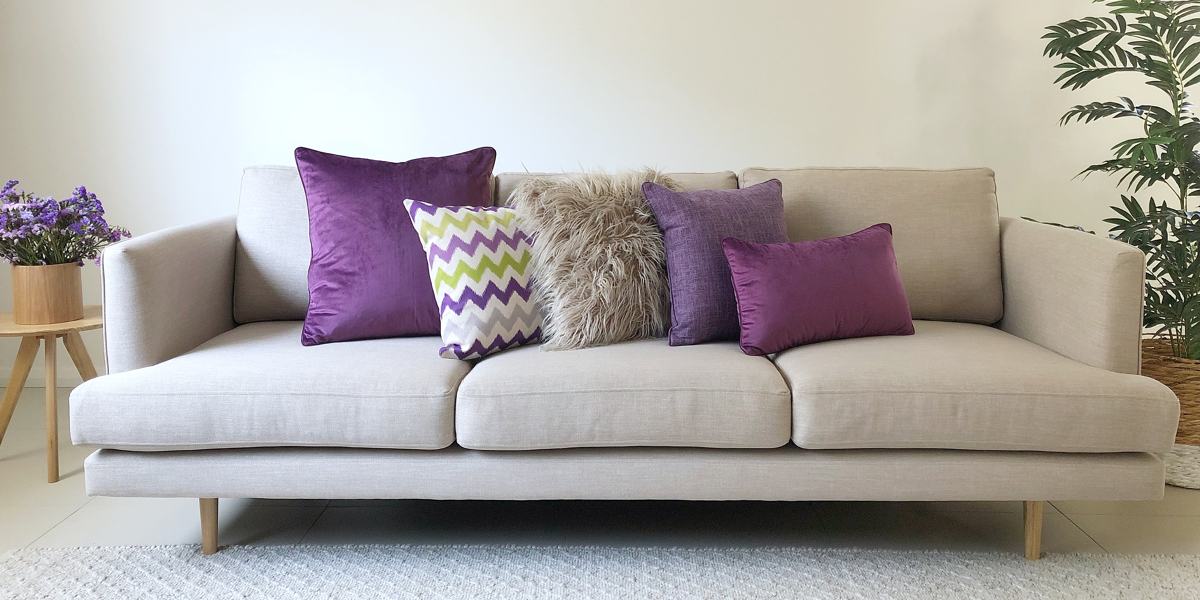 Separated trio arrangement
You may be particularly attracted to this arrangement if you like everything neat, composed and in its place. This arrangement is a great way to incorporate six cushions on your couch; with three on each side.
It allows you the freedom to enjoy different colours, patterns and textures, as long as each pair matches the other. Start with your largest decorative cushions at the back, then work your way in, adding pairs of smaller cushions as you go along.
The look can be a bit spontaneous by using one feature cushion in a different shape, size and fabric to bring in varied textures and avoid a monotonous finish.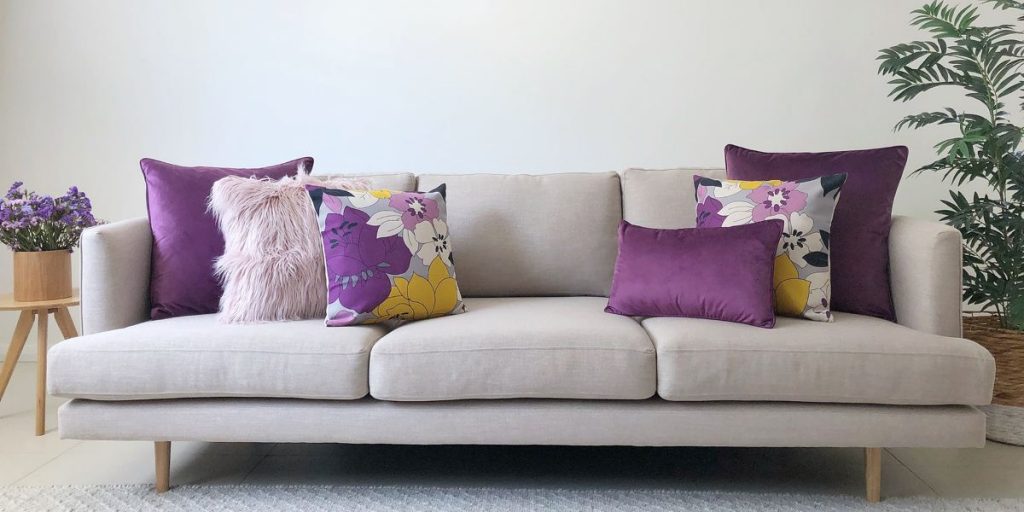 The uneven cushion arrangement
For those wanting to add a bit of drama by using varying cushion sizes, colours and textures, then this may be the perfect arrangement for your sofa. It includes three cushions on one end of the sofa, two cushions on the other end and a single cushion placed in the centre.
The smaller cushions are placed at the front hence they can be the most elaborate with their design.
Having at least one cushion from the group with a colour or fabric that references your couch creates unity. To add depth to this arrangement, include cushions in different textures like velvet and fur for a truly sumptuous look.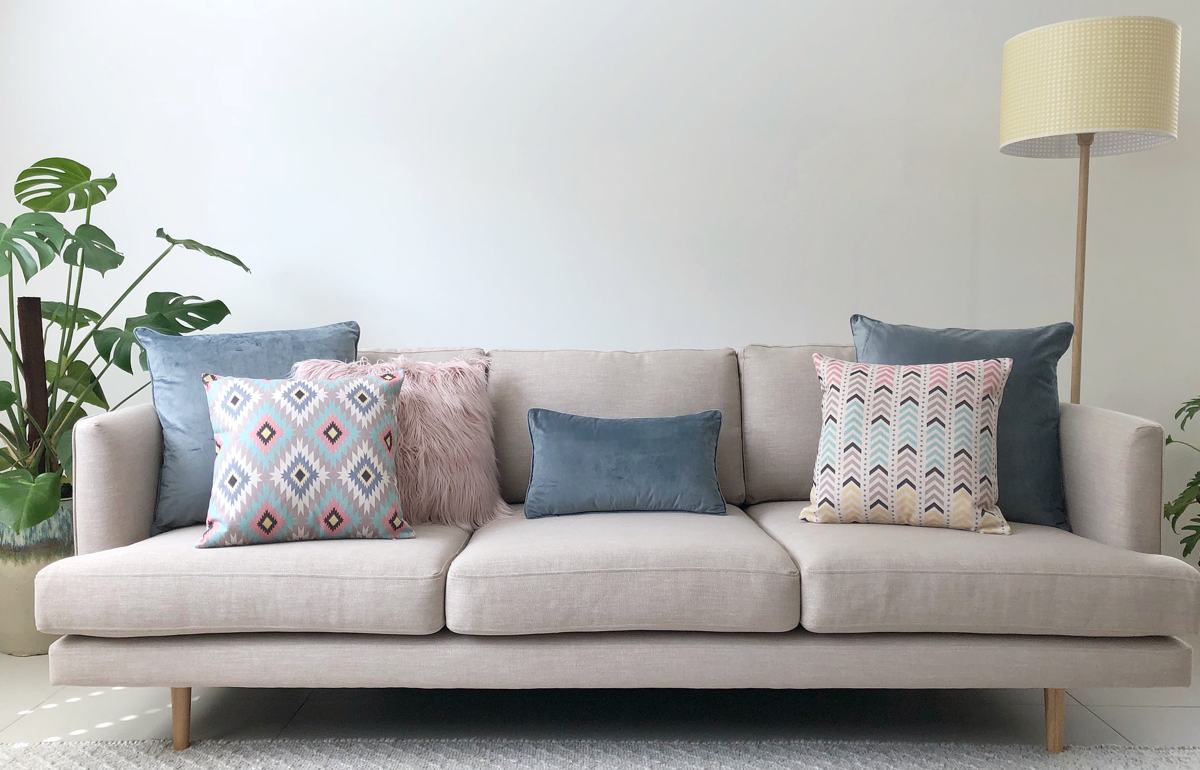 Different shapes arrangement
This arrangement is more spontaneous as it consists of cushions with different shapes and sizes to create an exciting cushion cocktail. Placed in a way you would a gallery wall; nothing is off limits with this arrangement.
The arrangement highlights the cushions individuality and geometric strengths and works effortlessly in odd numbers. Pair cushions in different textures such as velvet, linen, and fur, with different sizes and shapes for extra dimension and depth.
Extend this idea by including fabrics in contrasting materials to that of your sofa. There are so many different fabrics to get to know and by using contrasting materials to that of your sofa you can again create an intriguing visual statement.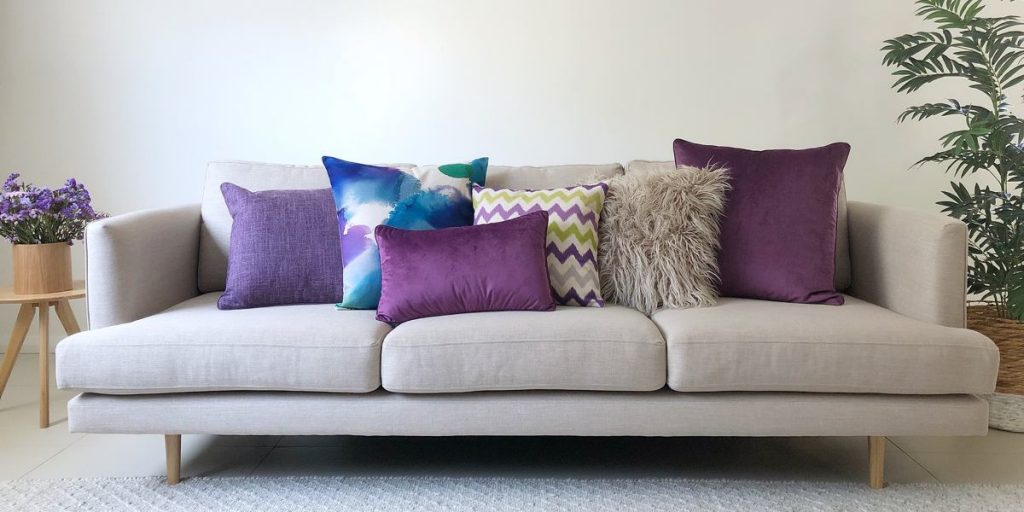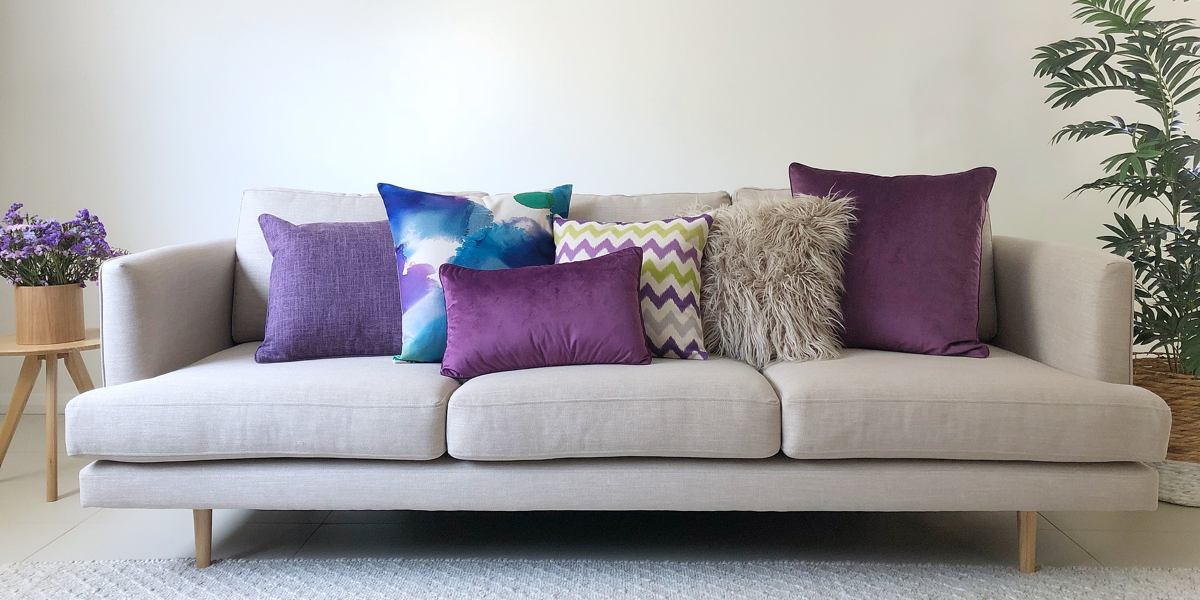 Time to recap
If you are one of many that don't like an empty sofa, then you probably want a few cushions to add to its overall style and make it a bit cosier. It also adds a great aesthetic to the living space, too!
Start with a strong base
When styling your sofa and arranging your cushions, always start out with a strong and solid base. Start with two large cushions on either side of the sofa that are either solid or have a print, and then create some symmetry with some mix and match pillows in the centre.
Play with layers
Once you have a good base established, you can start layering the sofa with different fabrics and textures. For a more formal look, you can use matching cushions. However, if you want a fun and more eclectic look, then you should find two cushions that don't match or one lumbar pillow that coordinates nicely with the larger cushions you have on either end.
Think outside of the box
Never be afraid to travel away from the more traditional and get a little weird with your sofa pillows. Play around with differently shaped cushions, faux fur, and even sequins. Go for a more dramatic and playful look that stands out. Don't feel as if you have to stick to arrangements with only traditional square pillows. Play around with cushion arrangements on sofas using a rectangular cushion or even a triangle!
Odd numbers are ideal
For a more relaxed aesthetic, odd numbers are ideal. When arranged, they look much more natural. Simply reach for around 5 cushions for an average-sized sofa or three for a smaller sofa and see what you can do.
Balance and asymmetry
Yes, you can achieve balance even if the look you are going for isn't entirely symmetrical. Simply place a larger cushion on one side and then balance that out with two smaller couch cushions on the other side. Pattern mixing is all the rage these days too when it comes to decorative throw pillows.
Play with solids and textures
If patterns aren't what you are comfortable with, then you can instead play around with bold colours and textures to keep things interesting and stylish. You don't have to feel obligated to somehow work patterns into your cushion arrangement.
Arranging cushions on a bed
If you have already nailed down your sofa pillows, maybe you want to extend these styling tips to your bedroom. If you have King sized pillows, place them against the headboard and then arrange three euro pillows in front of them. You can then use an accent pillow, or a few, at the front of your cushion arrangement. These cushions can be staggered or centred or you can arrange them in more of a triangular formation.
If you are arranging pillows on a single bed, then one euro pillow plus a standard pillow or two standard pillows will be just enough. You can then layer on up to two decorative throw pillows. For a double or queen sized bed, use two euro pillows plus two to four standard pillows. You can then use a maximum of three decorative throw pillows on top of this arrangement.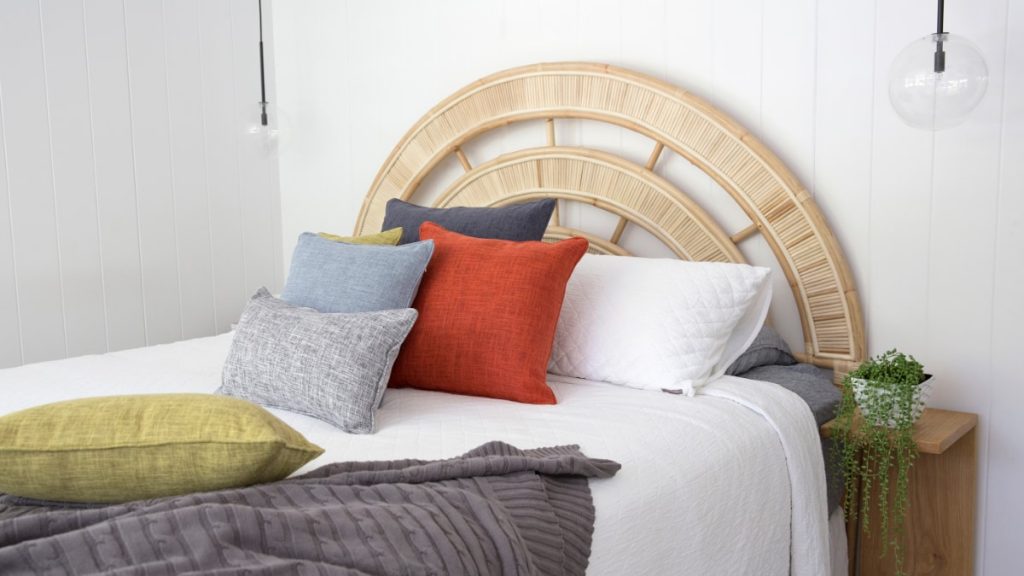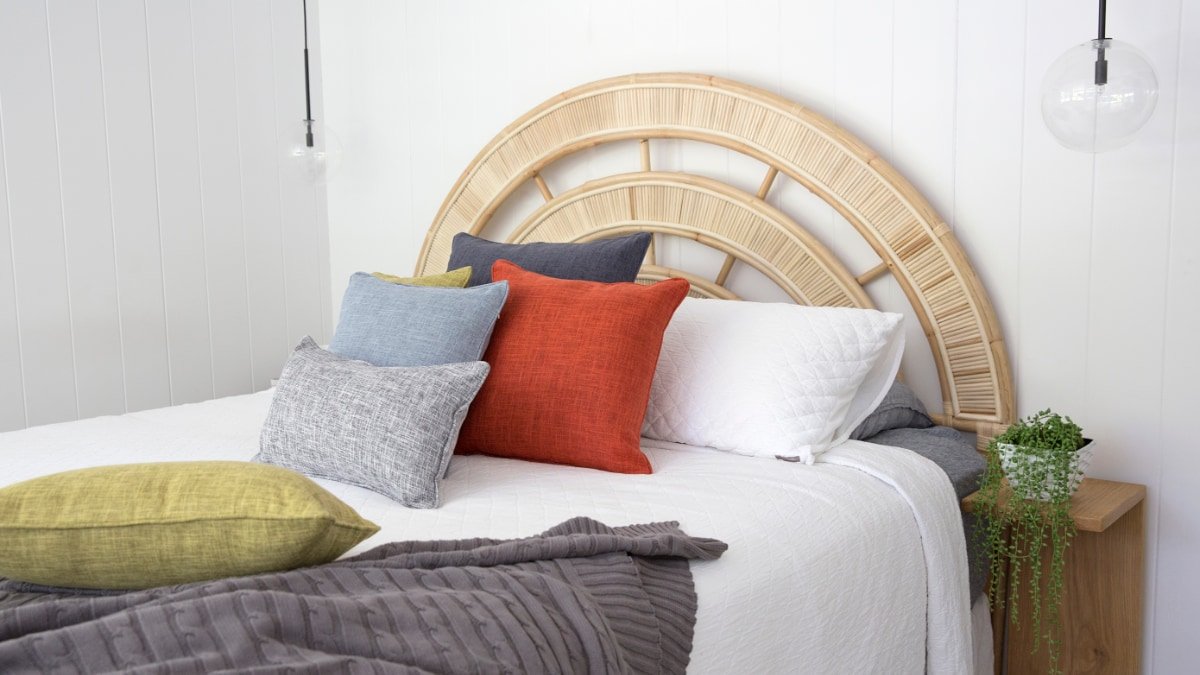 Happy styling!
Simply Cushions Team