Intro to the Boho Chic style
Boho Chic style is eclectic and richly artistic — deriving inspiration from the carefree, bohemian mystique of a world traveller. It's a melting pot of different influences from the Mediterranean, Morocco, India and Southeast Asia; and its a style embraced by those who want their homes full of life, culture, and interesting unusual items.
This enchanting style was made popular by vagabonds and wanderers of the 19th century, and derived from the French expression "La Boheme" which means gypsy. The recipe for Boho Chic style often includes bright fabrics and patterns, distressed and mismatched furniture, old art, wall hangings and travel memoirs.
Features, colours, patterns and textures
There are no preconceived colour rules when it comes to this style, but a true bohemian embraces colour — lots of colour!  Think fuchsia, electric blue, emerald green, deep brown, striking red, fiery orange, saturate purple and other jewel tones which often offset white walls and earthy plants.
The use of textile is key in creating this look, and layering is a classic trick. Be ready to mix lots of patterns; from rugs, to tapestries and cushions — Boho Chic style embraces "more and more" to come up with cosy, globally inspired interiors. Materials such as burlap and sisal can be combined with silk and plush velvet; with intricate patterns inspired by tribal and ethnic designs.
How to create the Boho Chic look with cushions?
If you are looking for something unique to truly make your own, then Boho Chic style has your name written on it. Because we're all for stylish and statement spaces, we've coordinated a few cushions from our various collections to inspire you to create your own bohemian retreat. Here's how you go about it…
Boho Chic Accessories
The true essence of Boho Chic style is all about taking pieces that are special and tell a story, and putting them all together to make it your own. The furniture used is mismatched, and utilises natural and raw materials such as wood and rattan. Walls are adorned with handmade and odd accessories that look like they have been collected over years of travel.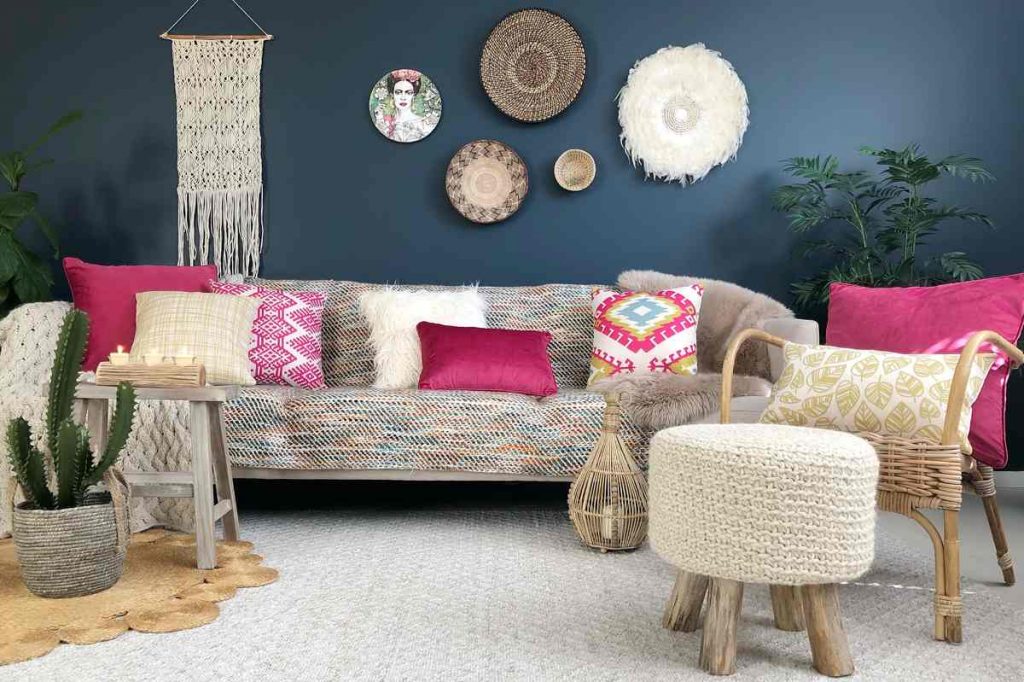 Look 1: Our Elysian Collection
In this scene, we've selected our Elysian 6 Cushion Cover Collection which is a perfect way to start nudging your space out of the box and into a classic Boho direction.
Here, the pink velvet block cushions really pop against the dark wall and sets the tone for the overall look. To further accentuate the pink, we added graphic cushions for visual interest and to create a striking combination.
Pink and patterned rectangular cushions add variety to the cushion shapes and colours. The white plush fur cushion complements the fur wall ornament and brings in a warm, cosy ambience. The furniture pieces, rugs and woven planter incorporate many textures with natural details that undoubtedly make the space feel unique.
To create this look yourself, pair neutral furniture pieces with one of our Elysian Collections. Use a variety of plant sizes in unique textured containers and rattan accents to enhance a relaxed, collected look.
Shop the look…
Look 2: Our Ohana Collection
This time we've opted for our Ohana 7 Cushion Cover Collection which has a slightly coastal bohemian look. This collection has a personalised Moroccan flair that feels fresh and new in its own way.
In this scene, we have used graphic cushions in bright teal and lime hues to provide a rich palette and give the room a magical ambience. The cushions blend well with the wall colour while the nature inspired accents contribute in pulling the outdoors in. The wool and fur throws, together with the rugs, create an overlapping layer effect needed for greater depth and texture.
To create this look yourself, start with a neutral plush sofa as a canvas for the brushstrokes of one of our Ohana Collections. Incorporate a mix of different textiles for a layered, playful and curated look.
Shop the look…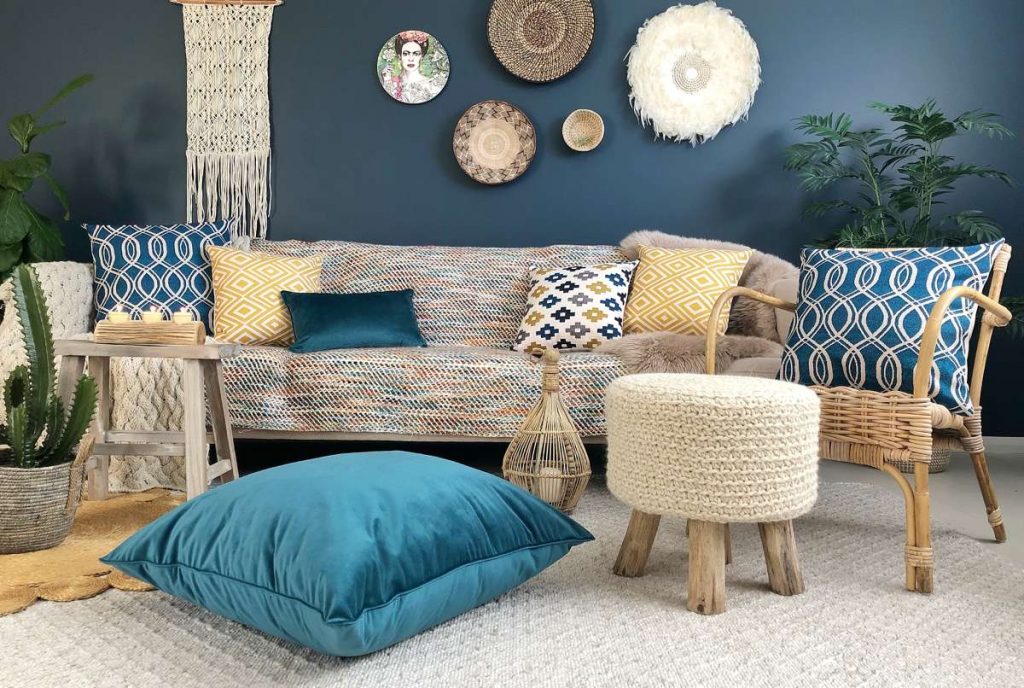 Look 3: Our Bedouin Collection
In this scene, we have used our Bedouin 6 Cushion Cover Collection that includes some velvet for texture and an uplifting yellow and teal colour palette.
Here, a pop of graphic patterned cushions instantly adds vibrancy and livens up the room. Yet they work in harmony with the subtle hues of the layered sofa for a more cohesive look. The teal velvet floor cushion channels that feeling of comfort and warmth. The colours, patterns and textures really blend well together to lend a seamless look.
To achieve this style, create a layered look with one of our Bedouin Collections and add in few materials that sport a slightly worn appearance. Floor pillows and crocheted stools are fun ways to incorporate more seating into the space. Add unexpected wall hangings and ornaments from your local flea market.
Shop the look…
Other ways to achieve the Boho Chic look
Choose this collection if a classic Boho Chic look emphasing purple is your thing. Using different textures this look invites you to relax and lounge around but still stimulates the senses. This collection pares well with neutral, purple, pale pink or lime toned soft furnishings.
Choose this collection if you are looking for a pared back boho asthetic but still emphasising multiple colour tones. This collection uses textural and colour elements to deliver a chic take on the boho style and works well with neutral, teal, pale pink and rust red soft furnishings and accents.
Choose this collection if you are looking for a bright teal and yellow based look that emphasises a range of eastern motifs. This look complements any neutral, gold or light brown toned soft furnishings and accent pieces.
Choose this collection if you are after a more muted multi tonal boho look. This collection emphasises texture and bohemian patterns over vivid colours and would particularly complement pastel or stronger primary coloured soft furnishings in grey, pink or teal. This look will work beautifully with a neutral background pallette.