Purple Cushions
Done right, purple can be a distinguishing colour in a room. It's bold, vibrant and can evoke a feeling of warmth and power. Discover our huge selection of purple cushions; from lilac, plum, mauve and indigo all the way through to lavender, magenta and violet. Buy today and get free shipping on orders over $150 and our exceptional customer support.
---
Styling with Purple Cushions
Purple is associated with royalty and luxury, as it has been for thousands of years. Darker shades of purple make a room feel grandeur and strike a serious, formal note; while softer shades like lavender, feels clean, fresh and modern. Pair various soft tones of purple cushions in different textures for a sophisticated and soothing look. For a crisp and airy finish, introduce cream or white designs, also in varied textures.
Dark purple cushions are so rich and indulgent; and when incorporated into a white background, they give the room a clean, modern edge. When paired with brown, they accentuate the neutral colour and bring a vibrant jolt of energy. They become even more charming when paired with black and gold. These rich colours in sumptuous fabric add opulence and a worldly feel to a living space.
Bring blue and purple cushions together and you have a bewitching colour of midnight blue. These two hues, in their intensity, set an enchanting and contemporary tone. Retro cushions, in darker shades of red, green or orange, coupled with jewel-toned purple gives the room bags of character and an eclectic vibe that's easy to evolve.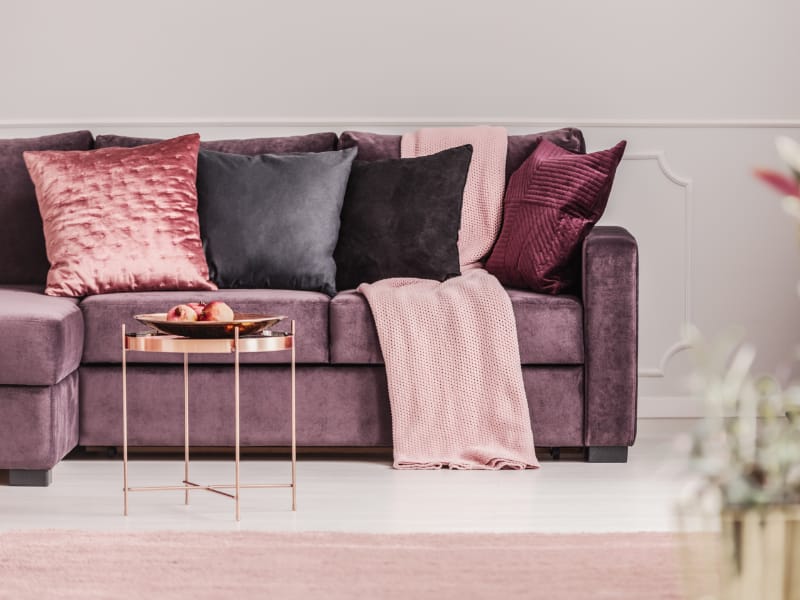 Purple can be a lovely colour to incorporate into any aesthetic as it can play a beautiful role in creating a moody ambience. If you want, you can choose a smokey and saturated shade to bring in much needed drama and elegance. For this, partner purple cushion covers with similar vivid and saturated colours such as charcoal grey, emerald green, darker shades of pink and midnight blue. If you'd rather something more relaxed, light-hearted and calming, work lighter shades with pastels or neutral tones. This colour is so wonderfully diverse! Let's explore all its variations and how they can be used.
Vibrant plum cushions
Because purple comes in varying shades, it's easy to create a specific look that you truly desire. In a darker plum shade, it can be used as a pop of colour to more subdued tones including grey, beige, taupe and cream. Plum cushions can transform any space into one that is alluring, and in a muted background, this vibrant hue can take centre-stage in some square cushions and become the focal point of your room. What's more, plum can add instant drama when partnered with other saturated colours and metallic accents.
Fresh lilac cushions
However, to prevent your overall decor from feeling too dark, you can offset plum with lighter shades of purple. A simple idea is to introduce lilac cushions to lend a lighter and chic vibe to your plum arrangement. Adding patterned designs with lots of white hints make everything feel fresh and modern. Lilac can also be partnered with subtle shades of pink like dusty rose, crepe, flamingo and blush for a finish that's both feminine and sophisticated.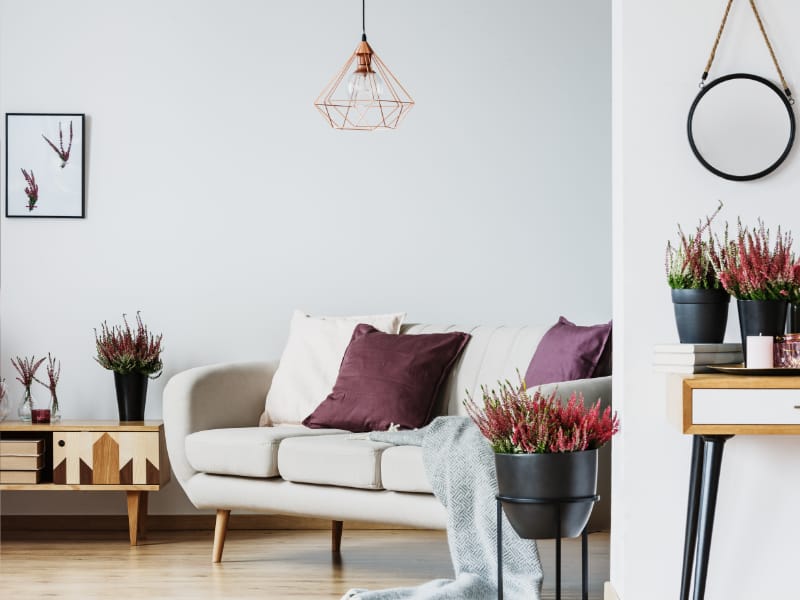 Bold magenta cushions
In addition, if you wish to embrace the colour purple, then opt for a collection in a single shade. For example, you can choose a bright shade if you're looking to create a bold and cheerful look, especially in a neutral setting. Magenta cushions are bright enough to stand on their own, and will instantly shine against a crispy white backdrop. To prevent your display from feeling monotonous, use both block and patterned styles of magenta with varying print-scale for added depth and dimension.
Lovely lavender cushions
Alternatively, you may opt for a more subdued arrangement of lavender cushions. This colour offers a soft pop of colour, and at the same time feels subtle and light enough to find its place in more casual and laid-back settings. With this arrangement, you still want to keep it interesting by incorporating both blocks and patterns, or by using lavender in varying textures or large 70x70 cushions to add visual weight to the scheme of things. Touches of shiny chrome finishes pair beautifully with lavender and will elevate your room's aesthetic.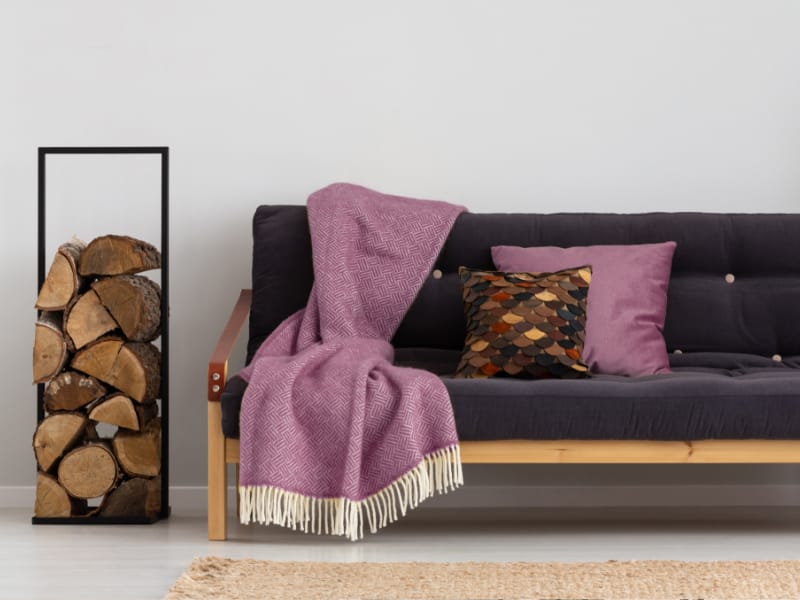 Flexible mauve cushions
The slightly muted but eye-catching mauve tone is full of life and can provide any decor style with a worthy designer finish. Mauve cushions pair with an endless array of colours, from bold hues like that in yellow outdoor cushions, to neutral shades and pastel tones. Partner with bright white and you create a refreshing and modern arrangement; combine mauve with soft grey and mint green for an elegant and chic look; and when mixed with plenty of beiges, taupes and cream, the overall look feels contemporary.
Vivid indigo cushions
A little fuller and richer shades of purple will make a small room feel inviting and cosy, and a large room feel comfortable and enveloping. Jewel-toned amethyst purple and citrine yellow make stunning companions to indigo cushions. Because all colours are vivid and striking, they easily become an eye-grabbing focal of the room, diminishing the need for excessive accents. For a rather pared down look, indigo partners brilliantly with a blend of soft pink and purple, or with neutral tones including ivory, cream, black, taupe and grey.