A few well selected cushions can add colour and style to any space. We've put together a quick guide for choosing the perfect cushions for your home.
How to decorate with cushions
Identify your colour palette.

Let the style of room dictate the number of cushions you add.

Mix up the size and shape of your cushions.

Experiment with different textures.

Use cushion styling to set the tone of your room.

Change your cushions with the seasons.

Have fun with it.
1. Identify your colour palette
The first thing to do is identify what colour cushions you're looking for. Look around the room that the cushions are intended for, take in the soft furnishings, art on the walls, curtains and any existing accessories.
What you're trying to do is identify two to three central colours in your room, this will become your colour palette.
You will need to keep this close when choosing your scatter cushions online. They only need to have one of these colours somewhere in them to carry this central theme through. You might have one or two solid colours and then a few with patterns that have elements of your colours in them. Keep in mind though that some colours will clash.
There are some fabulous yellow cushions around at the moment and some gorgeous purple ones too but put these together and the result if often an assault on the eyes!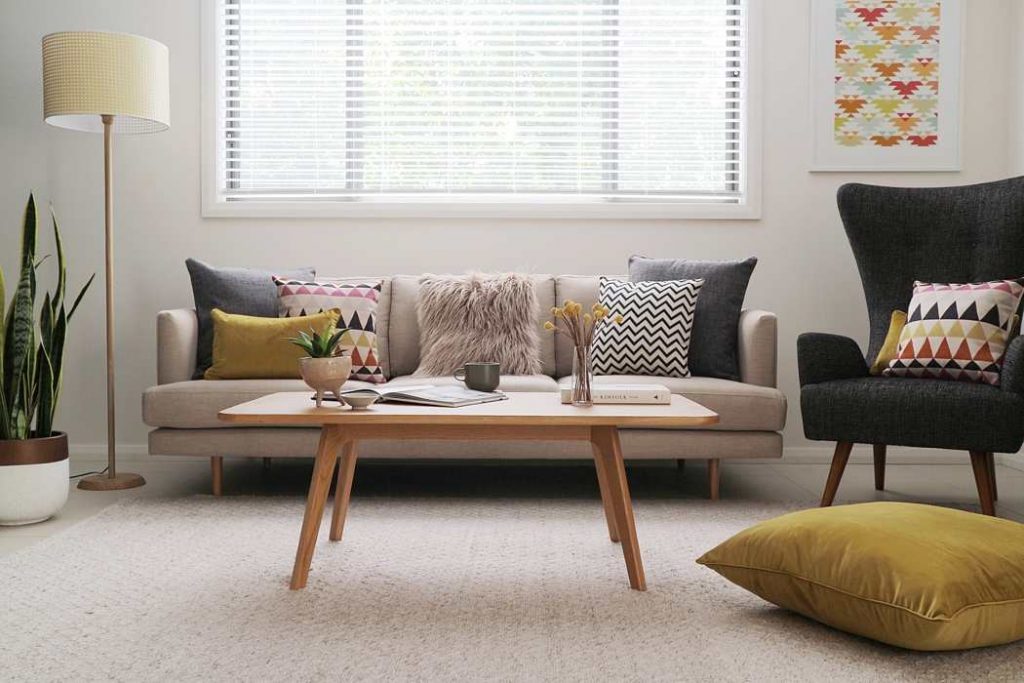 This room features our Breuer Collection and our Mustard Floor Cushion
2. Let the style of room dictate the number of cushions you add
If you are going for a more traditional look then stick with an even number of scatter cushions. One of the most effective ways to achieve this is to choose two matching solid square colours and put these in each corner of your sofa. Then, choose two smaller matching patterned cushions and place these in front of the other two. 
If the style of your room is more modern or eclectic, then it's best to opt for an odd number. For a three seater sofa, you can go for five completely different scatter cushions as long as you stay true to your colour palette. Be warned though, with so much choice online it might be hard to stop!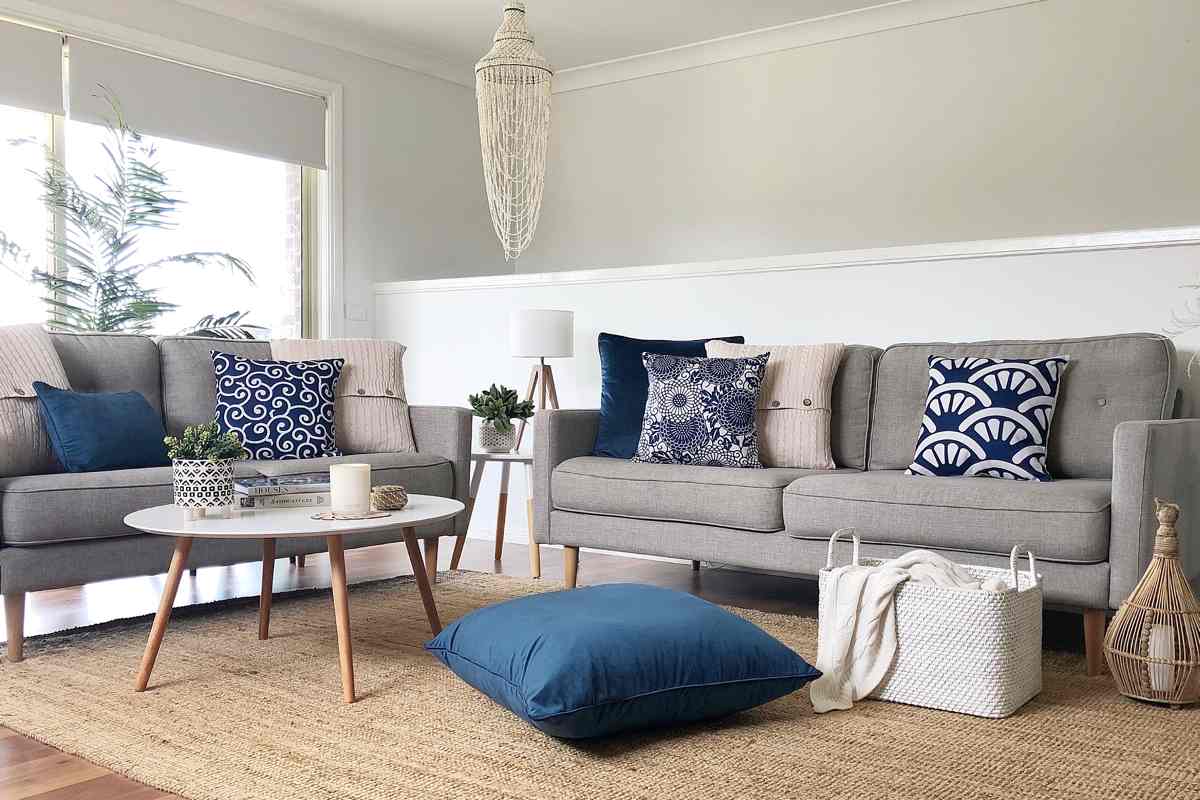 This room features our Afia Collection and Velvet Blue Floor Cushion
3. Mix up the size and shape of your cushions
Wondering how to style cushions on your sofa or bed? People often think that their collection should all be the same shape and size, however some of the most effective arrangements are those that combine different combinations of these.
One of our favourite arrangements with scatter cushions is the 2-1-2. Choose two solid coloured larger scatter cushions that pull together the different tones in your room.
Then, select some slightly smaller ones with different patterns but similar colour palettes to sit on front of these. Finish off your arrangement with a small rectangular cushion in the middle that is patterned with similar tones as your two solids.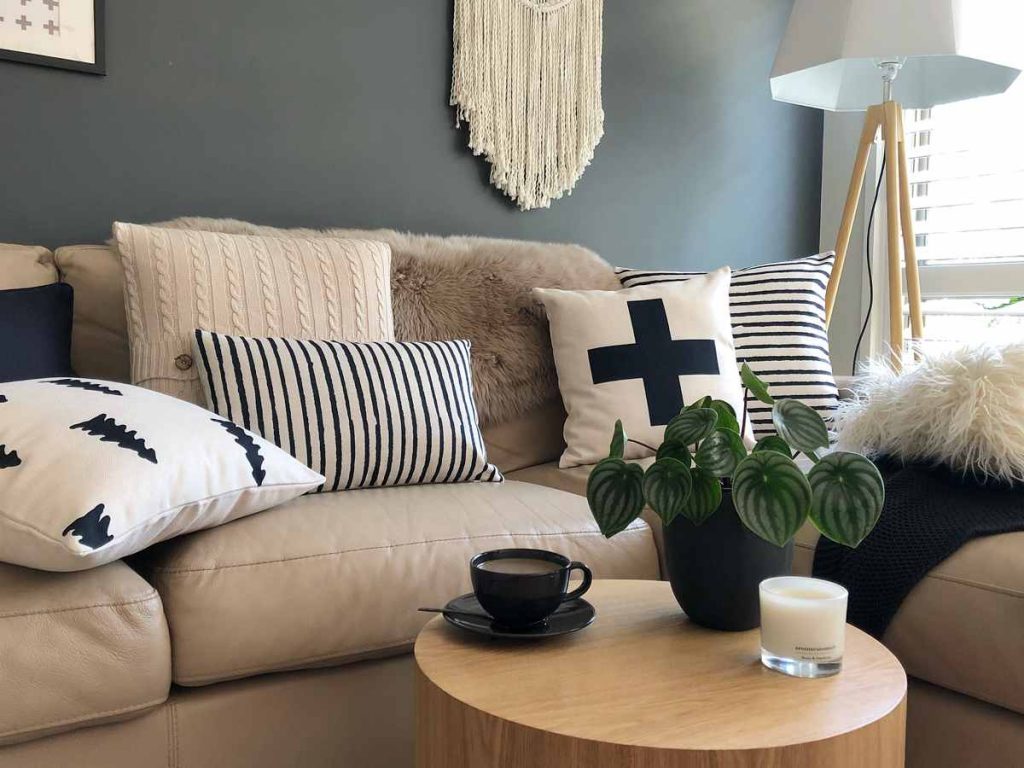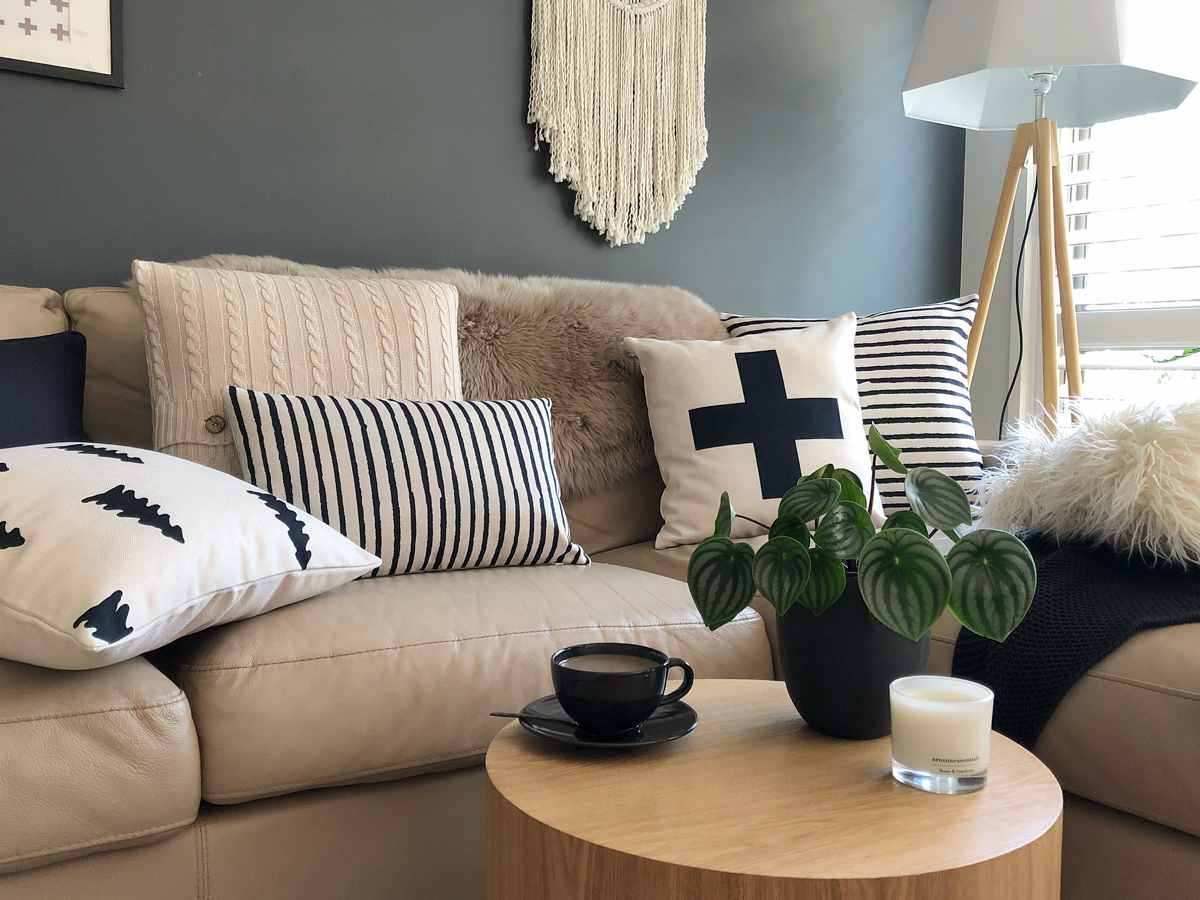 This room features our Cora Collection
4. Experiment with different textures
There are so many different ways how to decorate with cushions but one very effective method is through the use of texture. Using the same material across all of the designs in your arrangement can come across as boring and stale. By injecting different fabrics and materials into the mix, you can create a deep textual effect which can serve to highlight the uniqueness of each of your cushions. 
Now this can be as simple or as elaborate as you'd like. On one hand, you can create a visually appealing mix of lots of different textures such as warm knits, natural soft linens, fluffy faux furs and beautiful velvet cushion styles. On the other hand, you can keep it simple and use a base of cushion covers in the same fabric, but use a noticeably different material, like some luxury velvet cushion covers, as your centrepiece to really draw in the eye. Keep texture in mind when looking for your scatter cushions online.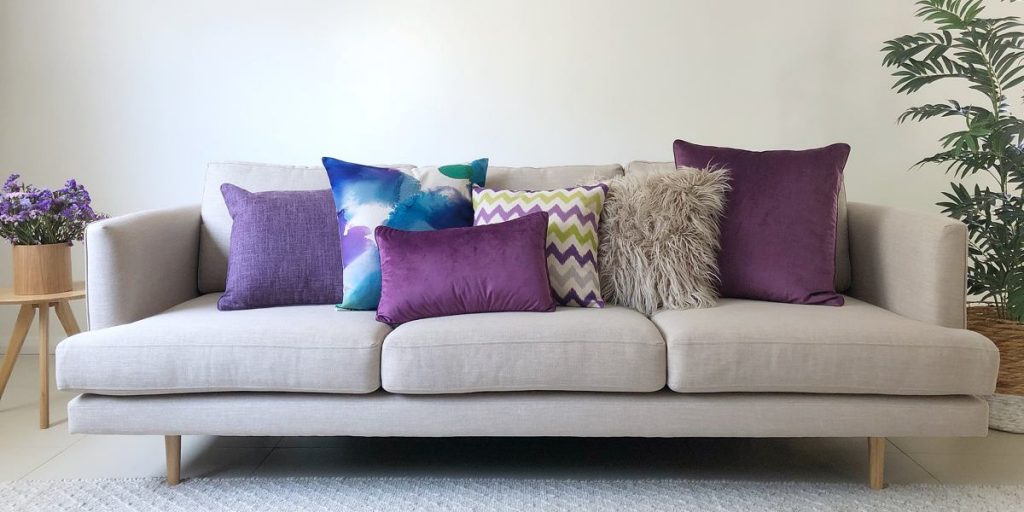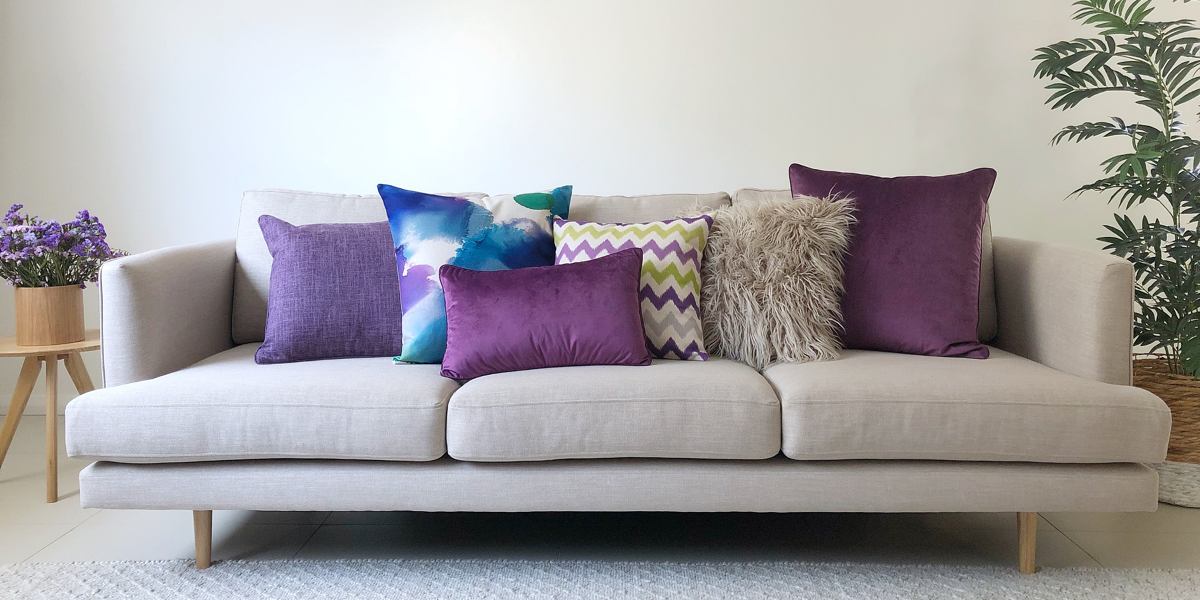 This room features our Souk Collection
5. Use cushion styling to set the tone of your room
Scatter cushions can absolutely transform a room so it's important to take a good look at your space before you select them. For example, a bright splash of colour like some pink cushions can add excellent contrast to an otherwise melancholy decor and become the centrepiece of a once bleak room.
Bold prints and patterns really dominate and transform the style of a room. Be careful not to add patterns or colours into an already colourful room as the result may be overwhelming. 
If you have a large bright area then darker scatter cushion styles will recede the room and make it feel cosier. Match these to your curtains to make the room appear smaller and more intimate. Dark red, maroon, plum or navy colours are a good choice here.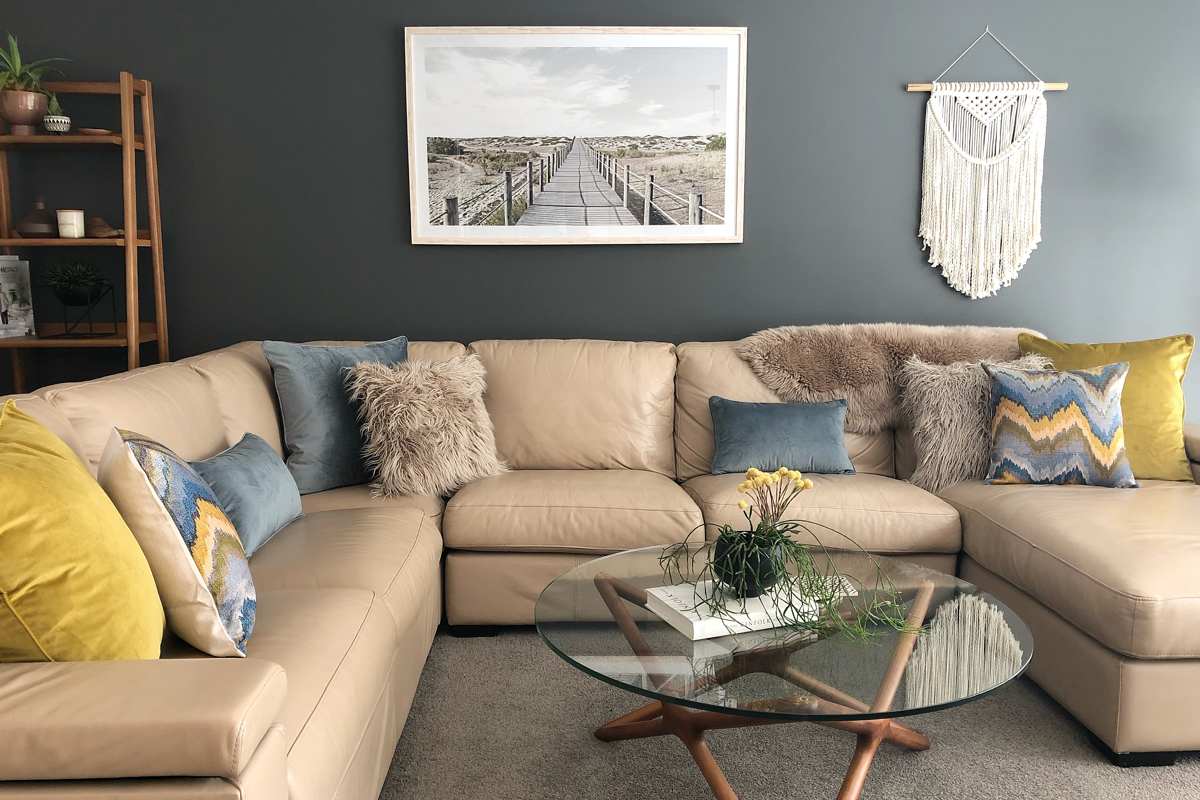 This room features our Woodstock Collection
6. Change your cushions with the seasons
Every new season presents opportunities to freshen up your space in different ways. One of the easiest ways to change the look of your room is to match your cushion styling with the seasons. Spring and Summer call for bright colours such as yellow, orange and bright green. Florals and botanicals are an excellent choice for these seasons as you can capture the colours and vividness of this time of year.
Autumn and Winter call for darker, Earthier tones and more sombre colours such as maroon, navy and dark green. Use chunkier textures, large sizes and warm accessories like throw blankets to work in partnership with what's happening outside during these cooler seasons. So take a look outside and see what inspiration you can get from the natural environment right now.
This room features our Ohana Collection
7. Have fun with it
This is one of the best tips because you don't want to find yourself trying so hard to follow all the "rules" that you let your own personal style slip on by. At Simply Cushions we don't think you should ever be afraid to think outside of the box! Play around with colourful throw pillows, textures, and all the fabrics you want.
You can even experiment with neutral colours, a floral print, or geometric patterns. You will find almost anything works as long as you can find the right balance and the right complementary colours and designs to work together. Your personal living space is the perfect place to experiment and explore your own unique style.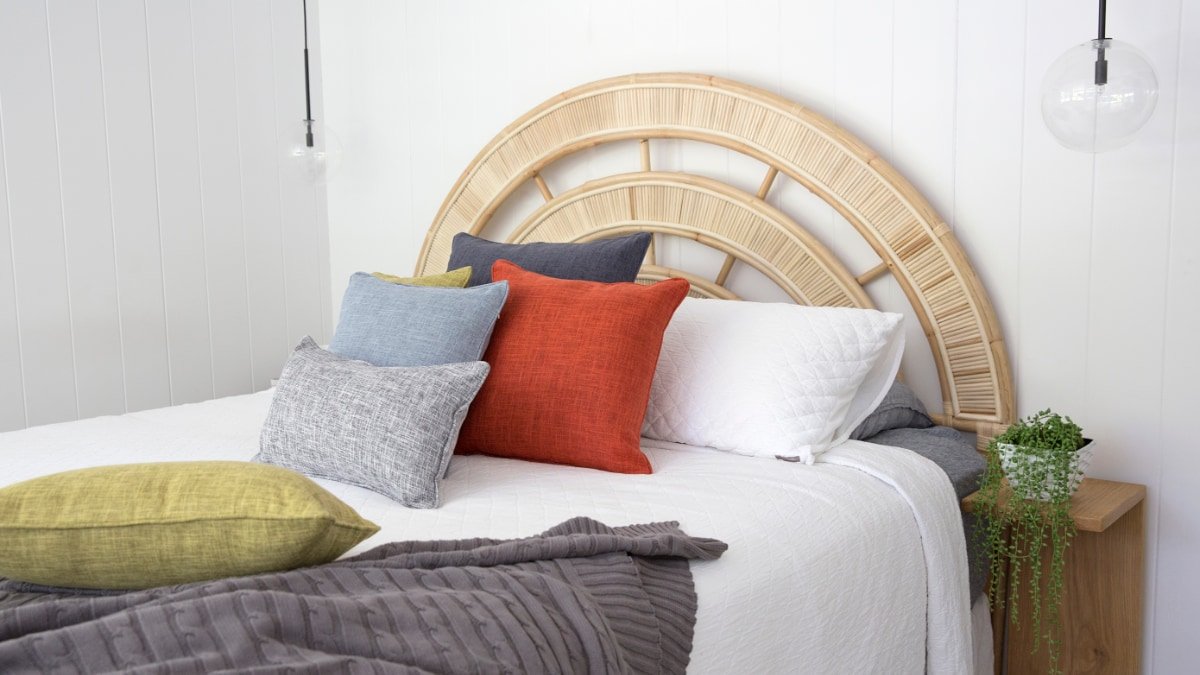 Find the right look
Decorating with throw pillows can be easy as long as you know what kind of style you are trying to achieve. We touched on a few different styles above, but thought we would summarize them below to give you a better picture of each and what you need to consider if you want to achieve that particular style.
For a more modern look, as mentioned before, you may consider going with an odd number while steering away from the more traditional pairing. You should also experiment with larger pillows instead of smaller ones. The larger cushions can be used to show off your favourite solid colour or a fun pattern you found.
Also, for a more modern look, play around with a more limited palette and larger geometric patterns. The fabric should also be of the cotton or linen variety. Never be afraid to play with the colours you do have either. Just make sure you pull from other cues in the room to find the right balance for a more modern aesthetic.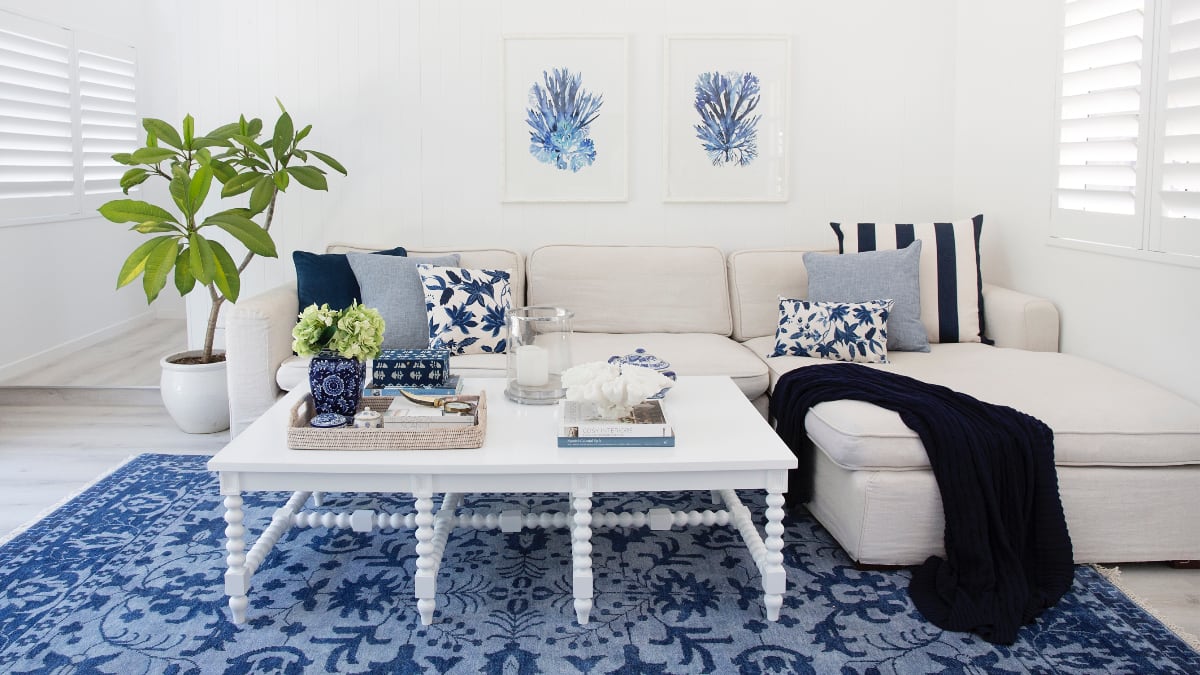 If the traditional look is more your style, this can also be accomplished with your couch cushions. A placement of two to four cushions is ideal for this look because you want to make sure everything has some kind of symmetry and order to it. For a classic look, try velvet cushions; however, you can also layer different textures and fabrics to stay more in line with your style. The larger pillows you use can have more pizzazz like tassels or frilly lace.
If your style is more fun and eclectic, you will want to have an odd number of pillows on the couch like three to five to create a certain amount of asymmetry. However, you can easily accomplish this without making everything look complicated and crowded. For example, place two of the cushions on the left side and the last one on the right.
When going for this more eclectic look, try out pillows that are between 45cm and 55cm in size. The pillows should all be of similar shapes for this aesthetic, and you can choose whatever fabric attracts your attention the most. However, make sure you have at least one colour in common throughout the entire collection.
Learning how to style cushions is all about experimenting. No matter your style, you will find that trying out new colours, designs, fabrics, and textures can be fun as you start pinpointing your own individual style. If you want to keep things simple, then box or square pillows can look good in a group. If you want more drama, then play around with mixing complementary designs and colours to see what you get.
Choosing the Right Cushions
Always consider the size of your couch when deciding how many cushions to buy. Standard square throw pillows are approximately 45cm across and sit on an average-sized sofa without being too overwhelming. More pillows can also create a cosier and more lounge-like feel as well.
You should also consider how high the back of the sofa is as well. If it is on the shorter side, then 45cm pillow sizes may be too big. For a shorter height, you can try rectangular pillow sizes instead that have a lower height.
What about the squish? Knowing the fill of your cushion decor is also important when you are decorating with cushions. If it is feather and down fill, you will find the cushions to be soft while foam and any other synthetic type of filler is going to create more solid pillows that hold their form better.
Happy styling!
Simply Cushions Team