1. Identify your colour palette
The first thing to do is identify what colour cushions you're looking for. Look around the room that the cushions are intended for, take in the soft furnishings, art on the walls, curtains and any existing accessories. What you're trying to do is identify two to three central colours in your room, this will become your colour palette. You will need to keep this close when choosing your scatter cushions online. They only need to have one of these colours somewhere in them to carry this central theme through. You might have one or two solid colours and then a few with patterns that have elements of your colours in them. Keep in mind though that some colours will clash. There are some fabulous yellow cushions around at the moment and some gorgeous purple ones too but put these together and the result if often an assault on the eyes!
This room features our Breuer Collection and our Mustard Floor Cushion
2. Let the style of room dictate the  number of cushions you add
If you are going for a more traditional look then stick with an even number of scatter cushions. One of the most effective ways to achieve this is to choose two matching solid square colours and put these in each corner of your sofa. Then, choose two smaller matching patterned cushions and place these in front of the other two. If the style of your room is more modern or eclectic, then it's best to opt for an odd number. For a three seater sofa, you can go for five completely different scatter cushions as long as you stay true to your colour palette. With so much choice on offer it might be hard to stop!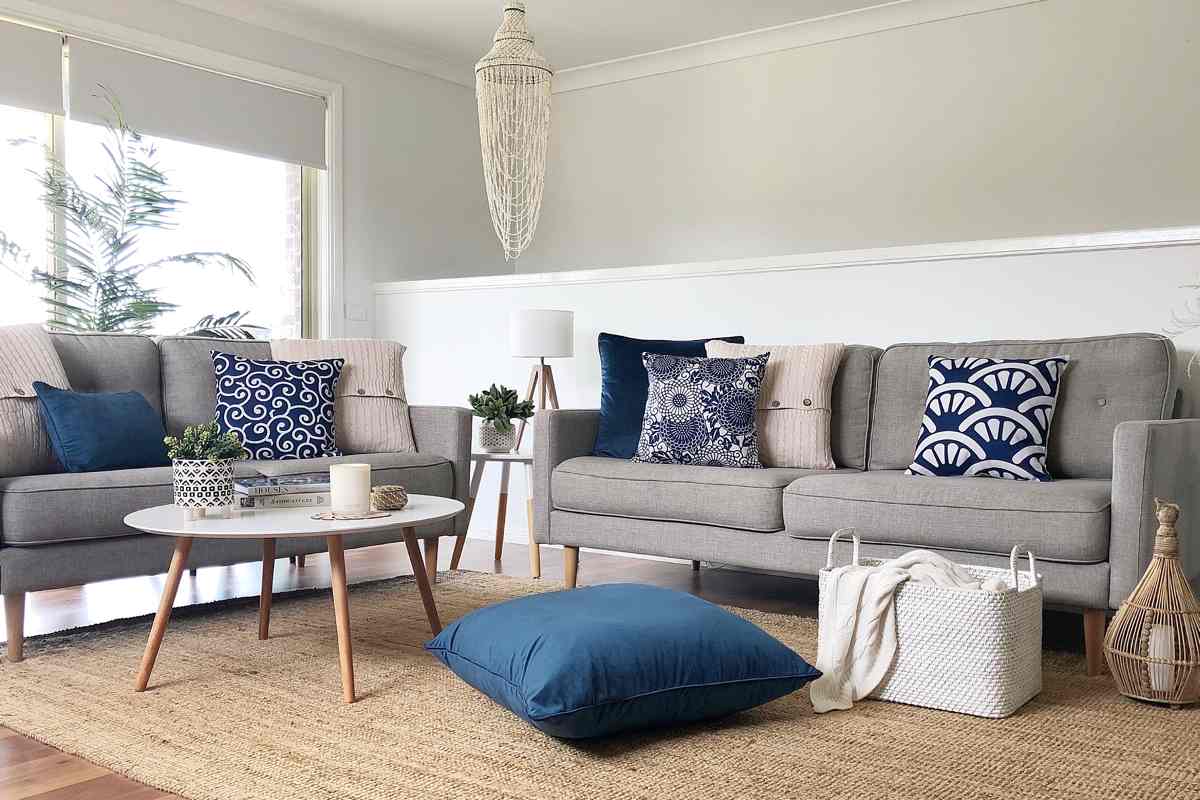 This room features our Afia Collection and Velvet Blue Floor Cushion
3. Mix up the size and shape of your cushions
People often think that their collection should all be the same shape and size, however some of the most effective arrangements are those that combine different combinations of these. One of our favourite arrangements with scatter cushions is the 2-1-2. Choose two solid coloured larger scatter cushions that pull together the different tones in your room. Then, select some slightly smaller ones with different patterns but similar colour palettes to sit on front of these. Finish off your arrangement with a small rectangular cushion in the middle that is patterned with similar tones as your two solids.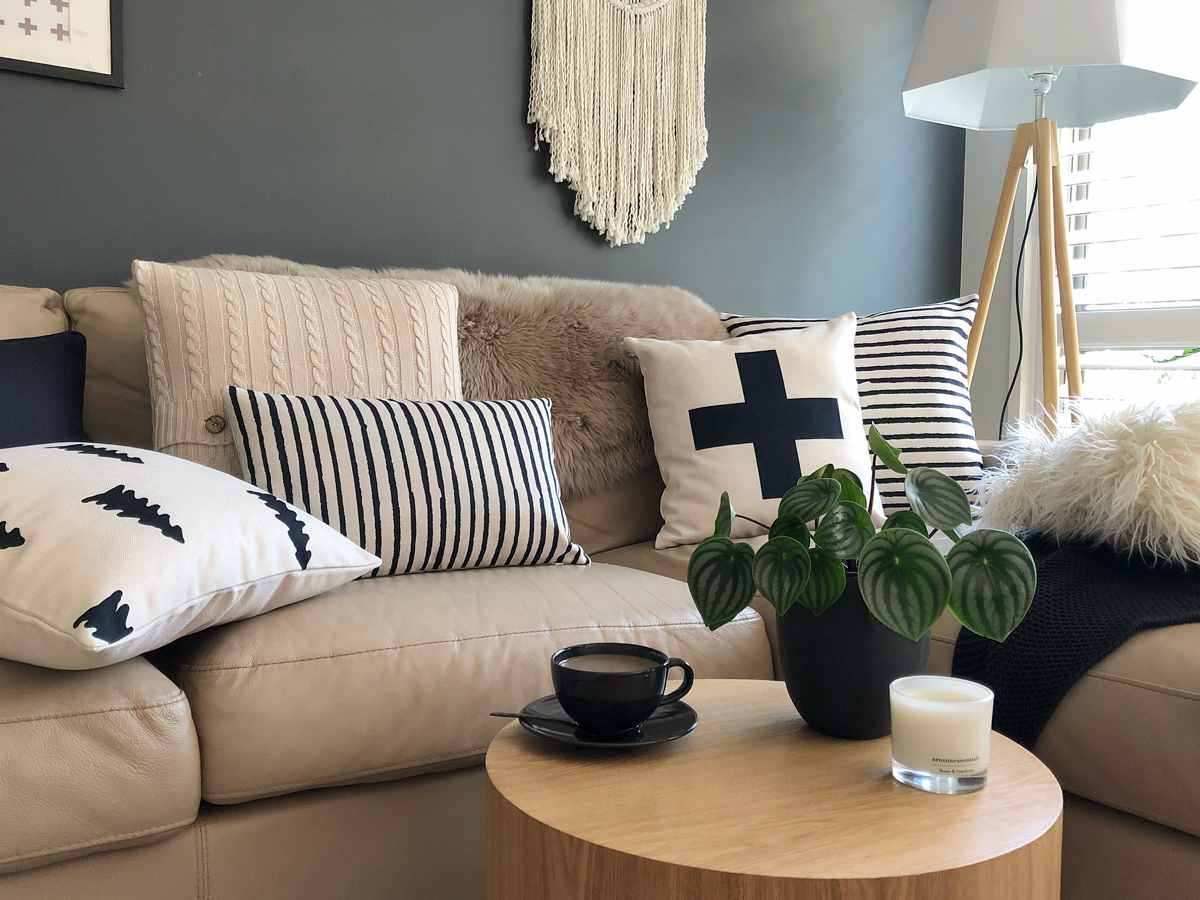 This room features our Cora Collection
4. Experiment with different textures
There are so many different ways to decorate with scatter cushions and one of them is through the use of texture. You may prefer to carry one colour through your whole collection such as a subtle neutral colour. If you select a range of brown coloured cushions then with a wide variety of texture, you can create a deep textual effect. If you'd like more information about this then read our fabric guide for throw cushions article. It's easy to find scatter cushions online with a range of different fabrics.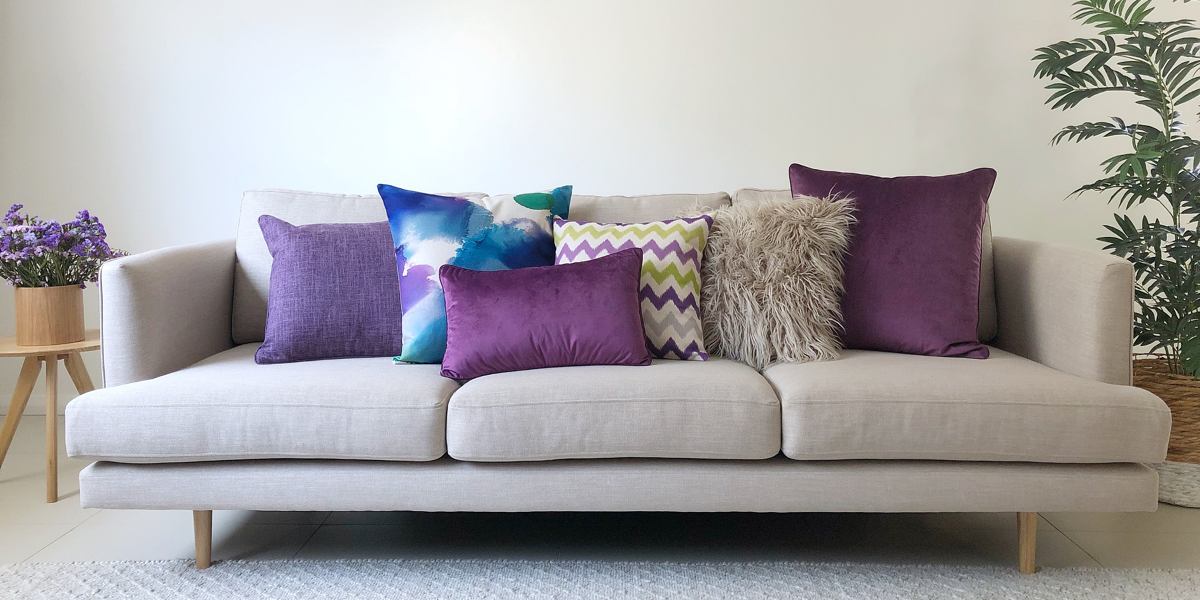 This room features our Souk Collection
5. Use your cushions to set the style and tone of your room
Scatter cushions can absolutely transform a room so it's important to take a good look at your space before you select them. A bright splash of colour can add an excellent contrast to an otherwise melancholy decor and become the centrepiece of a once bleak room. Bold prints and patterns really dominate and transform the style of a room. Be careful not to add patterns or colours into an already colourful room as the result may be overwhelming. If you have a large bright area then darker scatter cushions will recede the room and make it feel cosier. Match these to your curtains to make the room appear smaller and more intimate. Dark red, maroon, plum or navy colours are a good choice here.

This room features our Woodstock Collection
6. Change your cushions with the seasons
One of the cheapest and easiest ways to change the style of your room is to match your cushions with the seasons. Spring and Summer call for bright colours such as yellow, orange and bright green. Florals are also an excellent selection for these seasons and there are so many varieties to choose from. Autumn and Winter call for darker, Earthier tones and more sombre colours such as maroon, navy and dark green can work really well in partnership with what's happening outside.
This room features our Ohana Collection