There's something about the coziness of soft furnishings; cushions in particular can add personality and inject new life into your home. However, sourcing new cushions can be a pretty daunting task; from deciding on the right colours to choosing the perfect shapes and textures. We've put together a useful guide to help you make the right choice for your space.
Step 1: Identify your colour palette
When choosing cushions for your space, the trick is to draw on existing accent colours you wish to highlight; that is, colours that are complementary to your artwork, soft furnishings, furniture pieces or accessories. One example of this might be a room that has neutral walls and sofas, and artwork in striking colours. In this case, you may want to opt for cushions that combine rich and bold colours that blend beautifully into the rest of your room's features. The idea is to create a cohesive look and a great interaction between the colours in your space.
If you look at the scene below, you'll notice that the cushions have been selected based on the existing colours and patterns evident in the print on the wall and the existing accessories in the room. The result is a very coordinated and stylish look.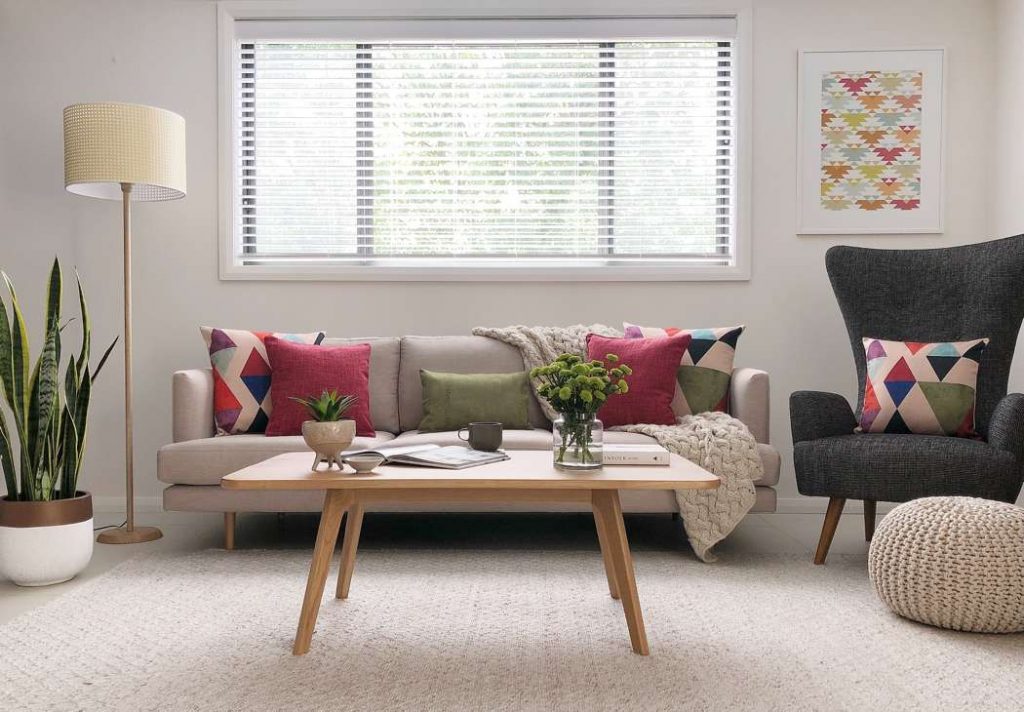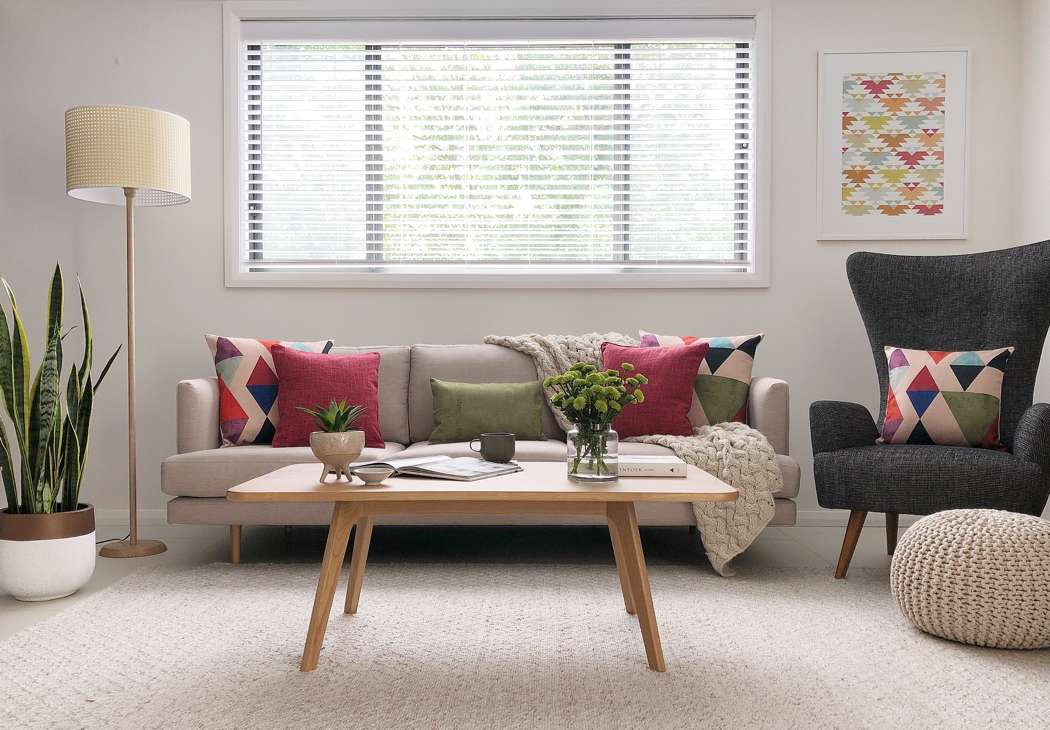 This room features our Phoenix Pop Collection
Step 2: Decide on the number of cushions to add
When deciding on the number of cushions, think generous, abundant and luxurious! Decide on the style you intend for your room and let that inform whether or not to go for an odd or even number of cushions. If you are going for a more traditional look, then sticking with an even number can be more pleasing to the eye and offer the room the symmetry it requires. On the other hand, odd numbers tend to be more artful and best suited for modern or eclectic styles. Try a single cushion for a one seater sofa and five cushions for a three seater sofa. Remember not to overcrowd, but also, too few cushions can make a room seem cold and uninspiring — so selecting the right number is all about balance.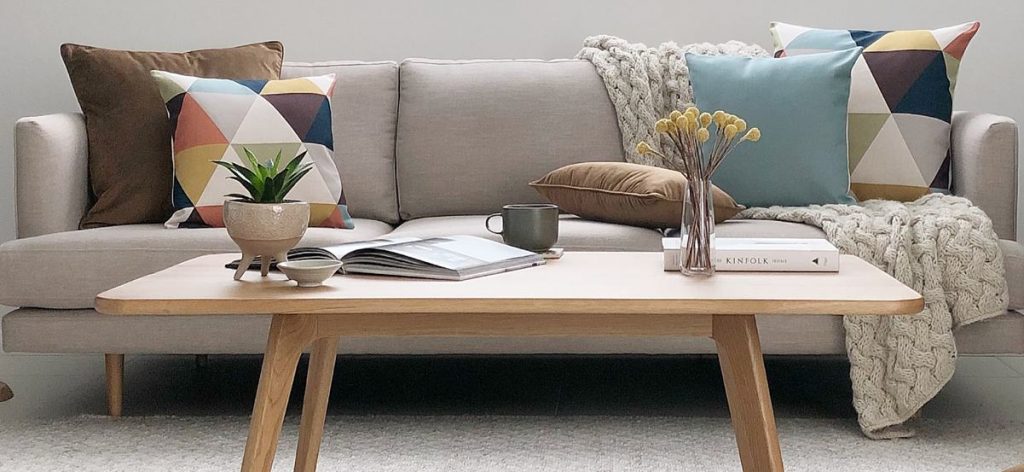 This room features our Kafka Collection
Step 3: Choose the right size and shape mix
Sticking to the same shapes and sizes can look a bit clinical and boring. If you are looking to add depth and visual interest, then variation will give your space the lift it needs. A simply way to achieve a coordinated look would be to choose a couple of larger block coloured squares that contrast with the colour of your sofa, then add a few stylish outliers — patterned and slightly smaller, say 45cm x 45cm. Complete the look with a small 30cm x 50cm rectangular cushion in the centre that references either the colour of your upholstery or a colour from one of the existing cushions. Large oversized cushions make for gorgeous floor cushions and can transform your space into a stylish, welcoming interior.
Alternatively, if you want to break things up, opt for a range of different sizes in a single design, about four or five cushions and make them fit together really well. Piling matching cushions on your sofa creates a layered look and it's also a fantastic way to introduce a geometric print or pattern.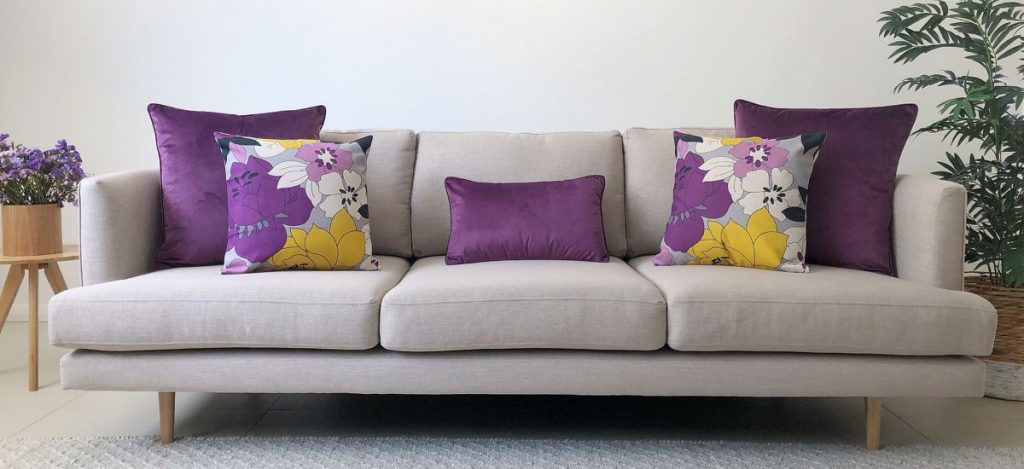 Step 4: Play with textures and material
Colour and size aren't the only interest that cushions can offer to your design scheme. Adding distinguishing textures and fabrics can emphasise other material in the room and amp up its quality. Create a nice contrast to help set the tone for the style you want; for example, try a plain velvet finish against a leather or cotton-covered sofa to add just the right touch of elegance. Similarly, combining material and textures to complement existing furnishings can add instant warmth and a harmonious blend to your decor. A faux-fur cushion gives your room a soft layered appeal and an extra cozy atmosphere when paired with a fur throw.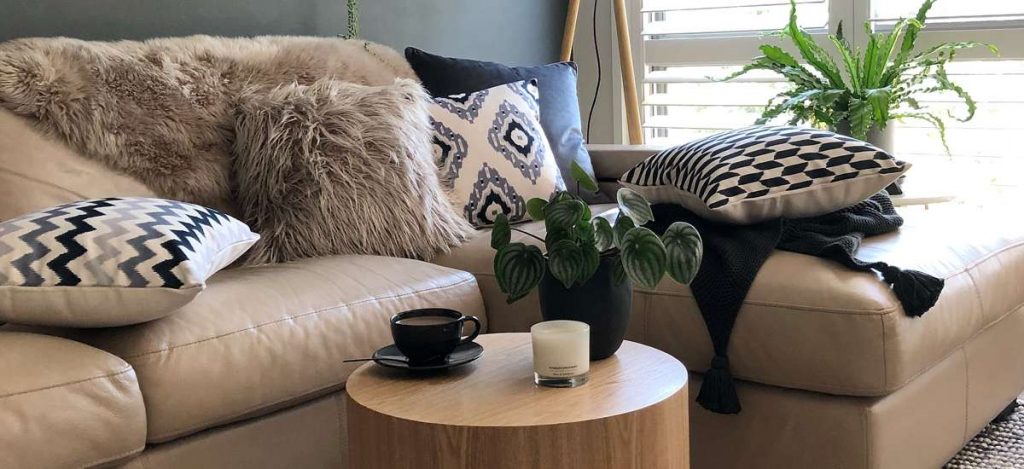 This room features our Aarhus Collection.
Step 5: Arrange them well
There are no hard and fast rules about how to display cushions but it's ideal to make the most of them so that they don't lose their impact. Cushions can be displayed on the sofa in various ways; in the corner, covering the entire sofa but leaving room to sit or just a few in the middle. Whatever you decide, remember that arrangement is all about layering. Try use odd numbers of cushions — starting with the larger cushions at the back, working the smaller ones to the front. For large sofas, try two on each side and one or two in the middle so that each part of the sofa has a colour pop. Once you have your arrangement covered, all that's left to do is sit back and relax!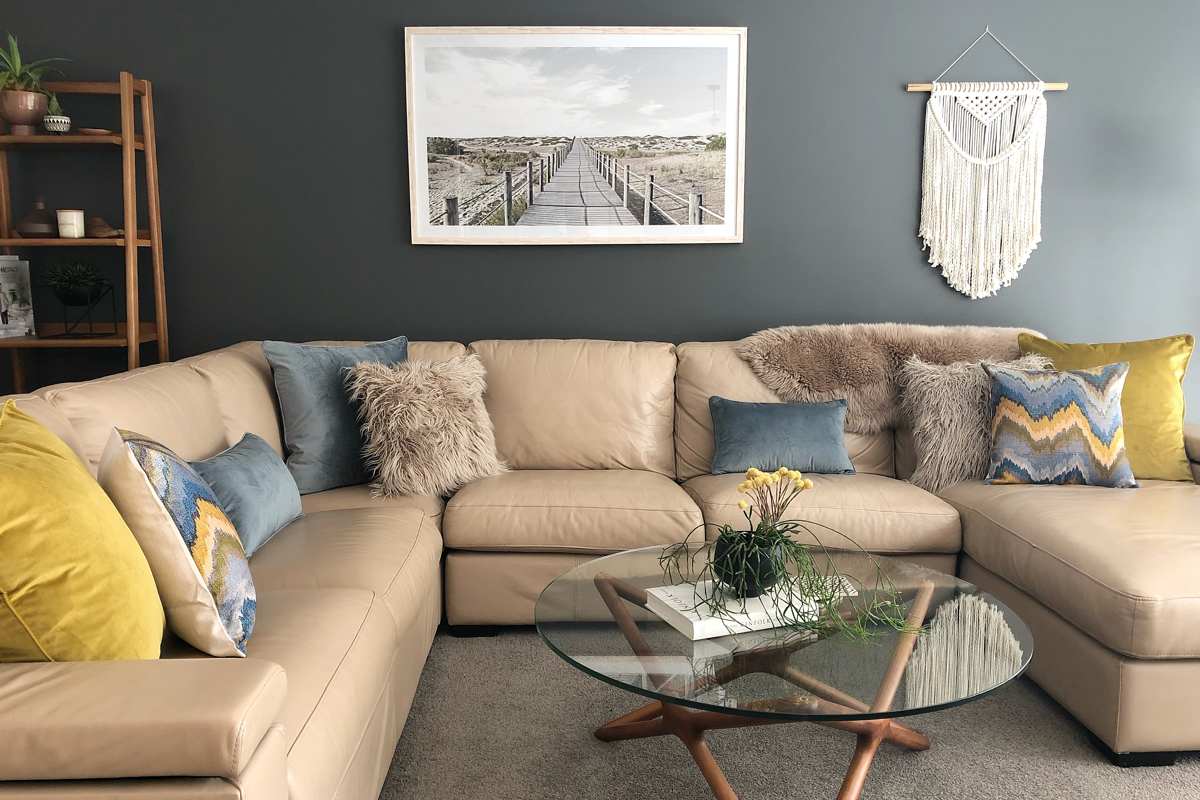 This room features our Woodstock Collection