Getting started
Selecting the right cushions for your sofa is important!
Get it right and you can create a harmonious look that accentuates the beauty of your sofa and brings the whole room together.
Get it wrong and you can create a confusing mess that can detract from the vibe of your entire space.
Before you start randomly choosing designs, you should take some time to consider the colour of your sofa and use some basic colour theory to find a colour scheme to guide your search.
Read on to get your head around colour theory, or skip ahead to your sofa's colour to get some clear advice about colour and suggested cushions from our range to help with inspiration.
Jump ahead to your sofa colour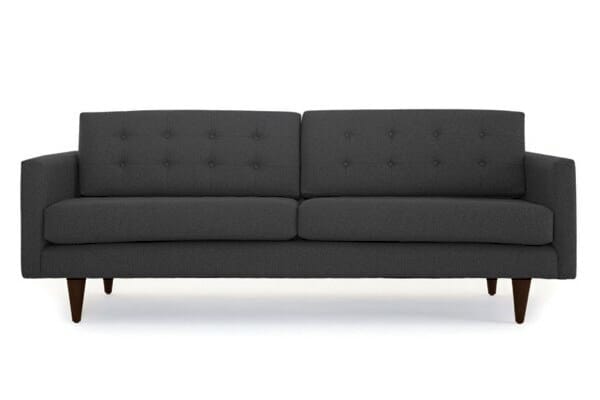 Using colour theory with cushions
Colour theory, and its related tool the colour wheel, can be helpful when choosing cushions for your sofa because it provides a framework for understanding how colours interact with each other and how they can create different moods and atmospheres in a space.
By applying colour theory principles, you can create a cohesive and balanced colour scheme for your sofa that complements the overall style of your room.
Here's a quick rundown of some of the major colour schemes created using a colour wheel with examples.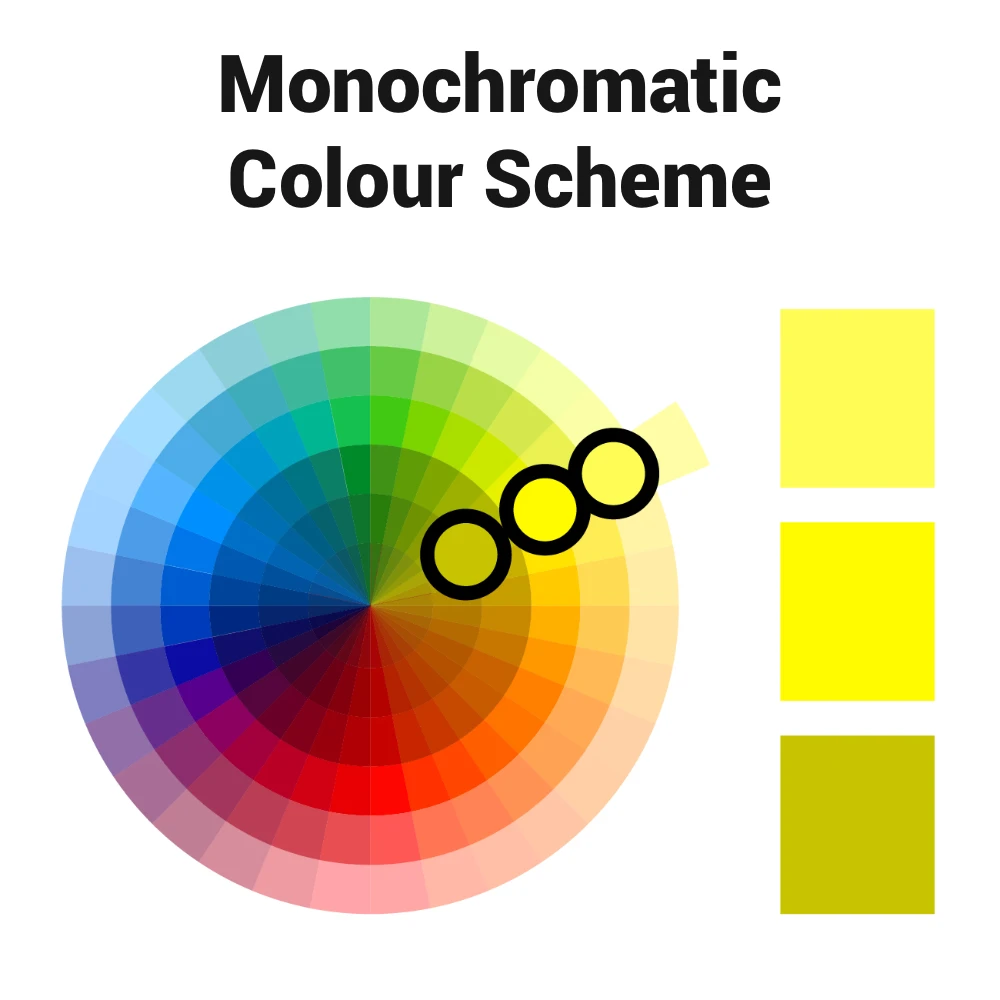 Monochromatic
A monochromatic colour scheme uses different shades and tones of one base colour.
For example, if the base hue is blue, a monochromatic colour scheme might include light blue, navy blue, and sky blue.
By using different shades and tones of the same colour, you can create a harmonious look that has added depth without introducing additional colours that might clash or compete with one another.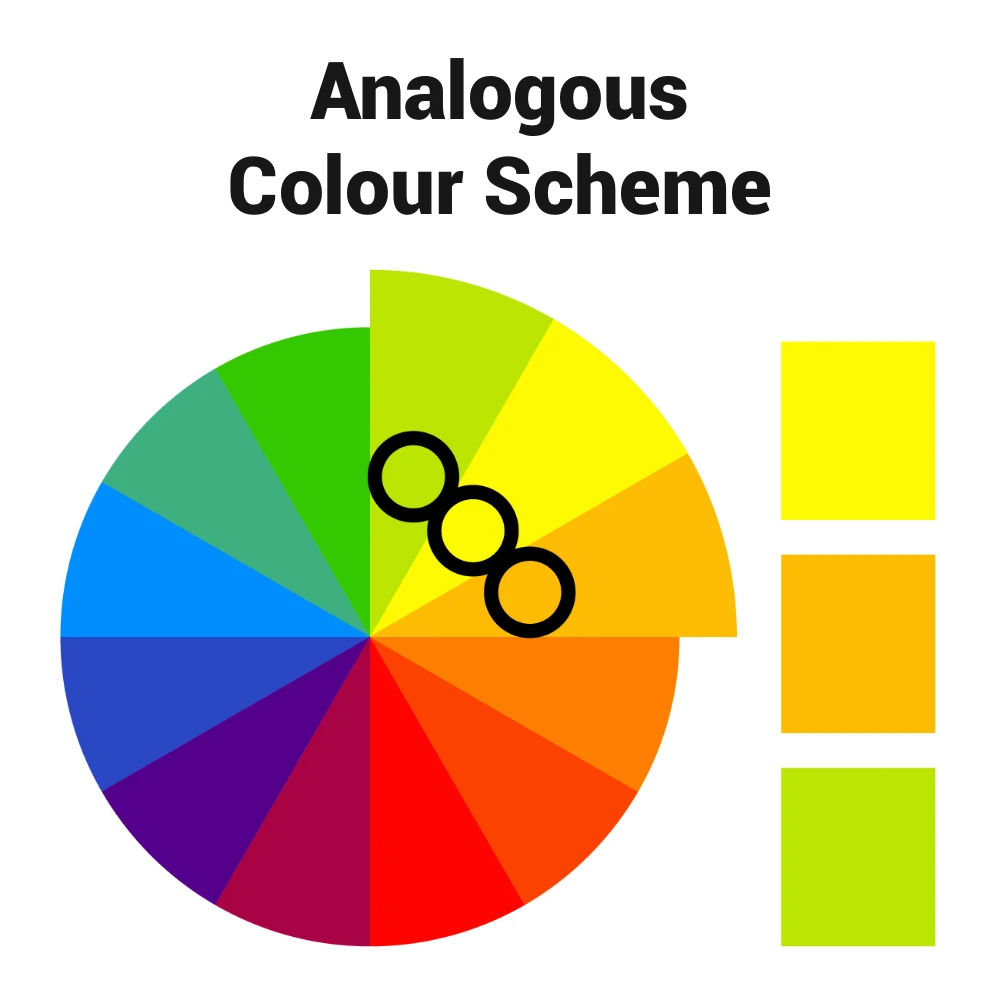 Analogous
An analogous colour scheme uses colours that are adjacent to each other on the colour wheel. Typically, there will be one dominant colour and two supporting colours on either side of it.
For example, an analogous colour scheme might include; yellow, yellow-green, and green, or red, red-orange, and orange, or blue, blue-green, and green.
By using colours that neighbour each other on the colour wheel, you can create a scheme that is unified but still has enough contrast to keep the design from looking monotonous.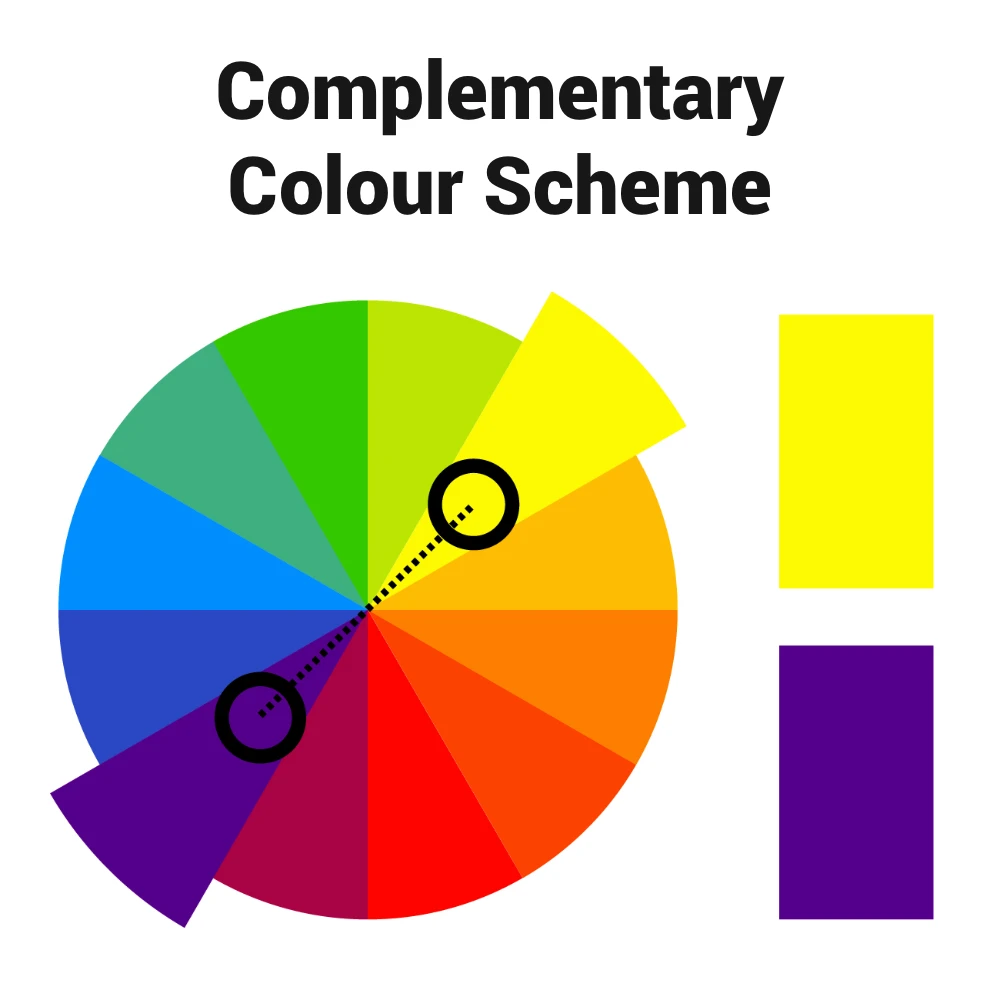 Complementary
A complementary colour scheme uses colours that are directly opposite each other on the colour wheel.
For example, a complementary colour scheme might include blue and orange, pink and green, or yellow and purple.
By using colours that are opposite one another on the colour wheel, you can create a strong contrast that can be visually striking, and eye-catching. This approach however needs to be used in moderation to avoid overwhelming the space.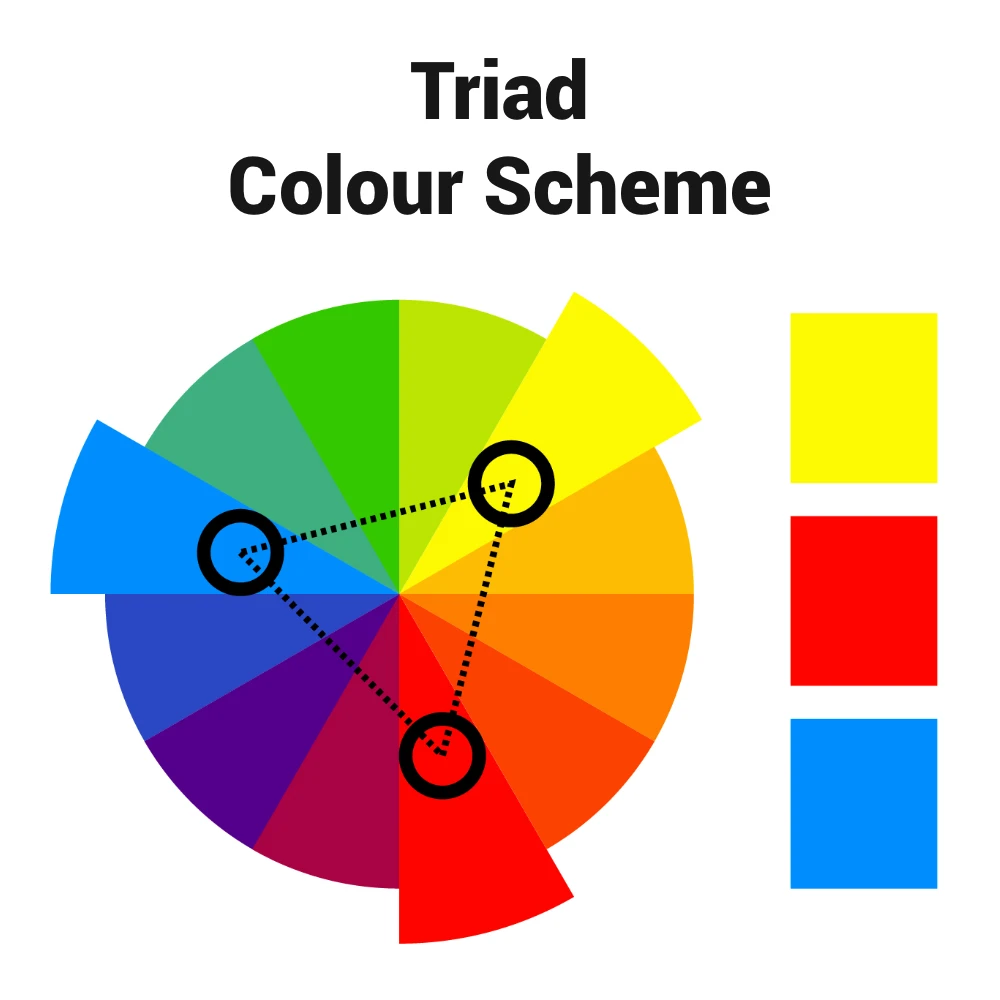 Triad
A triad colour scheme uses three colours that are equally spaced from each other on the colour wheel, forming an equilateral triangle.
For example, a triad colour scheme might include; green, purple, and orange, or blue, red-orange, and yellow-green, or yellow, blue-violet, and red-violet.
By using three colours that are evenly spaced on the colour wheel, you can create a bold and dynamic look that offers plenty of contrast but with a sense of balance.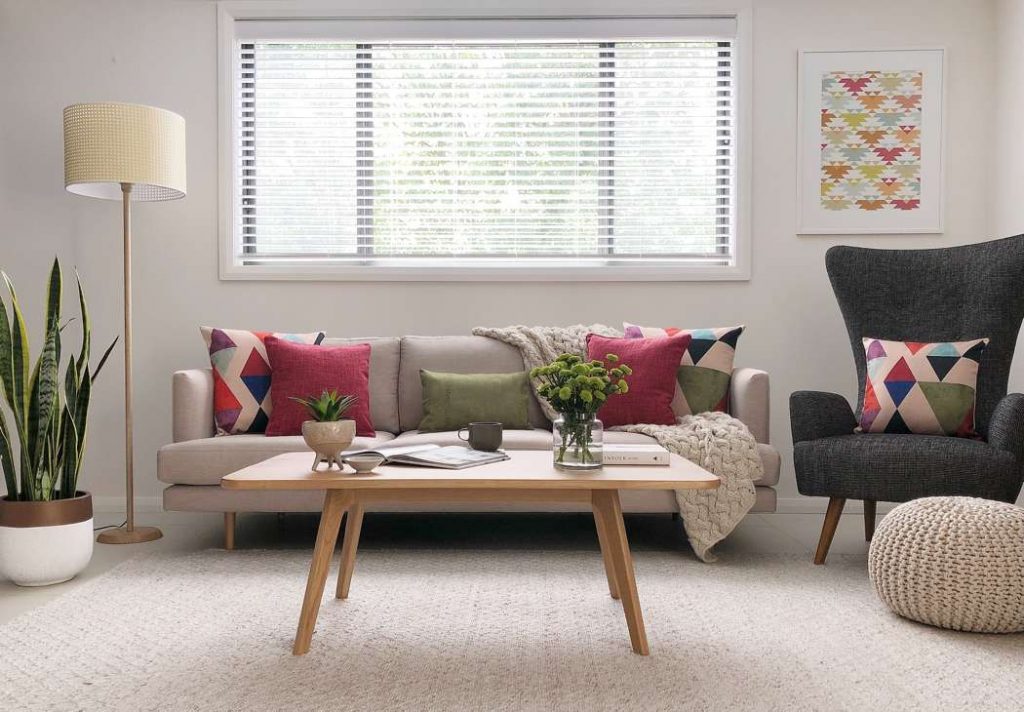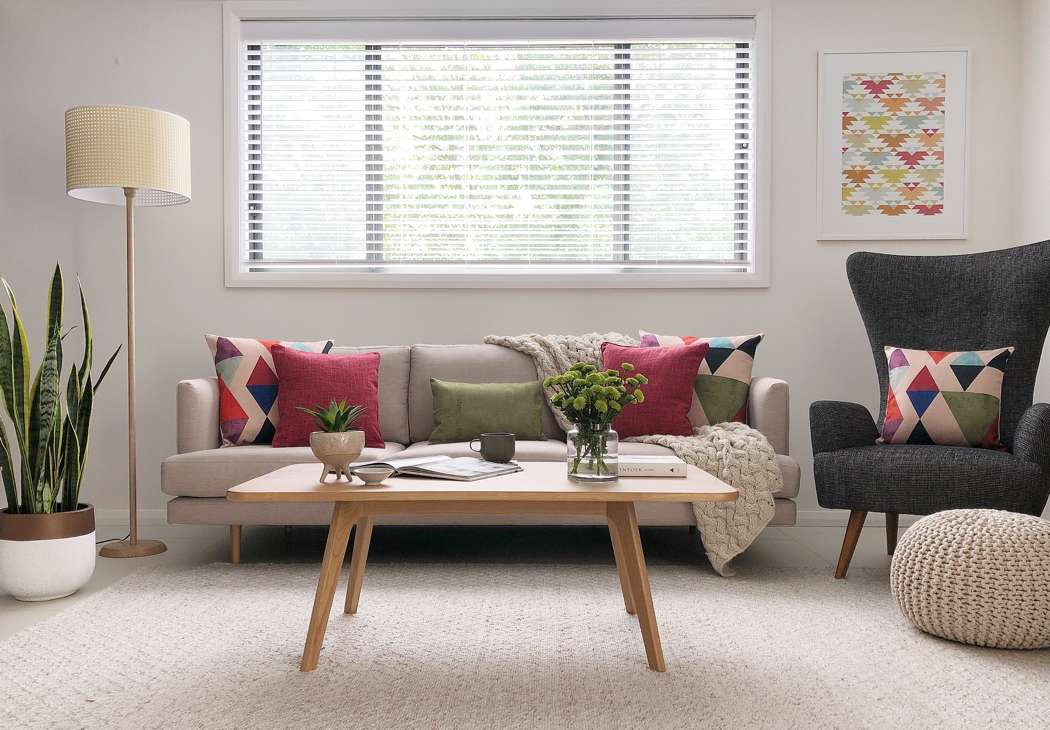 What colour cushions go with grey sofas?
The best colour cushions for grey sofas include; neutral tones like white, beige and cream, bright pops of colour such as vibrant pink, teal or yellow, earthy tones like brown, mustard, or rust, and soft pastels such as mint green, blush pink, and light blue.
It's best to avoid too many tone-on-tone grey cushion combinations in the same colour that lack any diversity as this can result in a look that feels flat, cold, and lifeless.
Several colour schemes work well with a grey sofa and what you choose will depend upon the style and look you want to achieve. Let's explore these options and the different looks they help create.
Scroll further down to see our ideas for sets of cushions for grey couches.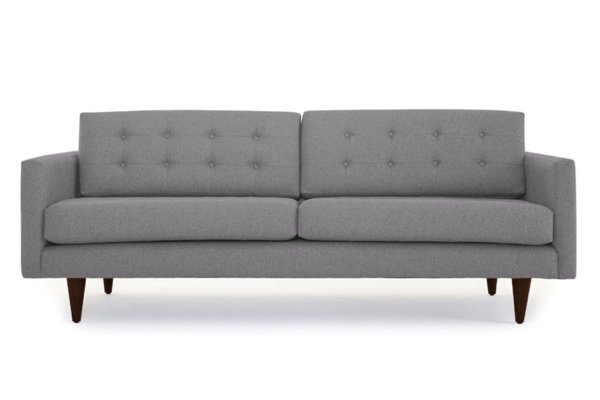 Use neutral cushions on grey sofas for a sophisticated look
Grey is a neutral colour, so using a simple collection of block colours in other neutral tones, such as white, beige, or cream, can complement it nicely and create an elegant statement.
Neutral doesn't have to mean boring! You can incorporate patterned neutral cushions, such as stripes or geometric designs, or use different shapes and sizes to add visual interest to your grey sofa.
To add some depth, try mixing neutrals in different textures. You can combine cushions made of linen, cotton, velvet, or other materials to create a layered look.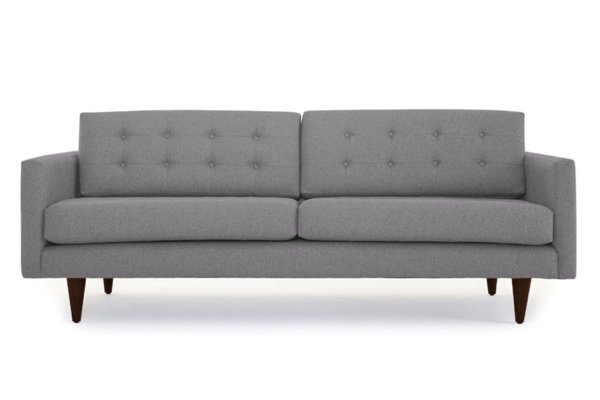 Try bright colour cushions on grey sofas for a playful feel
A plain grey sofa can act as a neutral backdrop for bold accent cushions in colours like bright pink, teal, or yellow that can make your living room feel more playful and inviting.
This approach is perfect for spaces lacking in colour and provides you with the opportunity to make your grey sofa a focal point in your room that represents your unique style.
Choose a colour palette with two to three bright colours (complementary or triad on the colour wheel) and look for cushions with vibrant prints, patterns and textures for a fun and eclectic look. To balance it out, add some neutral cushions in a solid colour, such as white or beige, to break up the bright hues.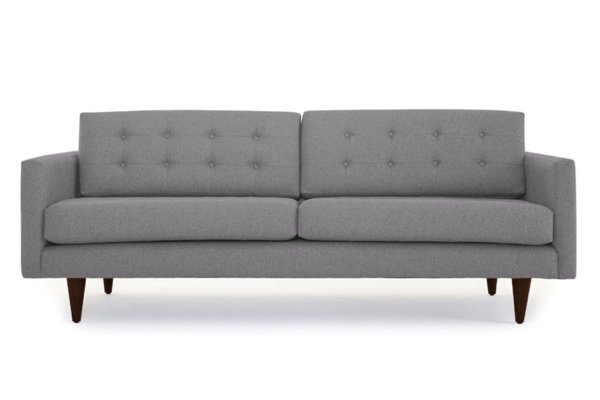 Use earthy colour cushions on grey sofas for warmth and cosiness
Styling a grey sofa with earthy-coloured cushions such as brown, mustard, or rust, can create a warm and cosy look that is inviting to you and your guests.
For a classic and timeless look, you can mix cushions in shades of beige and brown in fabrics like cotton and linen for a look that is both layered and textured.
Rust and mustard are warm earthy colours that combine beautifully. Use this colour scheme to add a pop of colour to a grey sofa and try them in velvet for added luxury and cosiness.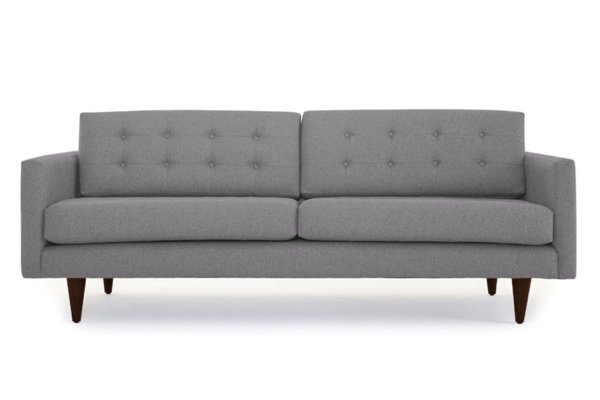 Try pastel colour cushions on grey sofas for a relaxed atmosphere
Using cushions in soft and subtle pastel shades like mint green, blush pink, or light blue on a grey sofa can create a calming and relaxed vibe.
Pair light pink cushions with a light grey sofa to create a soft and endearing look. You can also add a white or cream throw blanket to complement the pastel pink cushions.
Add pastel blue cushions to a grey sofa for a calming look that can be built on with other shades of blue to create a monochromatic colour scheme that is stylish, but also tranquil and inviting.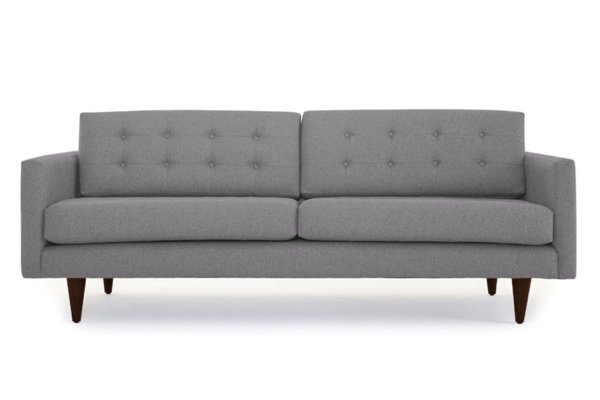 Suggested cushions for grey couch
The bold colours of our Phoenix 4 collection pair beautifully with a grey couch and add a playful touch to a colour palette that may otherwise seem too coordinated.
To add a subtle flash of style to a grey couch, try our New Nordic 3 collection
which builds on the beauty of grey using charcoal and silver and finishes with the softness of blush pink.
Our Hamptons 4 collection helps create a vibrant, elegant finish that simply dazzles on the background of a grey couch.
What cushions go with a black sofa?
A black sofa is a great backdrop for strong colours and graphic black and white prints. Bright colours like orange, cherry red, hot pink or lemon yellow can create a nice contrast against a black sofa. Opt for varying shades of grey, sky blue or pastel peach if you fancy a subtle pairing.
A black sofa can be coupled with almost any colour, but too much brown rarely teams well with black, while navy blue is too similar in shade.
Our suggestions
The soft teal accents on the New Nordic Peaks 4 collection instantly lighten up a black couch while maintaining a textured and sophisticated finish.
If you'd like to inject a lively visual to your black couch and lift your room, our Watercolours Green 6 collection would be an ideal pick.
The Pastel Breuer 6 collection is perfect for crafting a subtle paired down look which allows other colourful accent pieces in the room to take centre stage.
< slide for ideas >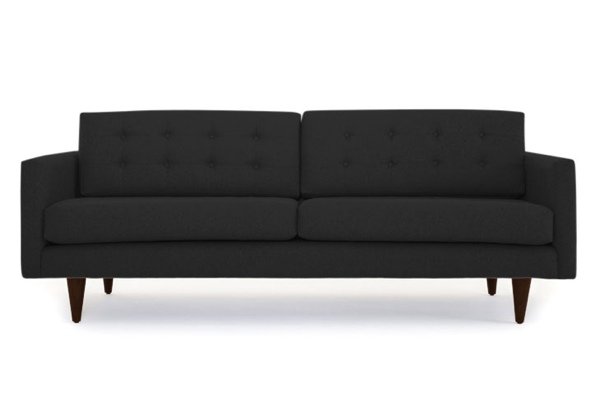 What cushions go with a brown sofa?
For a brown sofa, look for rich, jewel-toned colours such as teals, deep reds or gold for a simple yet striking look. Depending on the style of your sofa, neutrals, pink, mint, turquoise, navy blue, copper, fuchsia, yellow and orange can also look stylish.
Try to avoid black on a darker shade of brown unless you incorporate a light pop of colour like some rust cushions into the combination.
Our suggestions
Our Vivid Copper 5 collection lends a casual look and lightens the visual weight of a brown sofa with its funky patterns and vibrant orange tones.
To add extra dimension and depth, our Kafka 5 collection leans in on the earthy tones yet provides some colour to help balance the warmth of a brown sofa.
For a more refined finish, our Paisley Oyster 6 collection uses a lovely soft teal and intricate paisley pattern that blend beautifully with a brown backdrop.
< slide for ideas >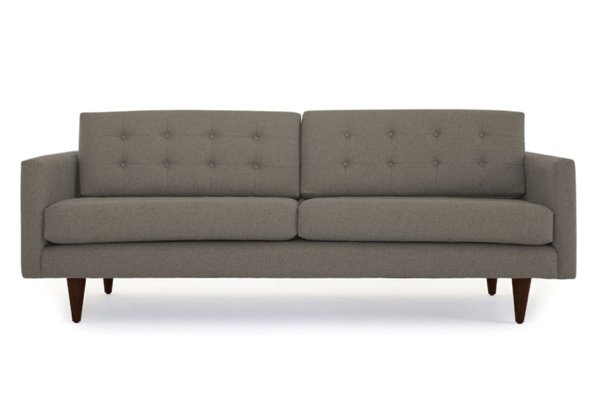 What cushions go with a beige sofa?
Beige sofas lend a relaxed, modern look when paired with bright summery colours and patterns. To create a strong contrast against a light beige sofa, introduce accent sofa cushions in dark shades of navy, burgundy, forest green and brown, or work with pastel hues: lavender, pale silver and muted grey-blue.
Using red cushion covers or those in other bright accent colours like blue, orange, green, yellow or violet work best if your beige sofa is on the brighter side. You may want to avoid black cushions unless you're going monochromatic throughout.
Our suggestions
For a touch of elegance and a subtle yet beautiful contrast on your beige sofa, try our Hamptons Stone 5 collection.
The more neutral your sofa is the brighter your couch cushions can be. The eye-catching deep greens and stunning motifs on our Ikat Green 5 collection are especially stunning on a beige couch.
A beige sofa gets a boost from the bold blues, teals and rust reds anchored by our Phoenix Pop 5 collection which lends a warm and comfortable feel.
< slide for ideas >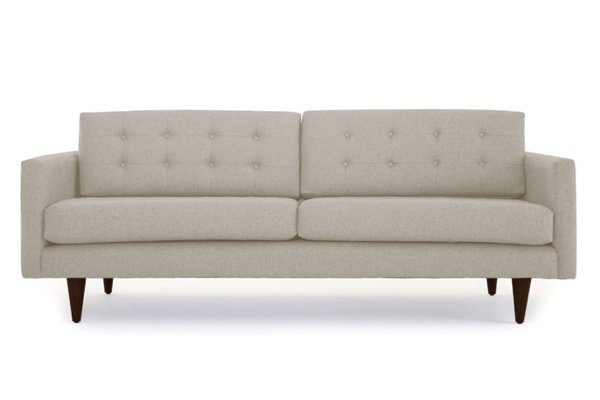 What cushions go with a navy sofa?
You can't go wrong with pairing a navy sofa with neutral colours such as whites, creams, tans and greys. Because navy is also a neutral colour, it works well with vivid hues like orange, olive green, pink, yellow and gold. Create a sophisticated look using navy with rich colours and opulent fabrics.
Avoid black, eggplant purple, hunter green and maroon as they share navy's intensity and are likely to fade when paired.
Our suggestions
The Hamptons 4 collection helps create a fresh nautical feel – the natural fibre tones against the navy sofa contribute to a coastal, relaxed and cosy look.
For a more elegant look, try our Cora 5 collection. It's simple black and neutral palette thrives against the backdrop of the navy.
For an informal lounging spot, soften the edges of your navy couch with our Ikat Spearmint 3 collection – it sets aside the rigid effect of navy with a burst of colour that provides vibrancy and appealing contrast.
< slide for ideas >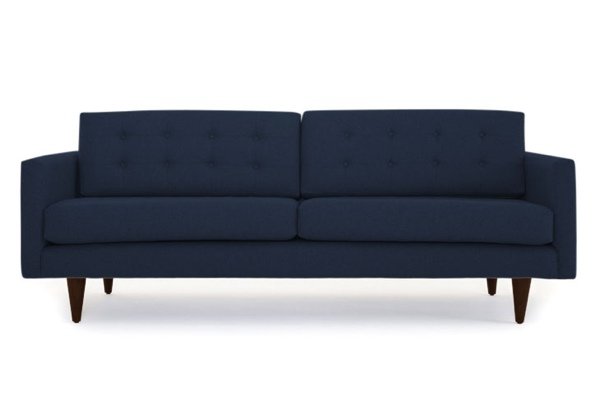 What cushions go with a red sofa?
A red sofa pairs well with couch cushions in colours like black, shades of blue, grey, white, cream, pink, canary yellow, orange, gold and silver. If your sofa is a darker shade of red, try navy blue, forest green, charcoal grey or purple coloured cushions.
You may want to stay away from pastel tones as well as heavy greens and browns as these will clash with your red couch.
Our suggestions
Use the boldness of red and keep things lively on your red couch with the geometric allure and stunning colour palette of our Phoenix Pop 6 collection. 
Our Vivid Sage 4 collection keeps it simple but the basil background, and flecks of colour throughout the lead cushions, creates a beautiful harmonious look.   
To create some beautiful contrast with the intense colour of your red sofa, try our Aztec 4 collection. It's rich palette of blues and striking yellow golds will draw the eye. 
< slide for ideas >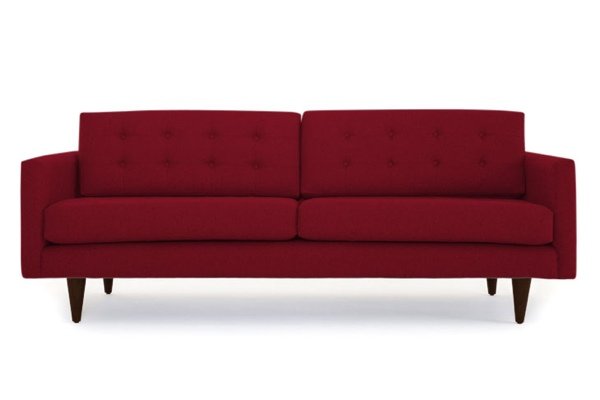 What cushions go with a teal sofa?
For a teal sofa, consider cushions in neutral shades of grey, beige, taupe, white or copper brown. For a striking finish try accents like coral, gold, burnt orange, hot pink, a soft yellow pop or layer jewel tones in midnight blue, scarlet red or berry purple.
Surprisingly, very few colours don't go with teal but be prepared for some strong combinations that may be difficult to maintain throughout your space.
Our suggestions
For a laid-back, soothing and grounded look, introduce our Wayfaring 6 collection to your teal couch. It's easy-on-the-eye and adds interest without competing with the sofa.
Our Aughie 5 collection brings a sense of monochromatic simplicity and is a great way to add stylish flair without overwhelming the couch.
The fabulously bold cushion covers of our Bright Phoenix 4 collection create a beautiful contrast against a dark teal-coloured sofa. 
< slide for ideas >
What cushions go with a pink sofa?
Pink sofas are perfect for both bright and neutral colours. As a bold colour, pink can pair well with equally impactful hues like black, teal, red, blue, gold, silver and soft or sunshine yellow. Smooth and calm neutrals like grey, white, camel and cream can tone down a hot pink.
Too much pink can be visually disturbing, so try to avoid too much tone on tone pairing and use neutrals to create some separation and contrast. Pink and green is another pairing that can be tricky to pull off.
Our suggestions
On a pink couch, our New Nordic Moose 4 collection plays on the pink palette beautifully with its soft greys providing some subtle contrast.
Grey and pink really do work well together and our New Nordic Silver 3 collection is a simple way to prevent a pink sofa from seeming overly feminine.
For a more dramatic look, our Oskar 6 collection uses blacks and charcoals for a simple and striking finish that won't overcrowd your colour palette.
< slide for ideas >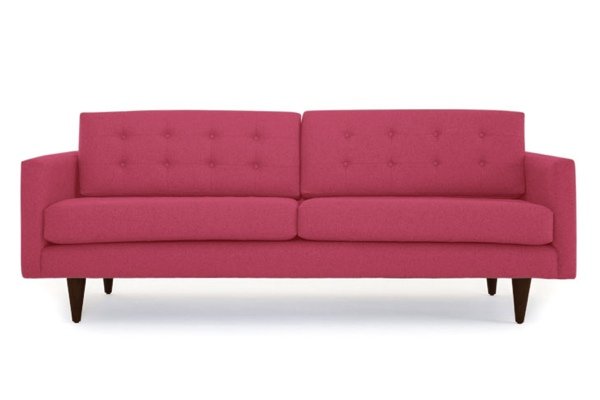 What cushions go with a green sofa?
For a green sofa, colours like taupe, copper, beige, tan, grey and white look gorgeous. Floral inspired hues such as soft greens, pink or lavender offer a fresh look, and analogous hues like yellow and blue make a nice pairing. Green sofas capture a luxe look when layered with varied shapes and textures.
Traditionally, red and green are not to be seen together – unless you're creating a Christmas scene! When used incorrectly they can come off as being too overwhelming.
Our suggestions
To best enhance the rich jewellery tone look of a green couch, you may try our Saarinen 4 collection which present an eye-catching array of vibrant colours.
Green pairs just as beautifully with the natural jungle themes within our Verdure 4 collection – a lush and deliciously simple colour palette.
To further show the versatility of a green couch, the teal tones of our Ikat Blue collection offers an exotic yet cosy look. The green sofa still stands out and shows that it goes with just about anything.
< slide for ideas >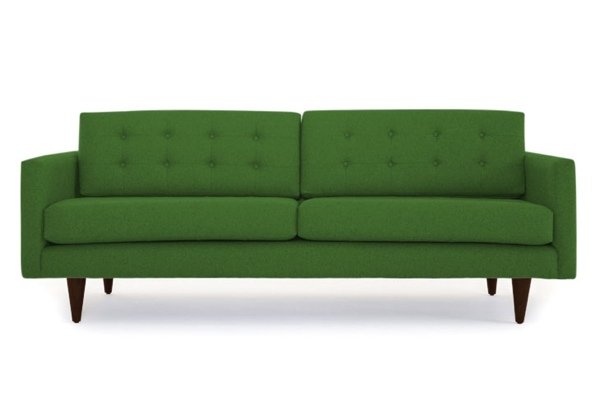 Tips for styling with sofa cushions
When choosing the best colour cushions for your sofa, you want to choose just one cohesive colour palette and make sure you stick with it. Using a colour wheel can help you identify the colours that will work with your sofa. If you are looking for a greater impact and better style, then you want to keep your choices within the same shade or from other complementary shades.
Symmetrical arrangements are also something to consider for a sofa, bed, and even a window seat in your home. To avoid things from looking busy and overcomplicated, you want to pay close attention when you start to layer different fabrics. Instead, keep it simple and clean.
One simple print, one busy print, and one solid print. These three make the best combination when it comes to choosing the right cushions for your sofa arrangement. The largest sofa cushions should feature the busy print you have chosen so that it is the focal point of your arrangement. Everything else can be placed neatly to complement the larger cushions.
When arranging the cushions, the smaller cushions should be toward the middle of the arrangement. This also means that the largest sofa cushions should be on the outside. When choosing throw pillows, you should also refrain from going overboard. You don't want to have too much going on that it becomes too distracting as well as uncomfortable.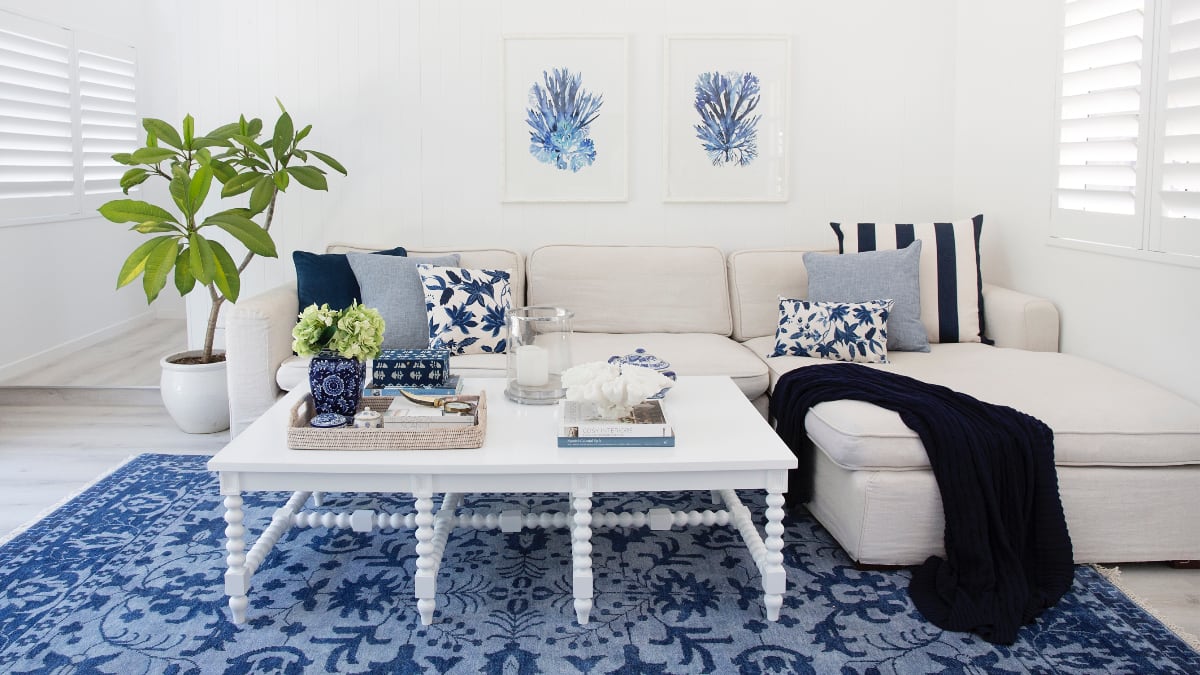 Tips for choosing fabrics
Now that you have the basics and know what coloured cushions will go well with the different coloured sofas we have discussed, let's take a closer look at your style and what you want to achieve with your colour scheme.
Choosing solids
If you already have a room that is running rampant with patterns, you may want to reign things in and go for a solid colour cushion for the sofa. If you have a dramatic flair elsewhere in the other fabrics, you can take the cushion fabric down to compliment everything else. You can, however, use vibrant and bold hues when choosing solid coloured cushions.
Complimentary colours are also those on opposite ends of the colour wheel. This makes for more drama through your decorating. If you don't already have your other pieces in place in the room, and your couch cushions are the starting off point, then search for lounge cushions and find something you love and build from there. Having a beautiful design you love can become the inspiration you need for the entire room.
Solid plus patterns
You can also choose the same coloured cushions but choose different fabrics to put together for a more organic and bold statement for your sofa. When doing this, it is important to find the right balance while achieving the desired aesthetic for your living space. So, when placing your sofa cushions, ask yourself if the pattern of this particular cushion is well-balanced with the other patterns mingling with it.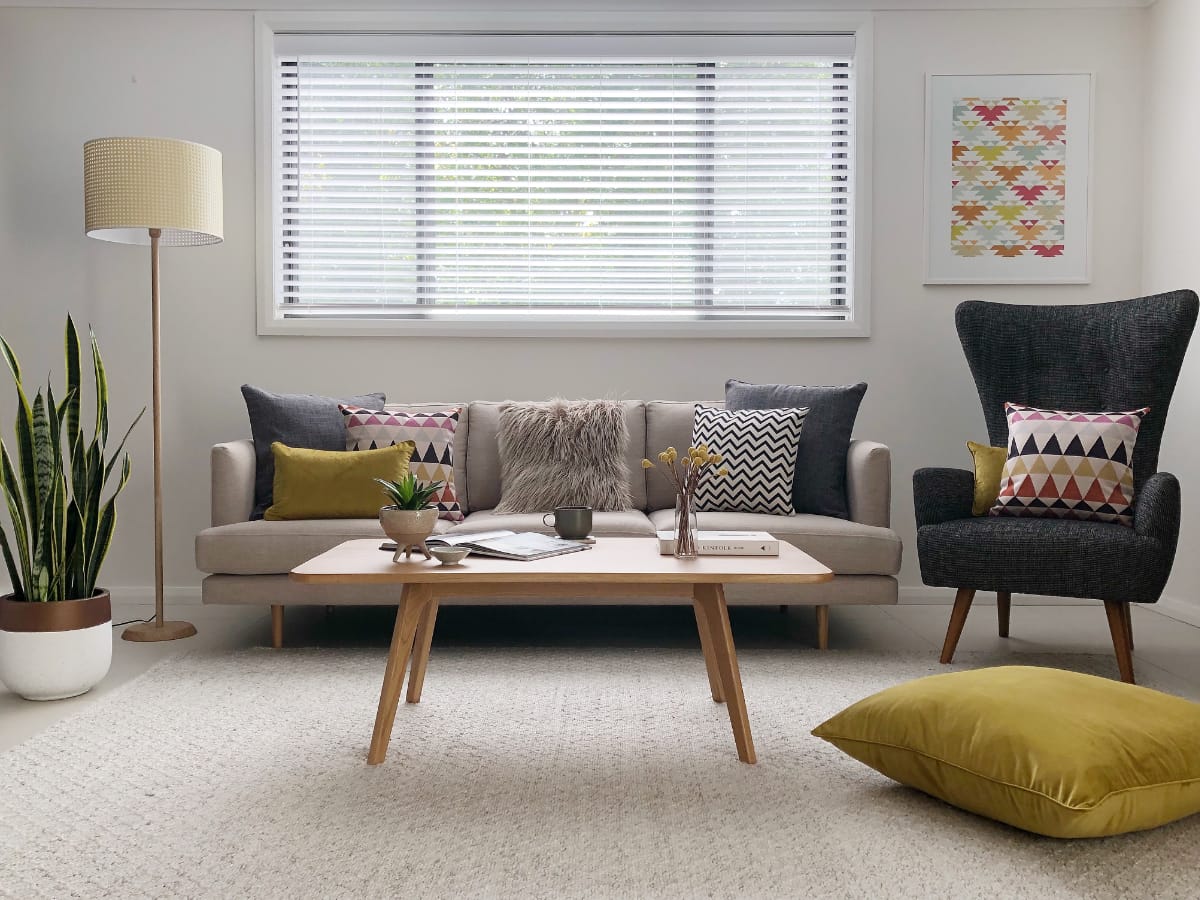 Sofa cushions really are a great way to transform your living room if you are looking for a quick and affordable facelift to express your current style and add some drama to the space. If you want more help in choosing, check out our key rules for how to match cushions to your sofa. But don't overthink it! As long as you find that balance and the colours and patterns are complementary, you are on your way to style heaven.
Happy styling!
Simply Cushions Team